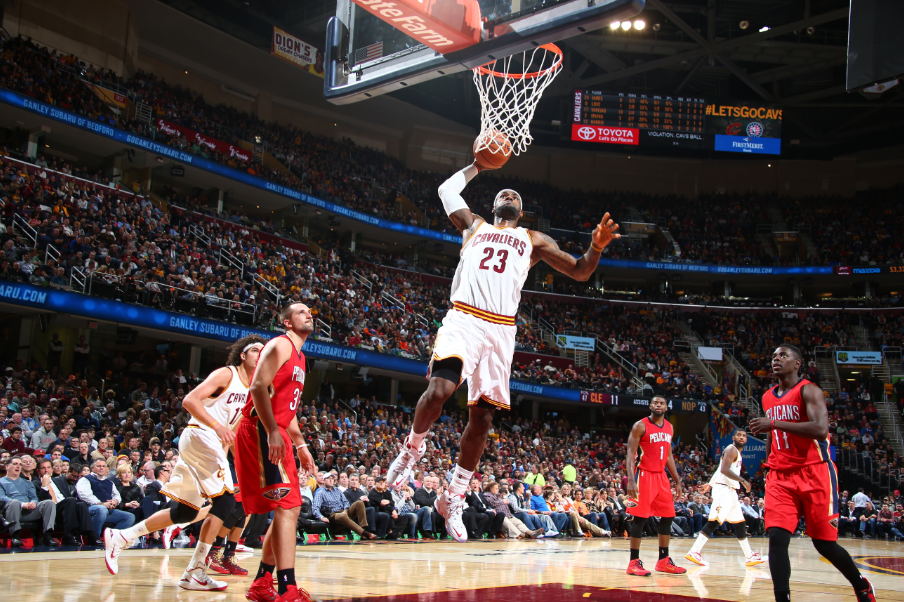 A 38th career triple double for LeBron James helped the Cavs outdo the Pelicans.

Image: ESPN SportsCenter
Featuring five games on Monday night including LeBron James' Cavs' resurgence, the Spurs @ Clippers, and a return from Derrick Rose, it was another terrific night in the NBA. Here is all the action from the night of Monday 10 November 2014.
LeBron soars for Cavs
Finally, Cleveland Cavaliers got their win at home. It was courtesy of a stunning triple double from LeBron James, as his outstanding contribution included 10 assists, 10 rebounds and 32 points to see off the New Orleans Pelicans in a 118-111 victory.
A perfect outing for Cleveland's "Big 3" saw Kevin Love, Kyrie Irving and LeBron James hit the mark. 22 points were put up by Kevin Love, while Cleveland's PG was tied on LeBron with 32 points.
Despite leading by 9 points at half time, the Pelicans would be at the mercy of those big three, when the Cavaliers outscored them by 11 thanks to a combined 30 points from James and Irving. Meanwhile, Love's threes raining left, right and centre were something to behold.
Anthony Davis, with 27 points and 14 rebounds, initiated some driving force for the Louisiana side but was overhauled by the force garnered by the hosts' terrific triumvirate
.
As the game approached the closing stages, Kyrie Irving put Cavs up 101-95 with a three-pointer, but the Pelicans would come closer. That would be until a dagger 3 pointer from Kevin Love, then Irving's three-point play, and long range jumper, finishing off their scoring at 110 while the Pelicans - knowing they were out of the game - made up for the final margin.
It looks like the LeBron that everyone was looking for has, finally, turned up. The floodgates may well and truly be open for Cleveland now.
31-11-10: Triple-double for LeBron! http://t.co/bAMHTGDeVU pic.twitter.com/GLDDcTmQPW
— FOX Sports Ohio (@FOXSportsOH) November 11, 2014
Pacers win, finally
The Indiana Pacers snapped a six-game losing streak as they dismissed the Utah Jazz through Roy Hibbert's 29 points that guided Indiana to an uplifting 97-86 victory.
After edging the first half, it was Utah who enjoyed the best of the second as they lead the Pacers close to the culmination of the third quarter. However, Indiana ensured there would be no catalyst for comeback when they stepped on the gas in the final quarter.
Holding down Hayward to a select few points, ending his game at 30 points, Pacers soldiered on.
#PacersWin! #PacersWin! Final score: Pacers 97, Jazz 86 Hibbert: 29pts/5rebs Price: 22pts Allen: 12pts/15rebs pic.twitter.com/iGvSBIuUHJ
— Indiana Pacers (@Pacers) November 11, 2014
Hawks fly past Knicks
The New York Knicks suffered their fifth straight loss as the Hawks prevailed in Madison Square Garden, courtesy of a significant contribution from all parties in the Atlanta outfit.
Schroder had another sublime game, Millsap scored 19 and Korver added 17 — easily barging past Carmelo Anthony's Knicks in a dominant second half.
The key to the victory was clear. Scoring 61 points in the first half and limited to 35 after halftime, they powered through to get the W.
Rose returns and lifts Bulls
Derrick Rose's return saw for a jubilant United Center as he helped the Chicago Bulls dispatch the Detroit Pistons, 102-91.
Setting the tone for the Bulls, his 24 points and 7 assists over the night was enough, outdoing the Pistons who were lead by Smith's 19 points. Adding to the total was Pau Gasol and Joakim Noah, combining for 30 points and 29 rebounds.
Despite by trailing by 19 at times, with 2:43 left on the clock, Augustin's jumper put Pistons within 2, 90-88. After Smith however missed the three, Gasol responded, so did Rose, and the final margin was made.
Despite by trailing by 19 at times, with 2:43 left on the clock, Augustin's jumper put Pistons within 2, 90-88. After Smith however missed the three, Gasol responded, so did Rose, and the final margin was made.
Derrick Rose returns from ankle injury as #Bulls hold on to defeat #Pistons 102-91 http://t.co/fvkRQ6B3Rl pic.twitter.com/jeQYrMGzcq
— NBC Sports (@NBCSports) November 11, 2014
Kawhi rolls by Clippers
Kawhi Leonard put on another outstanding performance as he lead the Spurs with 26 points to outdo the Clippers.
Through a late, 14-0 run to finish the contest, Leonard was key in making a huge steal that could've lead to the equaliser. In doing so, he gave the big three their 500th win together.
Tony Parker added 18 points, rebounding 11 times while Tony Parker scored nine in the final bracket. They did almost relinquish it all though, with turnovers, but the hosts' clutch play didn't turn up for that particular case.
Spurs outscore Clippers 25-15 in the 4thQ to bring home their first road W this season! FINAL from LA: 89-85 #SAvsLA pic.twitter.com/CL3mh4e3ge
— San Antonio Spurs (@spurs) November 11, 2014
*****
Kawhi dominates for Spurs, Rose returns and lifts the Bulls, Pacers finally get the win, LeBron is his normal self and Hawks skip past Knicks — that's all from the night of Monday 10 November 2014 in the National Basketball Association.
Scores (via Google):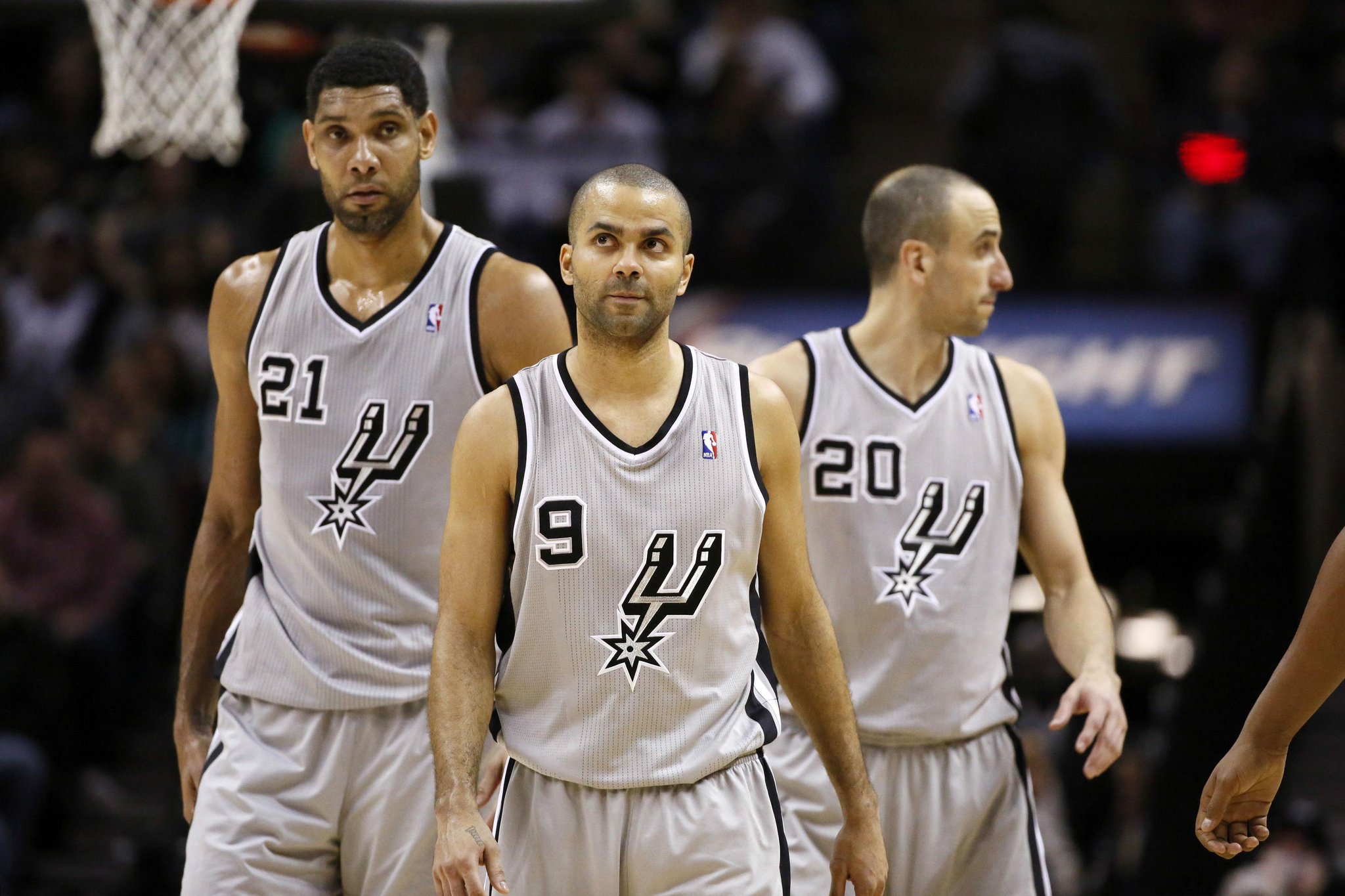 500 wins.

Image: 120 Sports