Chemistry: The strongly-bonded Grizzlies continued their emphatic start to the season.

Image: Rantsports.com
Here's the full roundup for the action on the night of Monday 3 November 2014. Six games across the association — with a fair share of blowouts and some Monday blues elsewhere — made for a compelling night.
Liftoff in Houston
The Houston Rockets continued their spectacular start to the season as they topped the Philadelphia 76ers with a 104-93 win at the Wells Fargo Center. James Harden scored 35 points and Dwight Howard crashed 14 rebounds in a night that went to perfection for the visitors.
Improving to 4-0, Kevin McHale's team received a massive boost ahead of their upcoming meeting with the NBA Champions, Spurs. 6 three-pointers from Trevor Ariza, in a night where Houston went 16-34 from beyond the arc was just another component to their dominance.
Narrowly leading by just a point at halftime, it was Trevor Ariza's impact that really allowed the Texans to pull ahead. Harden hit 17 free throws, one more than the whole 76ers. Phildelphia went to 4-0.
With momentum on their side, the Rockets, who are enjoying their best start since the 96/97 season, are looking well prepared for their clash with a fellow Texas side, the San Antonio Spurs, on Thursday.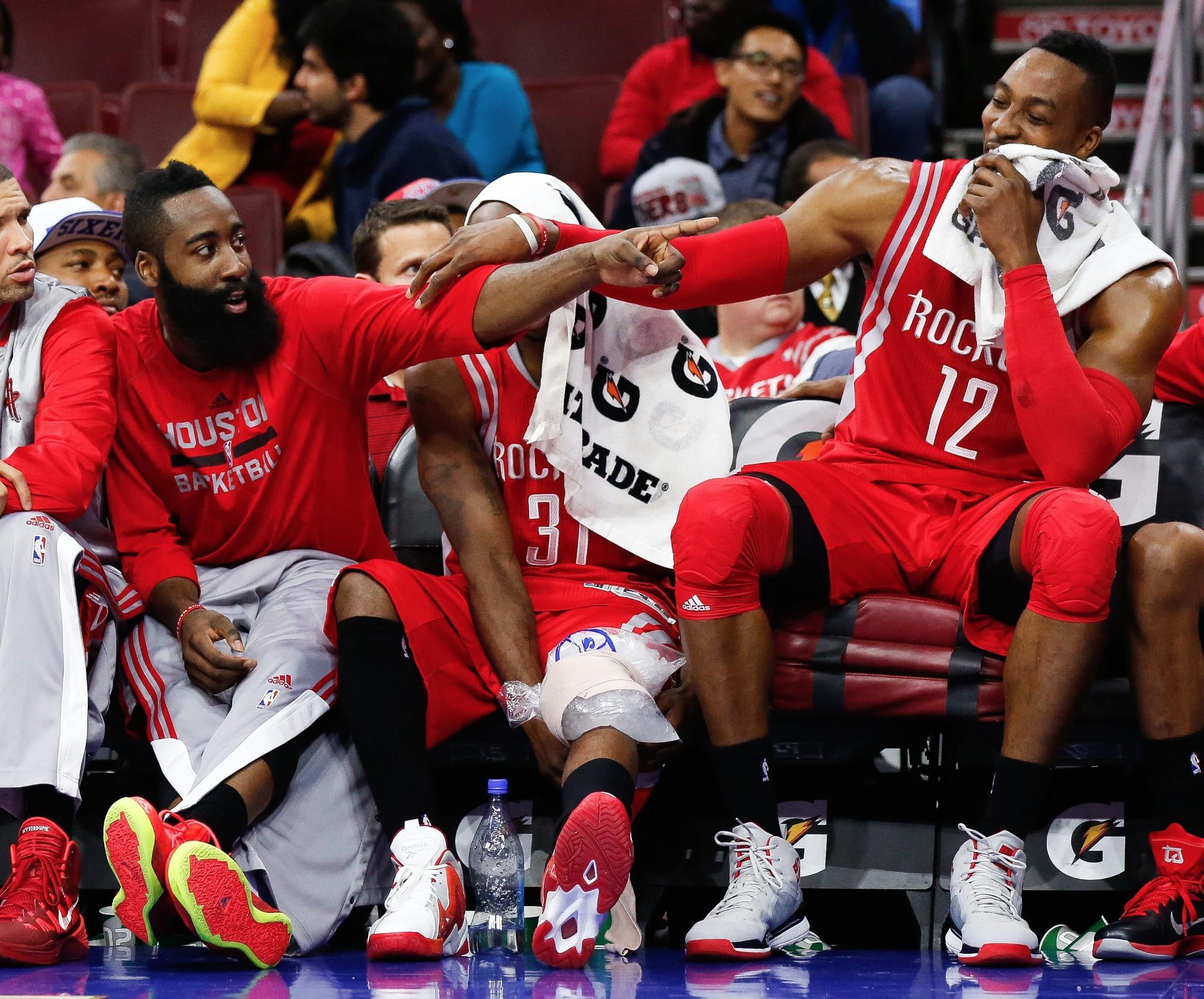 Job done: Howard, Harden embrace their win as they rest on the bench in the late stages.

Image: CBSSportsNBA
Misery for Thunder as Brooklyn flourish
No Kevin Durant, no Russell Westbrook
— the Oklahoma City Thunder may have performed decently in their absence for the first try, but when they travelled to the New York suburb they were on the receiving end of a rout.
Following a lengthy spell of time on the sideline for Brook Lopez, coming close to a year out, the Nets' center hit the ground running with 18 points in the 116-85 win for Brooklyn. Alan Anderson put out the same total while Deron Williams scored 17 points, dishing out 9 assists.
Reggie Jackson's game-high 23 points went some measure of providing the Thunder with a lift, but the void from Durant and Westbrook still hung over the game. There was more misery too, as Andre Roberson sprained his left foot.
Following the loss, Durant and Westbrook seem a long way away from the nightmare that could be ahead for the Oklahoma City Thunder.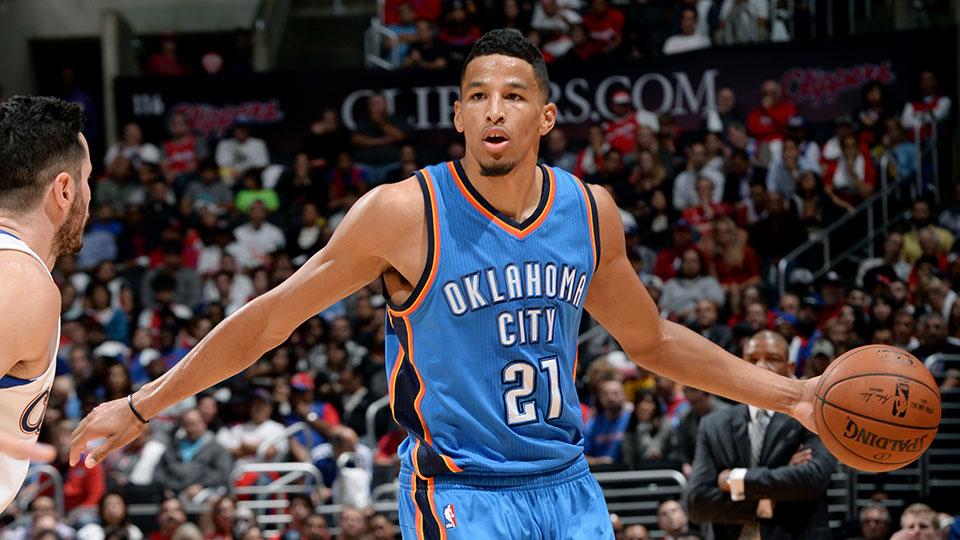 Following an injury to Andre Roberson, the Thunder are down to 8 healthy players.

Image: SportsIllustrated NBA
Mavericks hold on
Chandler Parsons continued his journey to comfort in a new Dallas uniform, as his 29 points saw the Dallas Mavericks hold on to defeat the Boston Celtics 118-113.
It seemed frustratingly similar when Dallas, leading by 30 points before the half, saw their lead unravel and set up for a nervy finish in the American Airlines Center. One of a handful of 3-pointers r Persons was paramount in establishing the final margin.
Despite Jeff Green's 35 points and Avery Bradley's personal best of 32 points, the Celtics' dismal first half performance came back to haunt them. Even though they demolished Dallas in the third quarter, Avery Bradley missing a free-throw when he was fouled shooting a three-pointer would keep Boston a point behind. Monta Ellis' layup and Parson getting back possession was enough to see them through.
FINAL: Mavs defeat the Celtics 118-113! Parsons ends with 29 pts. Full Box score: http://t.co/LxC0wgGeuq #DALvsBOS pic.twitter.com/6dfT12dTXt
— Dallas Mavericks (@dallasmavs) November 4, 2014
Collison shines for Kings
A physical and rough game in Dever's Pepsi Center, featuring 63 fouls, would ultimately come down to the definitive performance of one Darren Collision, as he scored 21 points, including the crucial additions to pick up the win. They pulled through a slow start and his late free throws kept them on to win 110-105.
Rolling Grizzles ground Pelicans
Outstanding performances from Marc Gasol (16 points, 11 rebs) and Zach Randolph (15 pts, 11 rebs), along with key contributions from Prince, Allen and of course Memphis' defence that not only made triple-digits a mere fantasy for the Pelicans, but waltzed past for a 93-81 win in Tennessee.
A slow third quarter and lacking offensive edges at times, it was the highly-accredited, tough defence that made the impact. Assembling a run in the final five minutes saw them break ahead, as much as 93-79 after Allen's free throws, before Pelicans, already phased out, added a couple as the game came to a close.
The Grizzlies beat the Pelicans 93-81 -- to start 4-0 for the first time in their history. http://t.co/z0bB5yu5NY pic.twitter.com/BBOi3g0oYl
— NBA.com (@NBAcom) November 4, 2014
Rhythmic Clippers play the Jazz
When the lights went out in the Staples Center, all the sounds were made by the Clippers, not the Utah Jazz. Thanks, in part, to an astounding 31 points by Blake Griffin and a first triple-double for Chris Paul.
A floating jumper 6:53 in the fourth quarter not only put Clippers well out ahead, but it allowed Crawford to break the 15,000 point milestone in the same process.
The Utah Jazz's last lead was early in the fourth quarter. After that, despite coming close, Clippers were always one step ahead.
Classified Results
Powered by Google
*****
The NBA season rolls on, Rockets are on form, Nets are finding their feet, Parson is performing at Dallas and more.