Simon Mignolet's errors just keep totting up for Liverpool.

Image: Getty
Another Liverpool shortfall presented another catalog of doubts for keeper Simon Mignolet as the Reds were forced to ask more questions of themselves following a frustrating draw with Ludogorets in the Champions League.
Mignolet, who signed for the club at the start of last season, made a woeful error leading to the opening goal for the hosts. In a game which ended in sorrow for Brendan Rodgers' men who let the lead slip in the dying stages, the Belgian in between the sticks may be at the sole of a lot of their problems.
The Belgian has made 17 appearances in the Premier League and Champions League this season. Yet, he has only kept two clean sheets, according to Squawka. For a club like Liverpool with such ambition, that simply is not good enough.
Anyone who knows anything about Liverpool will most likely be aware of their detrimental defence. That's been well documented in columns like these and scattered across the press. Even if that's the case, some trust in a keeper is always needed.
For a passionate side that finished second and fell short in an amazing title race, you need a keeper at the back who can produce those saves that make the difference — ones which define games and the stepping stones to the trophies and so on.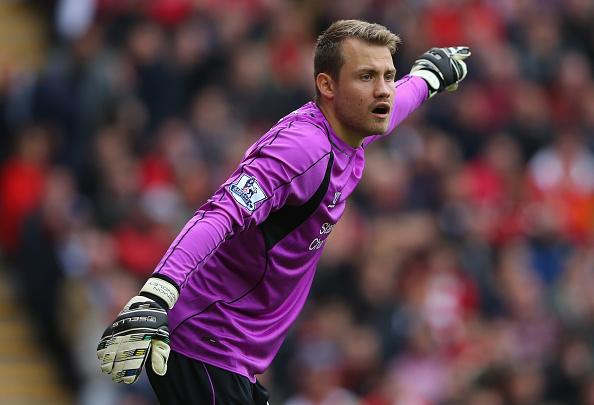 Can Liverpool afford to rely on a keeper whose proved to be unreliable so far?

Image: PurelyFootball
Worryingly, it's been a rarity for Simon Mignolet. His first Premier League game in a Liverpool shirt gave us a glimpse, when he saved a late penalty against Stoke. But it remains a frustrating and agonising waiting game before Liverpool fans see it again.
Dani Abalo tapped in a gift of the goal for the opener in Liverpool's draw in Sofia on Wednesday. An unstable and shaky Mignolet spilt Marcelinho's long-range strike, allowing him to pounce at ease. But, that error wasn't a freak accident.
It's happened before, and the chances are it will happen again. Positioning has been an issue flagged by many, and from set-pieces, and just reliability as a whole.
At the start of the year, Martin Laurence wrote in his article for WhoScored:
Mignolet must improve between now and the end of the season; it may sound harsh but he would struggle to do much worse. At 25 he's still very young for a player in the spotlight that goalkeeping inevitably brings and he may well go on to be Liverpool's keeper for many years to come. If there isn't a significant mark up in his current form, however, Rodgers may be forced into looking for a more experienced keeper in the short term, with Brad Jones the only other senior shot stopper at the club.
Seemingly though, it looks like not much has changed. We're still here, talking some 11 months later, about what could be changed. Brad Jones, with all due respect, is not the competition that Liverpool would ideally want. They need a big time shot stopper capable of really challenging and forcing the best out of the Belgian, whilst also carrying a vital back up plan.
For all the football they are playing, and the big steps they're taking, Liverpool need someone in between the sticks who they can trust to make vital saves in the event that they let them through — which, with their current defence, may be likelier than most.
A lot of work needs to be done. Mignolet needs to reform himself quickly, or Rodgers' only option will be to find a replacement in January.