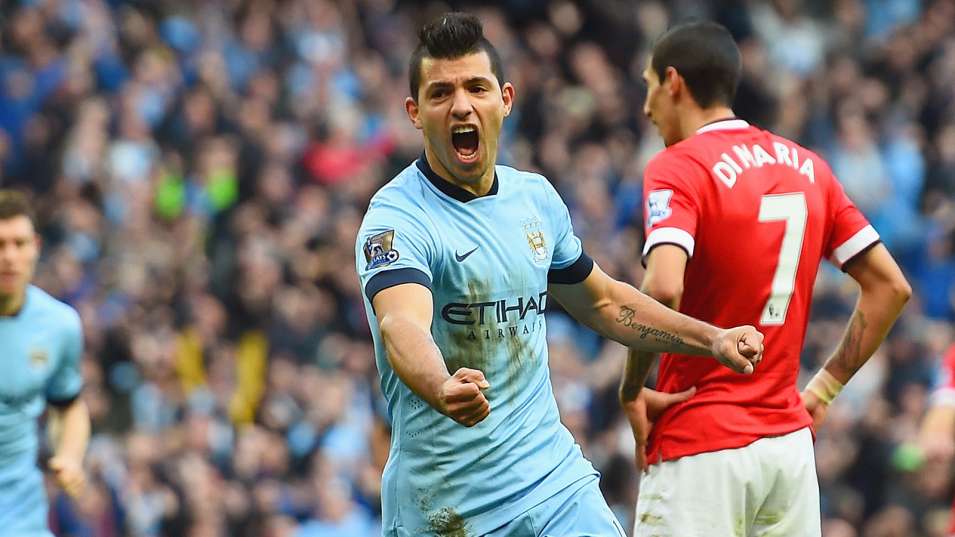 The Argentine lifted City in the Manchester Derby.

Image: FOX Soccer
Manchester City 1 - 0 Manchester United
Sergio Aguero (62')
Barclays Premier League
Sunday 2 November 2014
1:30pm GMT Kickoff
Etihad Stadium, Manchester, England.
Matchweek #10
[More coverage: Live / As it happened]
Sergio Aguero's second half goal ensured Manchester City prevailed as they edged out a ten-man Manchester United side at the Etihad Stadium.
A first-half red card to Chris Smalling and injury to Marcos Rojo left United playing with a short-handed backline, but even then, they came close and put the Citizens verged on panic.
Manchester City were dealt a blow even before a ball was kicked as Kolarov picked up an injury in the warmup. Gael Clichy replaced him on the starting lineup. Weeks of swivelling anticipation finally culminated with kickoff, met with a fantastic atmosphere at the Etihad Stadium. Manchester United won a free-kick early, as Angel Di Maria was quick to impose an impact on the derby. But eventually, the pendulum would swing in favour of the Citizens, slowly but surely totting up their attempts.
Sergio Aguero was able to race down to the left, troubling the back-four who weren't looking rigid enough to hold out the Argentine. His shot was timid and palmed away by the awaiting David De Gea, who had a huge impact on the first half scoreline.
Adnan Januzaj's only chance of the game, having to be subbed off for later events, was a shot that strayed wide. Van Persie knocked it on towards the young Belgian, but he snatched at the opportunity and scuffed it.
In an attempt to slow the game down and soak up some of the oncoming barrages from the hosts, Man United knocked the ball around and embraced possession. When they did come round to surrendering the ball though, they were open to the wrath of Man City.
David De Gea made his defining impact when he thwarted some dazzling play from Manchester City. First, the ball was guided on to Aguero, taking it past Rojo but the Spaniard was there to stop it at the near post. Then, Jesus Navas got on the end of a beautifully built set up only to be stopped by his fellow compatriot. Finally, De Gea risked life and limb, blocking Aguero's shot when the ball was curled in.
Chris Smalling picked up a booking when he impeded Joe Hart's clearance, after Di Maria's free-kick bobbled towards the England No.1 keeper. More than ten minutes later, the emotion got to him when he fouled Milner outside the box. Coming in at some pace, the rash decision from the centre-half saw him dealt a second booking and Manchester United where down to ten men, exactly what Van Gaal said he must not have had during the game.
Milner's subsequent free-kick glanced across the face of goal but Kompany couldn't connect with a header that was goal-bound. Soon after, Fellaini was lucky not to concede the penalty, when he swept at Aguero's legs from behind. Yaya Toure had an appeal on the stroke of the interval but that huge talking point was also waved off by Michael Oliver.
The Citizens were out to take the advantage against a depleted side. Blocking all over the place, there were times for early panic up against City. Whenever Yaya Toure picked up the ball in the middle of the park, the home fans were roaring and awaiting the net to finally bulge.
Aguero was cut out by Rojo, Navas' cross was stopped, Zabeleta's shot rose over the bar — but there was still no breakthrough. Wayne Rooney was putting in his defensive haul also, as he caught up with Yaya Toure to make a risky, yet inch-perfect tackle.
Louis Van Gaal saw his side take another big blow, with Marcos Rojo suffering a shoulder injury. The Argentine lunged in on his International teammate Demichelis, but landed badly and received treatment. Stretchered off, he was replaced by Patrick McNair.
Still without a goal, Man City saw another penalty appeal go begging when Sergio Aguero was chopped down by Carrick. Hanging over the decision almost cost them as Angel Di Maria surged away and was fouled by Martin Demichelis. Another quality delivery was not met with the end product.
The penalty appeals wouldn't however play too much of a factor as Sergio Aguero would finally get the breakthrough. Yaya Toure sent Gael Clichy down the left, cutting back towards Aguero who finished emphatically to continue his sensational run of form.
Following the goal, Manchester City gradually took their foot of the gas. Van Persie almost embarrassed Joe Hart at the near post but the keeper just kept it out, and things got more edgy for the hosts, even despite their goal and man advantage. Jesus Navas hitting the bar did however provide a reminder of City's potential when they broke.
Wayne Rooney's incredible run after a fortunate touch saw him nutmeg the City skipper, before cutting in on to his stronger foot. It eventually trickled towards Di Maria but he was just palmed out by Joe Hart. Kompany then had to clear his lines frantically. Dzeko was thwarted by Valencia, Toure's header rose over the bar and time was running out.
The faces on the fans showed they were taking nothing for granted, and they eventually got the three points, knowing they were grateful and pushed to the limit by a side down to ten men for the whole second half.
More game coverage:
Manchester Derby: As it happened
More Premier League:
Newcastle 1-0 Liverpool: Match report
Nisar Khan column: Reds must change
3pm Kickoffs: Recap & Roundup
More football:
Arsenal angling for Pedro
Eto'o signs on for Everton
2014 Ballon d'Or nominee analysis