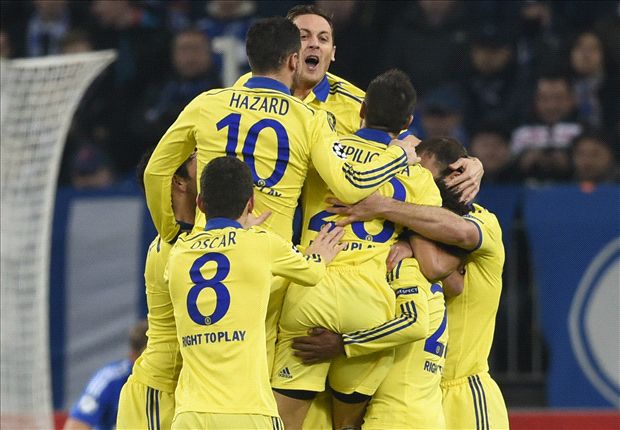 Chelsea with another blissful away performance.

Image: GOAL.com
Schalke 0 - 5 Chelsea
John Terry (2'), Willian (29'), Kirchhoff own goal (45'), Didier Drogba (75'), Ramires (78')
UEFA Champions League
Tuesday 25 November 2014
7:45pm GMT Kick-off
Veltins-Arena, Gelsenkirchen, Germany.
Matchweek #5
Chelsea continued their dominant form in all competitions as they dismantled a lackluster Schalke by five goals to nil at the Veltins-Arena in Germany.
The Veltins Arena was rocking to witness this pivotal contest in the Champions League. Roberto di Matteo hoped to prove The Blues what they missed out on, while Jose Mourinho looked for another successful result in a huge competition like this one.
Willian whipped in an early corner, where captain John Terry would beautifully dispatch. Eight yards out in the centre, he climbed above Howedes and planted a powerful header into the top right hand corner. Jose Mourinho wanted a lightening start, and he sure got one.
Chelsea featsted on Schalke's defence, with Diego Costa causing bother for the German-based side. Scorching down the left flank, he cut into the box on his right, but the attempted cut-back to Hazard was unable to fulfill.
Nemanja Matic showed his beastly style of play in the centre when he dominantly stopped a charging Huntelarr who initially pounced on a wayward pass by the Serbian himself. With ease, Mourinho's new signing brushed Huntelaar off and retrieved the ball for his team.
In one of few bursts forward Schalke had, Choupo-Moting launched a 25-yard rocket at goal, but a heavy deflection bouncing off Cahill's ankle made it extremely awkward for Courtois who used his height in an attempt to push the ball over. However, the Belgian was helpless as it spanked off the top frame and back into the box, followed by a clearance.
A minute short of the half hour mark, Willian fired home Chelsea's second. The Brazilian scampered forward, cutting inside the box on his right foot and fired past a helpless Schalke keeper left stranded by the powerful strike,
Schalke's lackluster first half performance got even worse. Willian launched in a corner, approaching two blue jersey defenders. A ball that should have been cleared away, ended up in the back of their own goal. Kirchhoff clumsily guided past his keeper to a vibrant bunch of boos inside the Veltins Arena, coming from the home fans.
Half time whistle blew the game and group win was seemingly in the bag for Chelsea, who showed their class throughout 45 minutes. John Terry's rocket header, followed by Willian's low drove strike and a catastrophic disaster for Kirchhoff who headed into his own goal, handing Mourinho's men a third goal.
Chelsea controlled the tempo throughout the second half, not letting Schalke in for any real clear cut chances.
The Blues were then to add a fourth as Willian unselfishly squared to veteran Didier Drogba for the Ivorian to slot home and continue the rout of Schalke.
Relentless on the counter, Chelsea thumped a fifth past the Germans. Drogba proved his class when he scooped a dipping cross to Ramires at the back post, who, made no mistake in converting.
More:
Full Roundup, Breakdown From All Champions League games