Lionel Messi emerged as the highest scoring player in Champions League history.
UEFA Champions League
: Tuesday 25 November 2014, Matchweek #5
Lionel Messi smashed the record for most Champions League goals scored in history in a terrific night of Champions League action, also featuring a hat-trick from his fellow compatriot Aguero who stunned the German Champions.
Chelsea also dismantled a sorry Schalke side and Zlatan Ibrahimovic returned to scoring action too in a brilliant night from the best of European football.
Here in this stacked article, you'll find the complete comprehensive review and roundup for the night in the Champions League.
An amazing night for Manchester City.
Night at a Glance
CSKA Moscow 1 - 1 Roma: Berezutski stuns Roma with last-gasp equaliser
Manchester City 3 - 2 Bayern Munich: Astonishing Aguero stuns Bayern in rocking Etihad
Paris Saint-Germain 3 - 1 Ajax: Cavani, Ibra on target to extinguish Ajax
Apoel Nicosia 0 - 4 FC Barcelona: Messi breaks another record in Cyprus
Schalke 0 - 5 Chelsea: Ruthless Chelsea dismantle sorry Schalke
Sporting Lisbon 2 - 1 Maribor: Lisbon contain Maribor
Bate Borisov 0 - 3 FC Porto: Porto pulverize exhausted Borisov
Shakhtar Donetsk 0 - 1 Athletic Bilbao: Bilbao doom Donetsk
CSKA Moscow 1 - 1 Roma
Fransesco Totti (43'), Aleksei Berezutski (90+3')
Group E
CSKA Moscow Stadium, Moscow, Russia.
A last-gasp equaliser from Berezutski shocked Roma as CSKA clutched a draw to keep glistening European hopes alive.
In the piercing cold of the Russian capital, both parties took some time to find their groove, but when they did the results were tremendous. Fransesco Totti netted a sublime free-kick to install a huge advantage before the half-time whistle. Placed intricately outside the area, the Italian legend sweetly struck a fizzing ball that rocketed acros the wall and traffic into the top left corner. Roma's masterful forward broke his own record for the oldest player to score in the Champions League, and he did so incredibly.
Roma set out more conservatively for the second half, and were up to stoppage time when it was still functioning. But, one ease-off, one lapse in concentration, would lead to their unravelling as they were shocked in the dying stages of the game.
Winning a free-kick on the left attacking third of the pitch, Aleksei Berezutski curled a ball in from the box. It found its way through the defenders who compressed the box, and drifted past a helpless keeper right into goal. CSKA Moscow scratched and clawed themselves back a point.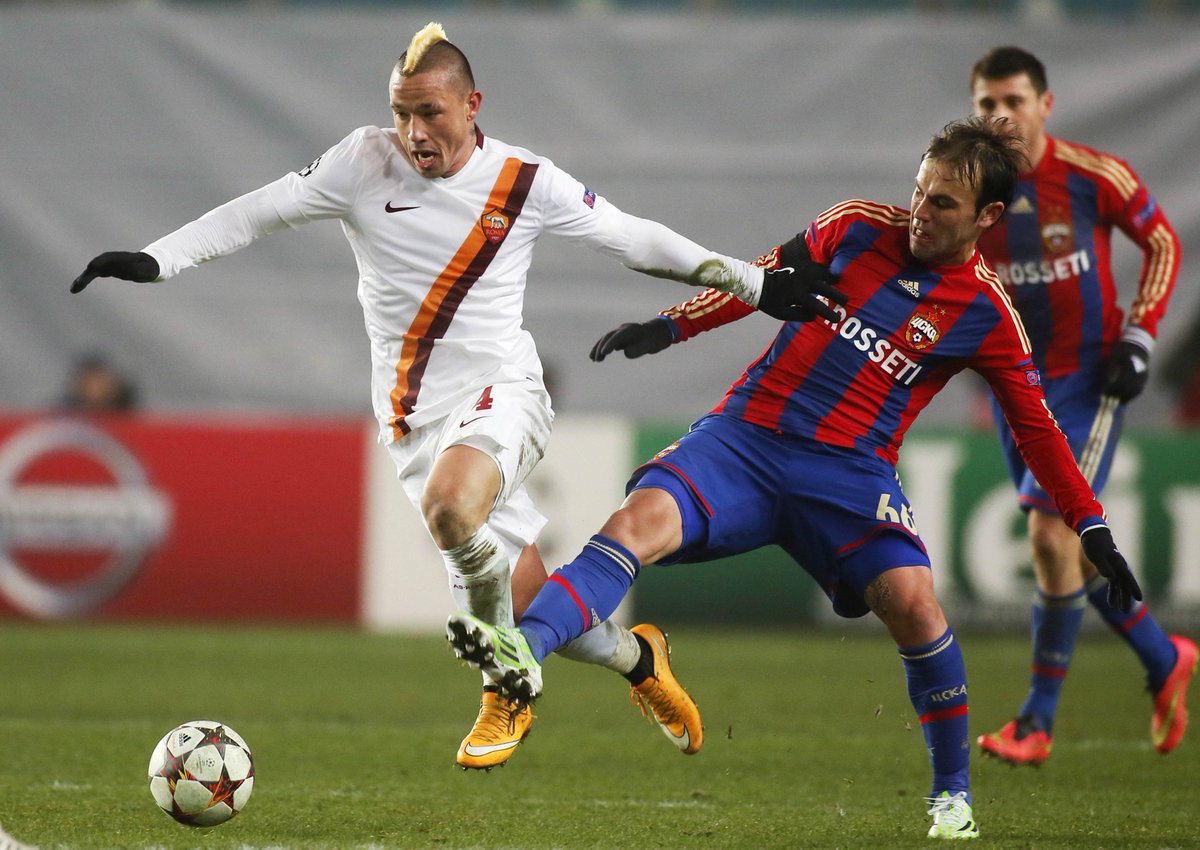 The Russians' resilience in the tournament may not be too late.

Image: FOX Soccer
Manchester City 3 - 2 Bayern Munich
Sergio Aguero (22' penalty, 85', 90+1'), Xabi Alonso (40'), Robert Lewandowski (45')
Group E
Etihad Stadium, Manchester, England.
Sergio Aguero sparked euphoric scenes at the Etihad Stadium as Manchester City mounted an extraordinary comeback to topple the German Champions and keep their hopes alive and beating.
Bayern Munich exploded at the kick-off whistle instantaneously pressurizing the hosts in possession. Elaquim Mangala was looking rather shaky in the opening few moments but Manchester City crucially managed to weather the early storm.
Mehdi Benatia made a catastrophic error when he lunged in to foul Sergio Aguero when he breached into the area. The Moroccan was sent off with no questions asked, before Man City's star striker smashed it into the right of goal to beat the World's best keeper and give Pellegrini's men a huge lead in Europe.
But, the lead wouldn't last the half. Celebrating his 33rd birthday, Xabi Alonso curled a free-kick across the ground, under the wall and right past a helpless Joe Hart to re-instate Bayern Munich back into the game with pure class.
All going so swimmingly prior to this, the hosts then imploded further. Robert Lewandowski capitalised on Sagna's back-off to head powerfully into the top corner leaving the keeper no chance of stopping. It was former City man Jerome Boateng providing the assist. 10-man Bayern had fought back to take a lead at the half-time whistle.
Manchester City would continue to fight for the second half and the results took their time to come into fruition. Sergio Aguero intercepted Xabi Alonso's pass, taking it all the way forward and rolling it past Manuel Neuer.
Hearts were beating in belief as their chances remained alive. Then, in stoppage time, Sergio Aguero broke through and slotted it in sending the Etihad Stadium into an absolute frenzy. Bayern Munich were finally beaten by one of the best strikers in the World, this is what the Champions League is ALL about.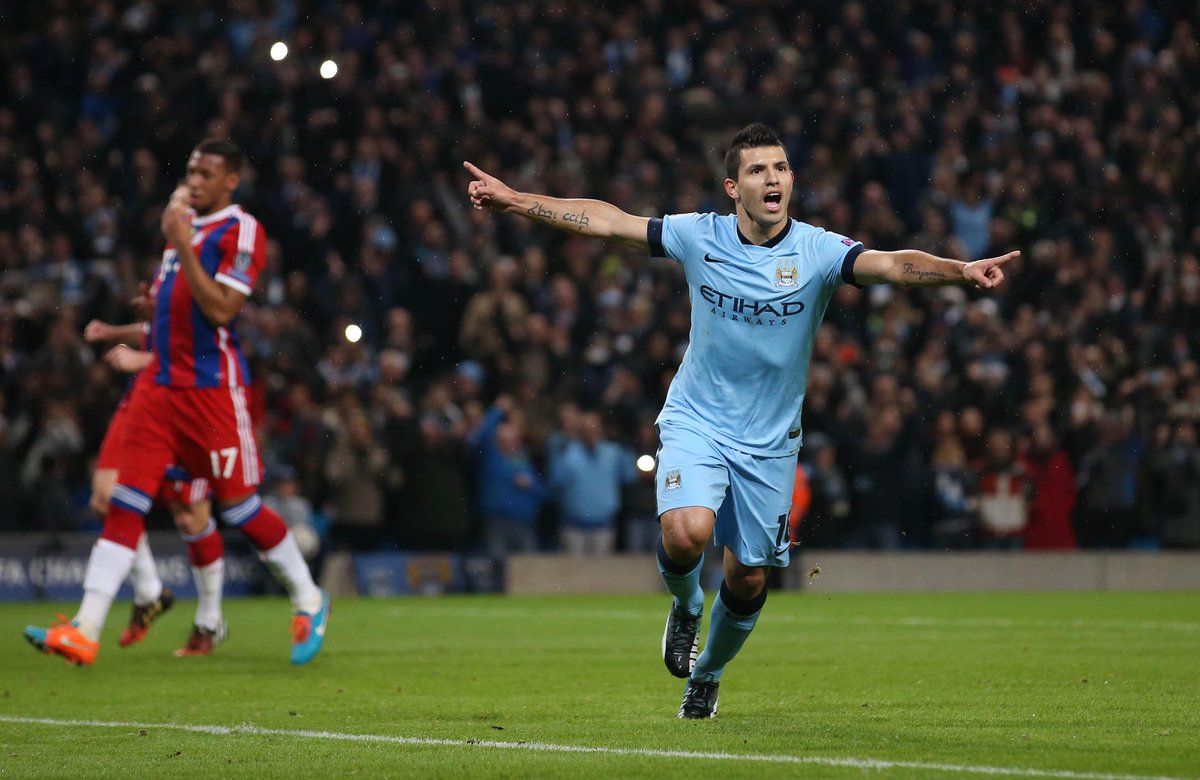 Absolutely incredible scenes at the Etihad.

Image: FOXSoccer
Paris Saint-Germain 3 - 1 Ajax
Edison Cavani (33', 83'), Davy Klaassen (67'), Zlatan Ibrahimovic (78')
Group F
Parc des Princes, Paris, France.
Paris Saint-Germain capitalised on an error-plagued Ajax as Zlatan Ibrahimovic scored his first goal in 3 months and Cavani's double was enough to outclass the Dutch.
It was the easiest of tap-ins for Edison Cavani as he dispatched an open goal through a break. Lavezzi surged into the box, awaiting Jasper Cilessen to come off his line, then squared it out to the Uruguayan who tapped in and on the same strides ran off to celebrate. With that the only component of the first half, Paris lead but it was through a slender margin.
Scoring his first Champions League goal, Davy Klaassen brought up a huge equaliser to tighten the close game. Earlier, a menacing ball shaved the head of Ibrahimovic and Ajax made them pay, as Klaassen got onto the end of a beautifully-crafted ball from Viergever to score the diving header.
Zlatan Ibrahimovic got back on the scoring act as he controlled a half-volley to get his first goal for the Parisiens since way back in August. Lightning and rainy conditions would suddenly occur, as PSG began lighting it up, and got another one a few minutes later.
Edison Cavani scored his second on the end of a terrible error by Ajax's Niki Zimling. A blind backpass fell to Cavani, taking it round the keeper and tapping in at ease.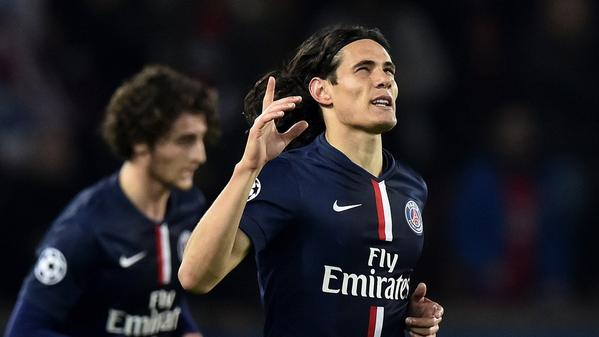 Classy Cavani is exceptional for Paris once again.
Apoel Nicosia 0 - 4 FC Barcelona
Luis Suarez (27'), Lionel Messi (38', 58', 87')
Group F
GSP Stadium, Nicosia, Cyprus.
Lionel Messi's hat-trick saw him smash the record for most Champions League goals scored as Barcelona blew past Nicosia in a match which saw both sides reduced to ten men.
Luis Suarez retrieved possession and made his way into the area with a scintillating turn, nut-megging the defender then angling towards goal to slot it calmly. He scored his first goal for the Catalans in some style.
Adding to the star-studded scoreline was Lionel Messi. He became the highest UEFA Champions League scorer in history after he got on the end of Jordi Alba's way-wood shot to tap in a history making goal.
At age 27, Lionel Messi breaks another major record. It's his second in a week pic.twitter.com/AEAvXuYnjS
— ESPN Stats & Info (@ESPNStatsInfo) November 25, 2014
Adding to that record he would score another right-footed goal. The ball was perfectly placed through to him by Daniel Alves, before stopping the ball and clipping it to the back of the net. Number 73.
Rafinha was foolishly sent off with two bookings in the 70th minute, as he fouled recklessly to rule himself out of the next game, just like Dani Alves whose booking meant he is suspended for the next match also.
After João Guilherme received a second booking with both teams down to ten men, Lionel Messi scored another for the first right-footed hat-trick of his career. He refrained from taking the ball when offside, allowing it to be cut back in for a simple tap in.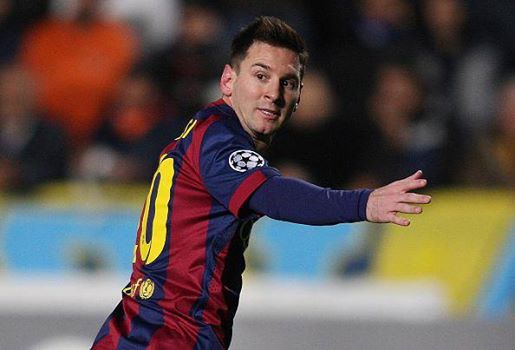 Two records broken in an amazing week for Lionel.
Schalke 0 - 5
Chelsea
John Terry (2'), Willian (29'), Jan Kirchhoff (44' own goal), Didier Drogba (76'), Ramires (78')
Group G
Veltins-Arena, Gelsenkirchen, Germany.
Full match report
An emphatic Chelsea side thrived on a Champions League away trip once again as they smashed five in to dismantle Schalke.
An early corner kick from Chelsea would lead to the Blues' dream start on their away trip. John Terry rose above the rest and met Fabregas' ball cleanly, heading into the top right corner as the captain got his side off to a swift start.
A mesmirizng second was added by Willian before the half-hour mark. A backheel set him up to Hazard, who found him once again to fire through the keeper from the right in a tough angle.
Schalke had the game lost and the fans in Germany booing by half-time. That's because a fatal error from Kirchhoff lead to Chelsea's third goal. Fabregas' corner was troublesome again, and Kirchoff headed it into his own goal.
Roberto Di Matteo had flashbacks from his past — but hardly enjoyable this time round. Didier Drogba scored a Champions League goal on German soil, tapping in at ease that spelled the dash for the exits for the Germans. Not the biggest goal he'll score on German soil, since the last time he did, Di Matteo was managing them on their way to a historic Champions League victory.
Drogba would then turn provider, as Chelsea broke away again rampantly. Eden Hazard got possession back after kickoff, found Drogba who delivered a high cross, but was met well by Ramires to make it 5-0.
Read the full report here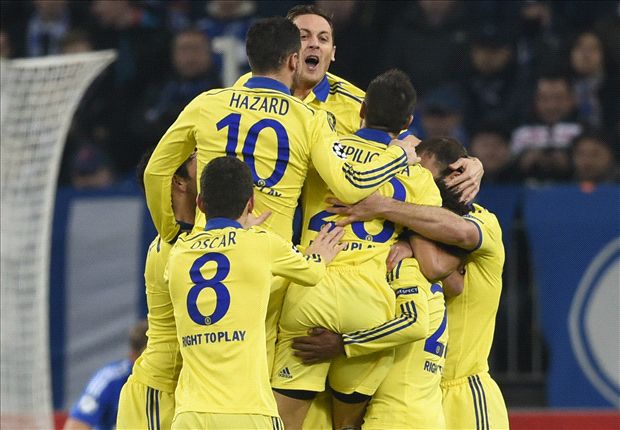 Embrace: Chelsea going for the top spot.

Image: GOAL
Sporting Lisbon 2 - 1 Maribor
Aleš Mejač (10' own goal), Nani (35'), Jefferson (42' own goal)
Group G
Estádio José Alvalade, Lisbon, Portugal.
Sporting Lisbon got the job done early as Nani scored a stunning goal to differentiate the sides in the Portugese capital.
Aleš Mejač's own goal gave the hosts a lead after ten minutes. Jefferson did some sensational work down the left, racing down the wing and curling the ball in towards Carlos Mane, it eventually took the definitive hit of Mejac into goal.
Nani eventually found the net to double the lead in Lisbon. Nani was first to spark the attack, picking it up in the box as the defenders crammed on the line. On the second time of asking though, he managed to get it in.
Jefferson however struck it into his own net as one of the final acts of the half, giving Maribor some hope over the interval. Mejac sprinted away and his ball in came off Jefferson into goal.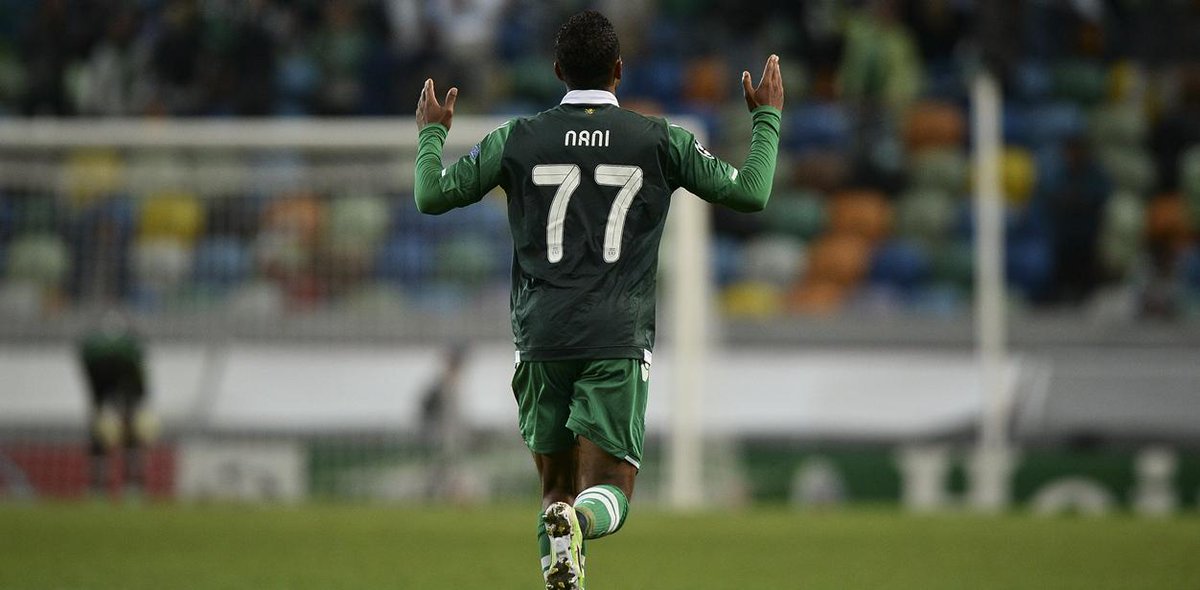 Nani superb for Lisbon again.

Image: Bet365
Bate Borisov 0 - 3 FC Porto
Hector Miguel Herrera (56'), Jackson Martinez (65'), Cristian Tello (89')
Group H
Borisov Arena, Barysaw, Belarus.
Hector Herrera constructed a dazzling performance to undo Bate Borisov as Porto steam-rolled past through a second-half runaway in Belarus.
Porto controlled the match early on with possession, but judging by Bate's keeper Sergie Chernik, they did little with it. The hosts were looking strong on the break and during set pieces keeping their fans upbeat throughout. A far from dull opening period did however finish goalless.
Porto emerged as a replenished outfit after half-time. Eleven minutes into the second phase, Miguel Herrera latched on to the end of the first portion of significant quality in the game. The Mexican received it on the right side of the pitch, and drilled it across goal past the helpless keeper to open the scoring in stunning fashion.
Scorer Herrera would morph into the provider as Porto really grasped the game in the 65th minute. Another top quality goal from the travelling side saw Brahimi transfer possesion to the Mexican, who laid it off for Jackson Martinez to sidefoot into goal.
Another assist for Herrera saw Cristian Tello get in on the act. An incisive through ball was met well by the substitute who slotted straight into goal as Porto cruised to the finish.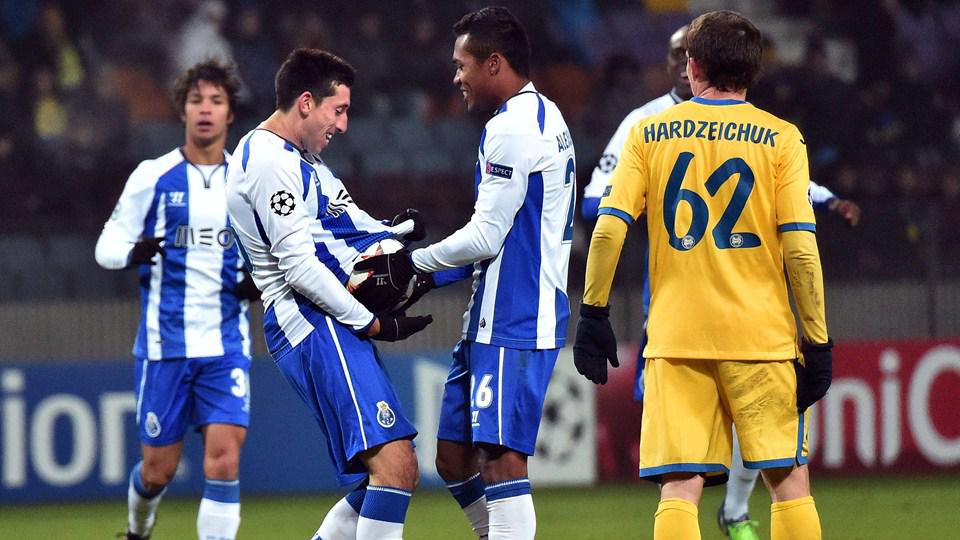 Outstanding display from Porto's magical Mexican who rises to the occasion in Borisov.

Image: FIFA.com
Shakhtar Donetsk 0 - 1 Athletic Bilbao
San Jose (68')
Group H
Arena Lviv, Lviv, Ukraine.
Athletic Bilbao narrowly scraped past Shakhtar Donetsk to tame Luiz Adriano and others in Lviv.
Shakhtar had most of the control with Alex Teixeira getting ever so close to scoring past the visitors. Not only was he creating chances but also was just off with a one-on-one chance.
San Jose finally found the breakthrough after 68 minutes of play. From close range, he crept into the far post and taps in after Benat's free-kick was not dealt with well by the Ukranians.
Bilbao finally find some success.

Image: ESPN Sports Center
Match Breakdowns
CSKA Moscow 1 - 1 Roma: CSKA Moscow continue to fight and fight, they have been filled with a new sense of urgency in their last few games. Not only did they dismiss Manchester City in the previous gameweek, but now came back to shock Roma. It's not a result the Italians will be liking at all, however. Having taken the lead in what was a sensational free-kick and to lose it by such a defendable goal, and not being able to kill the game off, will hold heavy in regret.
Manchester City 3 - 2 Bayern Munich: Truly an incredible night at the Etihad Stadium. Sergio Aguero is one of the very best in the World and showed it again today. This win, ending the undefeated streak of the German Champions could be a pivotal turning point for the rest of the season and they could go ahead to create an unbelievable rescue mission now, even without David Silva and Yaya Toure, they stunned Bayern.
Paris Saint-Germain 3 - 1 Ajax: It's good to see Zlatan Ibrahimovic scoring once again but he was shown up by the class of Cavani. Yes, his goals were rather simple but he continues to be the searing force of Paris. Ajax simply gave up on themselves from the second goal - yet it was their errors which ultimately lead to it.
Apoel Nicosia 0 - 4 FC Barcelona: Another day, another record broken, and smashed. At the age of 27 Lionel Messi is proving why he really is the best player on the planet and could be the greatest of all time if not already. Only thing Barca could be regretful for is the red card to Rafinha which was totally unnecessary. In addition, Dani Alves won't feature in the winner takes all clash with PSG. Luis Suarez's first goal was seemingly overshadowed but there will be plenty more times for the Uruguayan to shine.
Schalke 0 - 5 Chelsea: Chelsea have really put themselves out as a favourite in the competition now. Didier Drogba scoring in the Champions League again was quite a sight to see and admire, but the overall Chelsea performance were too. For me, taking nothing away from a spectacular win, Schalke ended up undoing themselves by their lack of desire at the imminence of defeat.
Sporting Lisbon 2 - 1 Maribor: Nani's goal was sublime, it took some time but when he got the shot off it was a terrific goal and ultimately decided the game. Maribor have taken many by surprise over the past two Champions League games but don't have the good enough results to keep themselves alive.
Bate Borisov 0 - 3 FC Porto: Key to Porto's win was their magnificent ability to grow into the game. You could tell by the way they started that the Portugese side intended to run away with the game early, but the lineup made it a tough area to permeate on Porto's behalf. A crucial element of surprise provided the platform for Porto to seal the game in their favour, courtesy of the magical Mexican Herrera. With that, Bate had no response and never looked to trouble after an hour of play.
Shakhtar Donetsk 0 - 1 Athletic Bilbao: Finally I'm not finishing this off with Bilbao losing, because they got the win. Donetsk seemed so different from their game against Borisov, not just with a step up in opponents but they were lackadaisical.