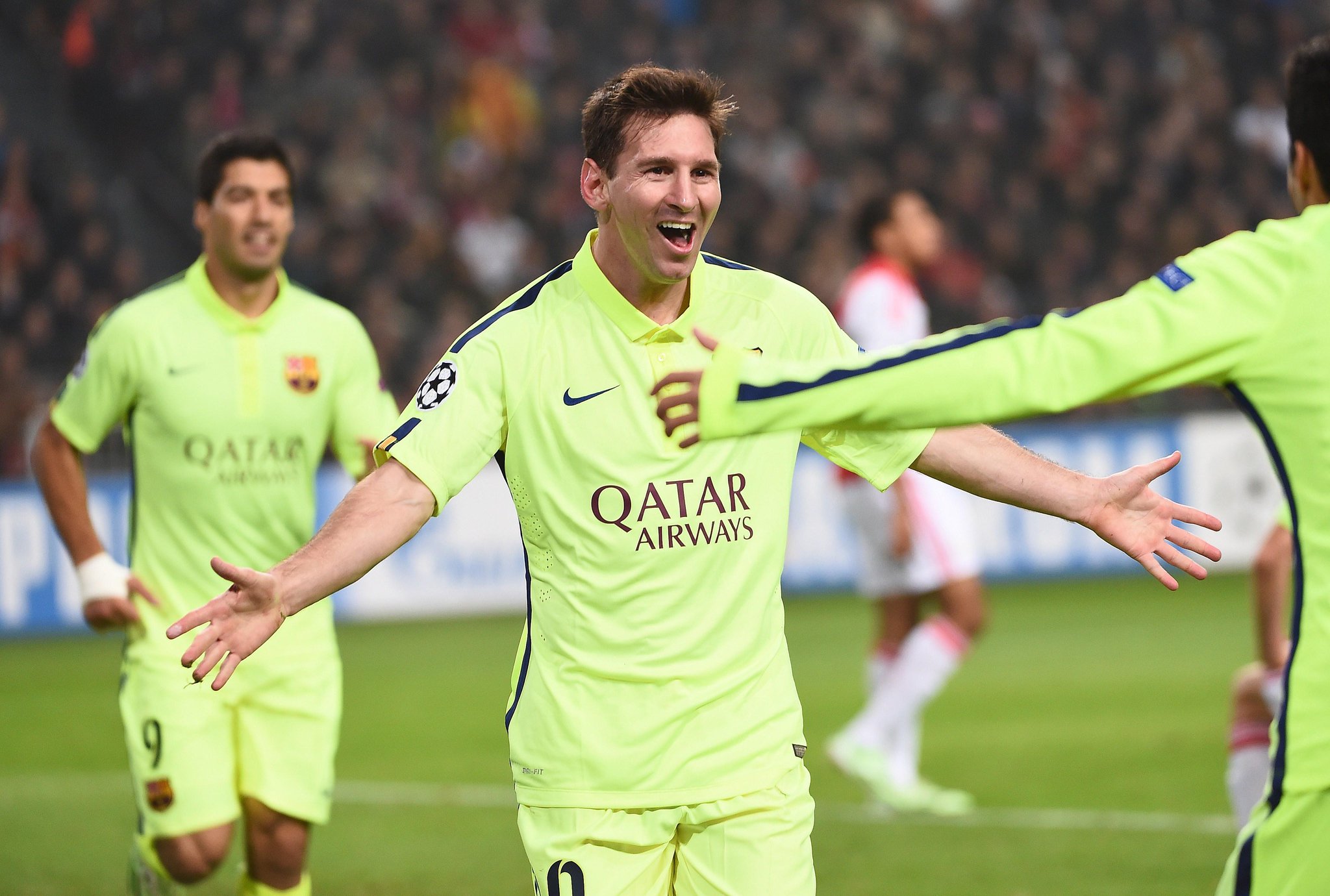 Messi took home another piece of history, equalling the record for all-time goals scored in the Champions League.


Image: Sky Sports
UEFA Champions League
: Wednesday 5 November 2014, Matchweek #4
While celebrations ensued around the UK for Bonfire Night, the Champions League had some fireworks of its own with a spectacular night of action.
Lionel Messi equalled the record for most Champions League goals in history, Luiz Adriano made it 8 goals in 2 games, Man City plunged and Bayern Munich were classy once again. All this and more in a 21-goal night in the Champions League.
Here in this stacked article, you'll find the complete comprehensive review and roundup for the night in the Champions League.
Night at a Glance
Manchester City 1 - 2 CSKA Moscow: Nine-man City see hopes plunge to Moscow
Bayern Munich 2 - 0 AS Roma: Bayern bulldoze past Roma
Paris Saint-Germain 1 - 0 Apoel Nicosia: Cavani goal enough for Parisiens
Ajax 0 - 2 FC Barcelona: Messi equals Raul's record as brace lifts Barca over Ajax
Sporting Lisbon 4 - 2 Schalke: Lisbon extinguish Schalke in goal fest
Maribor 1 - 1 Chelsea: Hazard misses penalty as Blues held by Maribor
Shakhtar Donetsk 5 - 0 Bate Borisov: Adriano scores another hat-trick as sublime Shakhtar roll on
Athletic Bilbao 0 - 2 FC Porto: Porto secure qualification over sorry Bilbao
Manchester City 1 - 2 CSKA Moscow
Seydour Doumbia (2', 34'), Yaya Toure (8')
Group E
Etihad Stadium, Manchester, England.
Yaya Toure and Fernandinho were both sent off as Manchester City's Champions League hopes took a devastating blow as CSKA Moscow stunned the Etihad Stadium.
With CSKA Moscow fans banned from the game, it was all partisan at the Etihad Stadium. However, they would be stunned in silence after two minutes, when Clichy conceded a free-kick on the edge of he area. Swinging in from the right, Seydou Doumbia escaped from Yaya Toure to head past Joe Hart.
But, the Ivorian Yaya Toure would make up for his error with a stunning free-kick six minutes later. He found the top corner with a terrific free-kick to reignite hopes for the home fans and give himself a much needed confidence boost.
Even more than half-an-hour after conceding, it seemed that Manchester City didn't learn their lesson. Seydou Doumbia was able to keep onside when Clichy carelessly cleared to Nacho, finding the Ivorian who got away from Zabaleta and tucked it to the bottom right corner.
With twenty minutes remaining of the game, City's task got even harder. Not only were they on course to crash out the tournament, but if they made a comeback it would be with 10-men. Fernandinho received his second booking with a body-check and the Etihad was stunned once again. They continued to press forward but left gaping voids at the back.
To make matters worse for the hosts, they saw the chances fade even more when Yaya Toure was shown a straight red putting Manchester City on the verge of elimination. In an act of frustration, Toure — who scored the free kick earlier — shoved Eremenko to the ground and the referee was steadfast in dismissing him from the pitch.
On Guy Fawkes' night, it was City's plot which hit rock bottom.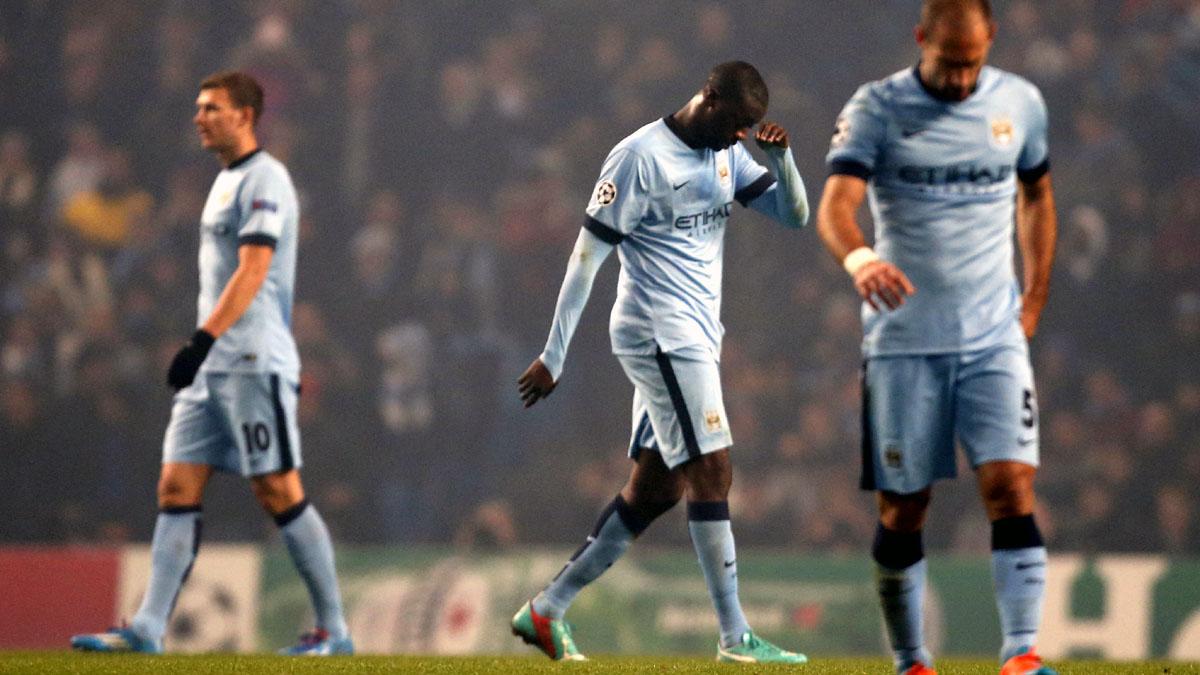 Dejection: City must beat Bayern now to keep their chances alive.

Image: Trivela.com
Bayern Munich 2 - 0 AS Roma
Franck Ribery (38'), Mario Gotze (64')
Group E
Allianz Arena, Munich, Germany.
Goals from Franck Ribery and Mario Gotze secured Bayern Munich Champions League qualification as they outclassed Roma — although this time with less goals.
In an attempt to heal the wounds from the beating they took a fortnight ago, Roma started with a conservative approach in terms of going forward. They looked to pressurize Bayern in their own half but not put too much when they had the chance to attack.
That would be eroded by Bayern's class soon enough though. The hosts took the lead through a goal from Franck Ribery — who almost set up Lewandowski in the first minute of the game — put Roma on the verge of fearing the worst. David Alaba found plenty of space to race down the left, cut it across goal for the onrushing Ribery to side foot it from close range.
In the second half, Mario Gotze doubled the lead when Bayern's pace proved too much once again for Roma to contain. Lewandowski found his former Bayern accomplice, before he got a dabbed his foot at the ball and it dipped into goal.
Roma had no response, other than to stop Bayern from scoring any more. They once again fell to the German Champions.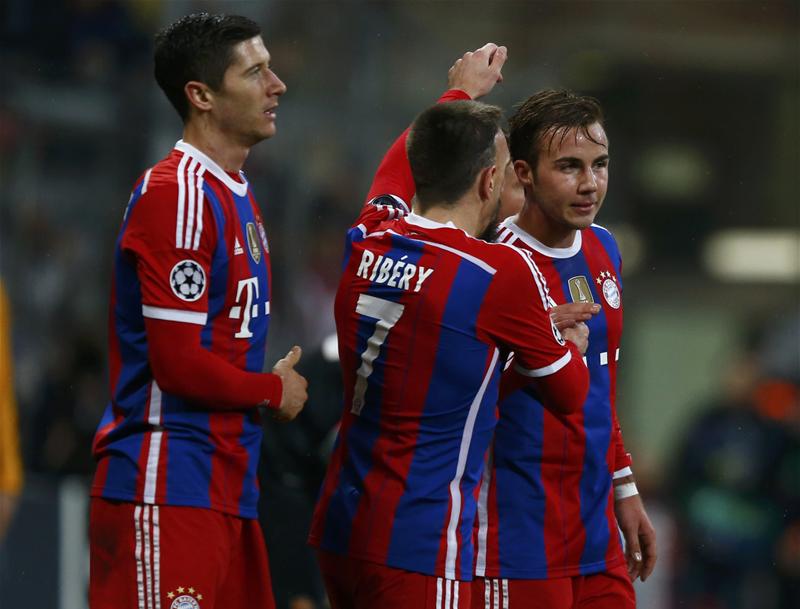 Bayern bolster their chances with a sensational performance.

Image: Squawka
Paris Saint-Germain 1 - 0 Apoel Nicosia
Edison Cavani (2')
Group F
Parc des Princes, Paris, France.
Edison Cavani's strike in the early minutes of PSG's meeting with Apoel Nicosia was enough to guide the Parisiens to an uplifting and hard-fought Champions League win.
Paris unleashed their Uruguayan Edison Cavani within two minutes of the kick-off whistle. As the hosts broke forward in their first threatening attack of the game, Lucas' diagonal, low ball found Cavani, flicking it up to knee-height and smashing it towards the keeper on the turn. The keeper was unable to contain it and it found it's way into the goal. The forward celebrated with his trademark sniper celebration — confidence.
A high octane start at the Parc des Princes would only continue. Apoel were making an easy platform for PSG to base many of their attacks. Cavani could have got two within quick succession, only for his diving header to stray wide and come off the post.
In a second half filled with Paris' forward attacks just falling apart in the final stages, the win, in hindsight, was never really in doubt.
Edison Cavani celebrates his goal in the best way he knows.

Image: UEFA.com
Ajax 0 - 2 FC Barcelona
Lionel Messi (36', 76')
Group F
Amsterdam Arena, Amsterdam, Netherlands.
Lionel Messi joined the ranks of Raul as the Champions League all-time leading goalscorer as his brace lifted Barcelona over Ajax in Amsterdam.
Lionel Messi scored his 70th Champions League — albeit far from his tidiest. Some ball juggling as Ajax got tangled up in the box saw Dani Alves' chipped ball find Bartra, who managed to snatch the ball away from the Dutch keeper Cilessen. Bartra crossed it from the face of goal, finding Messi whose light header was crept into goal.
A second booking to Ajax's Veltman for a foul on Lionel Messi saw him receive his marching orders. As Barcelona continued to pile on, they now had a man advantage to also utilise.
Lionel Messi joined Raul as the Champions League all-time goalscorer with a swift move with Pedro to tap the ball home for his 71st Champions League goal as they zeroed in on victory.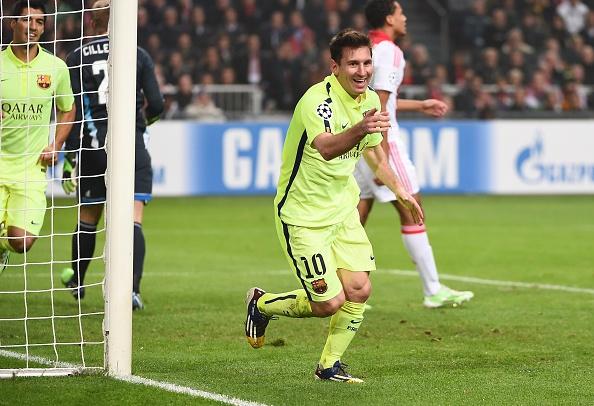 Magical Messi: 71 UCL goals for the Argentine.

Image: WhoScored.com
Sporting Lisbon 4 - 2 Schalke
Islam Slimani (own goal, 17', 90+1'), Naby Sarr (26'), Jefferson (52'), Nani (72'), Dennis Aogo (88')
Group G
Estádio José Alvalade, Lisbon, Portugal.
Sporting Lisbon picked up a big win over Schalke as they stayed one step ahead of the Germans and Islam Slimani scored goals for both sides in an enticing contest.
Schalke found the opener when free-kick was curled in from the right and the Choupo-Moting met it well. However, while he may have celebrated, it took a convicting deflection of Islam Slimani, leaving the keeper to get a touch on it, but not enough to stop it from going into goal.
Lisbon managed to find a response with a free-kick in similar territory on the other side of the pitch to how they conceded. It was curled in and Sarr was able to head it past the keeper to put the hosts back in the game before the half-hour mark.
A sweet strike from Jefferson would give Lisbon the lead. It came out to Nani, who pulled it back to the Brazilian outside the box, and he drive it low, through the box and into the bottom right corner.
In the 72nd minute, Nani would give his side a two-goal lead when he side footed the ball past the keeper who was out of sorts. Carillo ended a long spell of keep-ball from the Portugese, before the winger casually sidefooted into the net.
Kevin-Prince Boateng chipped the ball towards Dennis Aogo, finding the top corner from close range to spark life back into the contest.
But, as stoppage time began, Islam Slimani crushed those sparks — Slimani controlled the ball and sprinted away from the helpless defenders to smash into goal.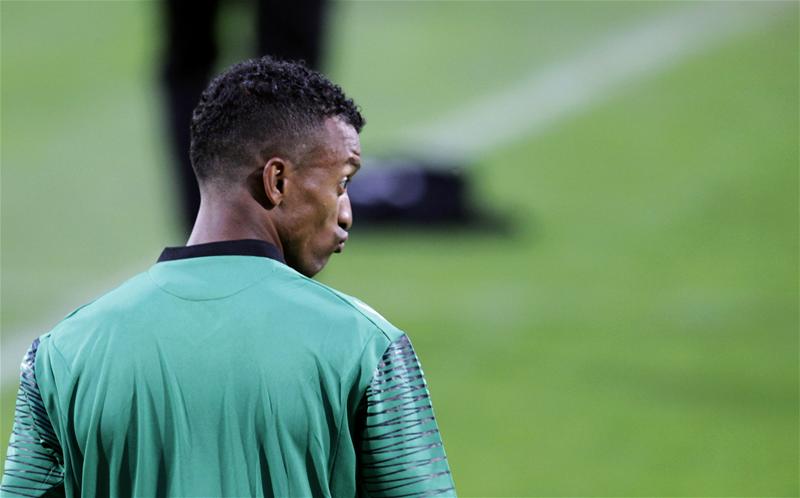 Nani continuing to impact Sporting Lisbon.

Image: WhoScored.com
Maribor 1 - 1 Chelsea
Agim Ibraimi (50'), Nemanja Matic (73')
Group G
Stadion Ljudski Vrt, Maribor, Slovenia.
Eden Hazard missed a penalty as Maribor held on to take a point from Chelsea and heal some wounds from the beating they took two weeks ago in the reverse fixture.
Maribor found themselves on level terms with Chelsea — rather than a battering from last time — at the interval. Chelsea started off strongly in a tepid first half, but then the Slovenians conjured up some attack of their own.
A turn of events would see Maribor take the lead in sensational fashion. The ball would eventually come out to Ibraimi on the right edge of the box, and then spectacularly curled it past into the top left corner leaving Cech with no chance. The whole group was back in the melting point following a superb strike from the Macedonian.
Nemanja Matic finally found something back for the Blues when Fabregas' corner found its way to him in free space. Maribor were left slumped in regret as Terry headed it towards Matic, with little competition to head home the equaliser.
Maribor were left sighing with relief as Eden Hazard was denied when his penalty was saved. Chelsea's moment to win it went begging.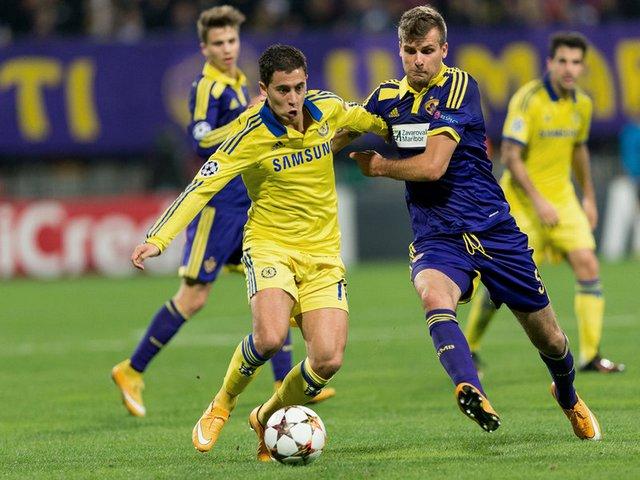 Shakhtar Donetsk 5 - 0 Bate Borisov
Darijo Srna (19'), Alex Texieira (48'), Luiz Adriano (58', 83', 90+3')
Group H
Arena Lviv, Lviv, Ukraine.
Luiz Adriano scored yet another hat-trick as Shakhtar Donetsk once again picked apart a helpless Bate Borisov.
Shakhtar's skipper would put them in front after latching onto a loose ball and waltzing it towards goal. It took a deflection, but the Croatian still rightfully claimed the goal. The buildup saw Srna race into the box from the right and strike it after it was headed down by Luiz Adriano, finding its way in the near post.
The Ukranians reinforced their lead just three minutes into the second half. Once again, Luiz Adriano provided the assist. This time, a stepover from the Brazilian allowed the ball to run through to Teixeira, feathering it into goal.
A well-placed penalty kick from Luiz Adriano before the hour mark made a seventh Champions League goal this season for the Brazilian as Shakhtar made it 3-0. He then made it further into the game. Douglas Costa's cross from the left wing was found by Adriano and it was a mere formality guiding in his seven goal in two games.
Luiz Adirano made it 8 goals in 8 games with another hat-trick. A short corner came to Marlos, before finding Luiz Adriano to calmly slot the ball in the net, something he would be very familiar with now at this point.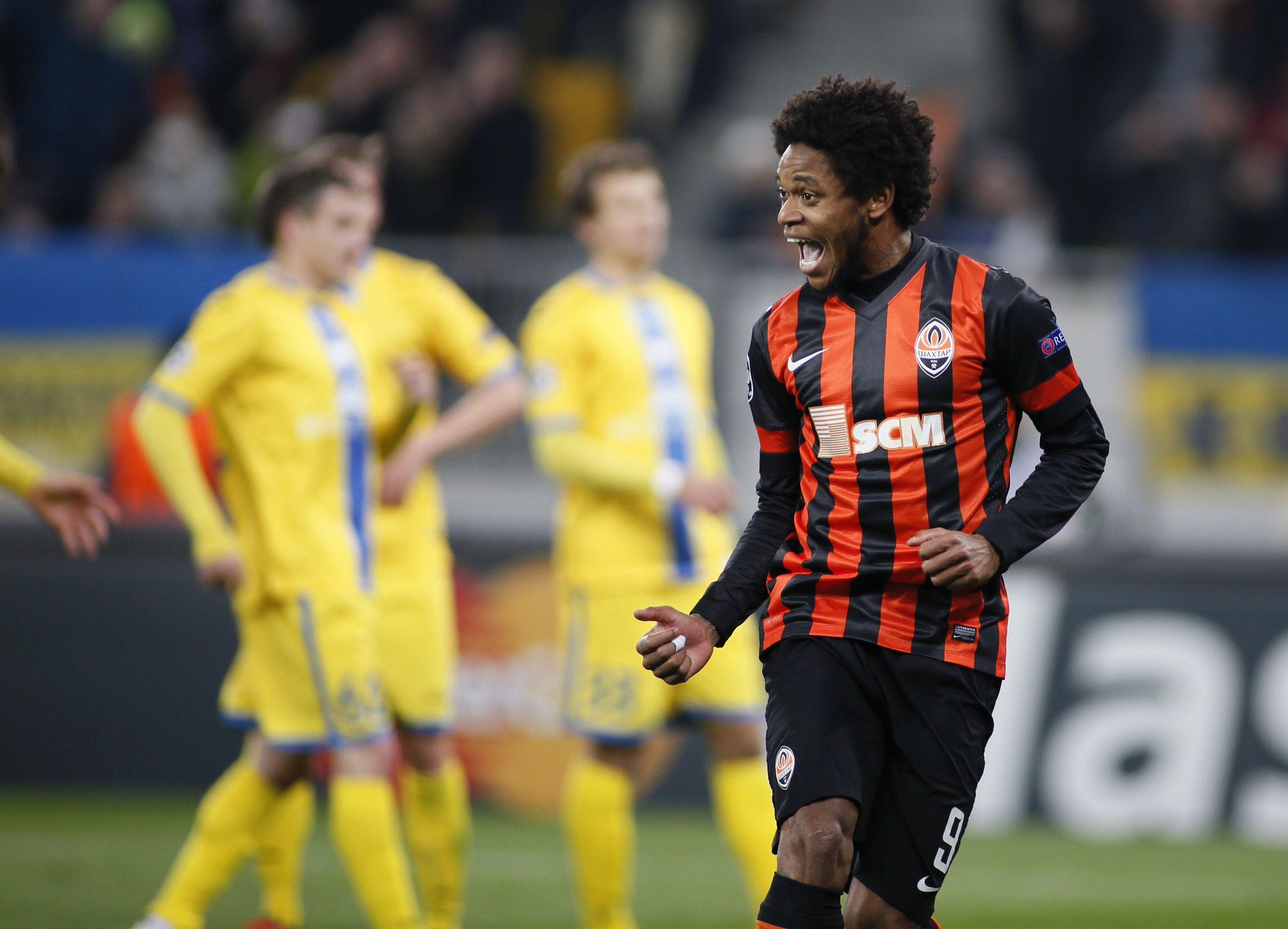 Eight goals in two Champions League games.

Image: FOX Soccer
Athletic Bilbao 0 - 2 FC Porto
Jackson Martinez (56'), Yacine Brahimi (73')
Group H
San Mamés Stadium, Bilbao, Spain.
Despite Jackson Martinez's missed penalty, Athletic Bilbao's Champions League run got worse as Porto secured their own qualification with second half goals from Martinez and Brahimi.
A short gasp from Athletic Bilbao eventually simmered down after Jackson Martinez came close to scoring for Porto. His header across goal just went clear of the post, but only just. Their luck would continue when Martinez hit the bar with his penalty. After Danillo was fouled by Balenzagio, the Spaniards feared the worst only for it to rattle off the woodwork. Extraordinarily, it remained goalless at half time.
Soon enough into the second half, the Colombian would break his duck but he would have all the thanks to Yacine Brahimi, who dazzled the Spaniards as he cut into the box through the left, leaving Martinez to simply run the ball into goal from a few inches.
Brahimi was gifted a chance after a blunder from Athletic Club to make it 2-0. Laporte played it back to the keeper Iraizoz, but he mishit the ball and Brahimi managed to tap it in.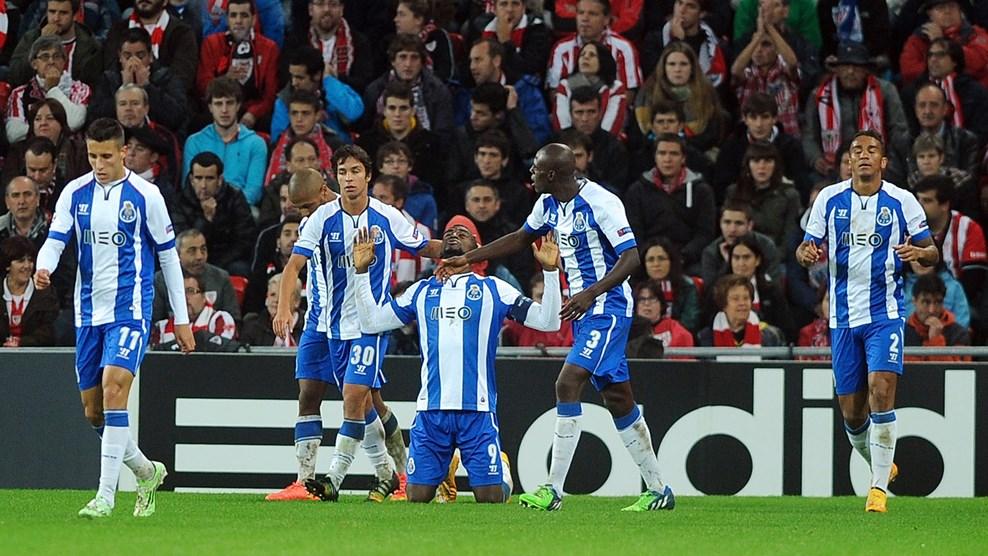 Porto roll to the last 16.

Image: FIFA.com
Match Breakdowns, Comment
Manchester City 1 - 2 CSKA Moscow: What a disastrous game for Manchester City. It all unfolded from the early minutes, as they were woeful — especially Yaya Toure — in defending the first goal. However, the Ivorian's response was terrific and should have been the turning point were City would have imposed themselves on the game rather than handing the initiative to the Russians. The red cards were foolish out of frustration, and there will be plenty more criticism coming for Pellegrini's men so I'll spare you of that. Moscow had their opportunity and made use of it, becoming the first Russian team to win in England.
Bayern Munich 2 - 0 AS Roma: AS Roma were cautious in fear that they could have been on the receiving end of another beatdown. They started off well but Bayern oozed class on the break and were not containable. Both goals were similar in the respect that Bayern managed to break the offside trap and get in behind, before balls into the box for a two close-range goals.
Paris Saint-Germain 1 - 0 Apoel Nicosia: Edison Cavani is thriving in Zlatan's absence. The celebration was superb, I don't see any problem with it personally and the fans at the Parc des Princes love it. Anyway about the football: PSG managed to hold on, but didn't show the urgency that many would have wanted and began to level off in the second half. They got the crucial three points though and that is ultimately what matters.
Ajax 0 - 2 FC Barcelona: Lionel Messi's brace helps Barca to a huge victory in the group and puts him on the cusp of breaking the record. Let's face it, it was a long time coming. As for Luis Suarez, he missed a huge chance to get a goal against his former club but uncharacteristically he attempted to put it through the keeper, maybe some cautiousness from joining such a big club?
Sporting Lisbon 4 - 2 Schalke: As I wrote in a previous column, Schalke excite in their Champions League fixtures — this game was no exception. Sporting Lisbon's ability to score and respond strongly after both goals was the key to the game.
Maribor 1 - 1 Chelsea: Massive result for Maribor. But they know they are fortunate, for Eden Hazard to have a penalty saved. Chelsea can see this as a big result but when they take their chances into account, maybe not. Cesc Fabregas had a rare, poor performance.
Shakhtar Donetsk 5 - 0 Bate Borisov: Shakhtar have absolutely destroyed Bate on both sides of the fixture. Luiz Adriano's goals here will give him a huge boost to contending for a Champions League golden boot, but now its a case of the Ukranians really converting this into more points to take them up.
Athletic Bilbao 0 - 2 FC Porto: Athletic Club's run has been uneventful and catastrophic. Porto meanwhile have been getting the crucial wins. That is all.
A truly fantastic night in the Champions League. With four matchweeks of football in the books, its been sensational so far, and now with Messi on the verge of elimination while City near elimination and more, Europe never seizes to amaze. Thank you for reading this and we hope you enjoy more of our coverage below.
Champions League Roundups: The archive
-
Tuesday 16 September 2014, Matchweek #1
-
Wednesday 17 September 2014, Matchweek #1
-
Tuesday 30 September 2014, Matchweek #2
-
Wednesday 1 October 2014, Matchweek #2
-
Tuesday 21 October 2014, Matchweek #3
-
Wednesday 22 October 2014, Matchweek #3
-
Tuesday 4 November 2014, Matchweek #4