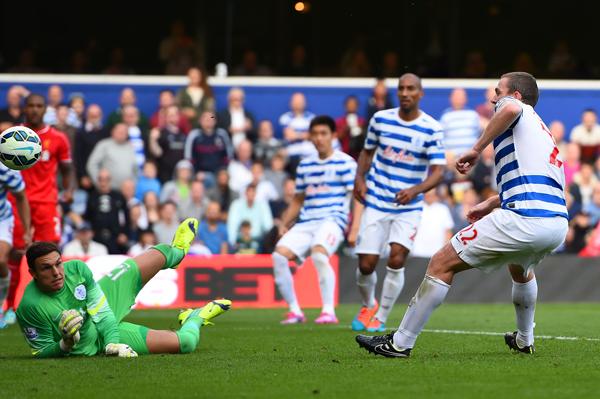 QPR 2 - 3 Liverpool
Richard Dunne (own goal 67'), Eduardo Vargas (87', 92'), Coutinho (90'), Caulker (own goal 94')
Barclays Premier League
Sunday 19th October 2014
1:30pm BST Kick-Off
Loftus Road, London, England.

Three stoppage time goals slumped into Liverpool's favor in a match which saw Brendan Rodgers' men leap ahead three times, the third one ensuring they walked away with the maximum points at Loftus Road.

Playing in front of their loud, passionate fans, QPR made a positive start to the game, as they pushed forward and slammed Liverpool on the back foot early on.

One glorious opportunity fell for Redknapp's men. Charlie Austin scorched onto loose ball outside the area, and took a big stride into the box, maybe more than he wanted to, which allowed Mignolet to charge off his line and put the English striker under pressure. Austin attempted to poke it home, but Rodgers' top choice goalkeeper ensured QPR's quick start didn't result in a goal.

Mignolet got his boot in the way, sending Austin diagonal where he slipped a tight angle shot into the side netting and out for a goal kick.

Henderson latched onto a long, looping ball at the expense of Richard Dunne, but the rising talent's strike was carefully grasped by substitute keeper McCarthy. Liverpool's holding midfielder was only to learn the offside flag was up though.

The Reds portrayed some shambolic defending on their own goal line. Skrtel and Lovren were involved in a huge tangle, along with Johnson who seemingly failed to clear the ball. Austin thumped the ball which came tantalizingly close. He smashed the crossbar, ensuring the match stayed 0-0.

Poor defending, and finishing from both teams.

Liverpool were glad to hear the half time whistle, they had been purely embarrassed by QPR.

After the break, QPR got the ball rolling again.
The first real chance of the second half for Liverpool saw Adam Lallana's blistering effort saved by McCarthy, only for the ball to rebound back to Balotelli who launched it high over the bar. Terrible.
Liverpool were looking better in the second, stringing more passes together up front and in the middle. Still far from an opening goal, but it was a start.
Austin popped up for Rangers yet again, and this time he was in past Lovren. Unfortunately for the former Burnley striker, he found himself in a tight angle which resulted in his effort lashing across the face of goal.
All of QPR's hard work, determination was seemingly thrown away. The Reds caught The R's off guard, and a drilled ball past McCarthy on the goal line saw Richard Dunne poke home into his own net. Devastation surrounded Loftus Road, with just over 20 minutes left to find an equalizer.
After the own goal, QPR lacked power up front and Liverpool controlled the tempo in the middle away from any danger in their own half.
However, when they did race forward, Redknapp's men posed a real threat to Liverpool's dodgy defence. This time, a whipped ball in the box found the head of Traore who thought he got enough on his headed effort but the talented Mignolet ensured his team stayed in front.
A stunning equalizer was sure on the cards at Loftus Road! Vargas pumped forward with a blistering run forward, and still running, latched onto a quick fired ball into the area for the on loan striker to save his team from defeat.
However, it wasn't to be. Coutinho galloped forward and drove a sublime strike past McCarthy into the bottom right hand corner to fire his side ahead with a minute left.
But THEN, it was all level one more time! Eduardo Vargas, yet again put QPR back on level terms. He tapped home past Mignolet thanks to more sloppy defending from The Reds. Goal line technology had it in favor of QPR to gallop them level.
It was yet again ruled out thanks to another own goal at the expense of QPR. Coutinho picked out a superb pass to Sterling, who squared it across the face of goal which resulted in Steven Caulker unintentionally tapping home into his own net.
Post Match Reaction
Back to where it all started great win from the boys 3 points yerrrr boiiii 👌
Big 3 points today . Performance wasn't great but kept fighting till the end . Well done @phil.coutinho . Great finish 👌