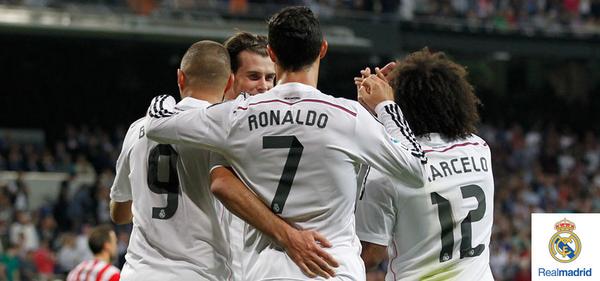 Real Madrid 5-0 Athletic Bilbao
Cristiano Ronaldo (3', 55', 89')
Karim Benzema (41', 69')
La Liga
Sunday 5 October 2014
8:00pm BST Kick-off
Santiago Bernabeu, Madrid, Spain.
Gameweek #7
TSM Matchday
The sensational Cristiano Ronaldo smashed home a stunning hat-trick, along with Benzema's double to convincingly wrap up a crushing 5-0 demoolition job of Athletic Bilbao.
Madrid got the ball rolling inside a cauldron of noise, the Santiago Bernabeu that is. Ancelotti's men are on a three game winning streak while Bilbao are without a win in four matches.
Ronaldo heads home and proves why he's one of the best
The former La Liga champions made a blistering start when Bale gloriously crossed in to none other than the sensational Cristiano Ronaldo, who made no mistake in firing Madrid in front with a rocket header at the back post. That marks his 66th goal from 58 games under manager Carlo Ancelotti,
The Portugese man was threatening again, this time he scorched down the left flank, teased the De Marcos with his signature step overs and fired a low shot at goal. Iraizoz got down well and parried Ronaldo's shot away around the post.
Bilbao created very little chances during the first 20 minutes, but you couldn't blame them too much. The irresistible midfield force of Modric and Kroos maneuvered the ball around to perfection, making it extremely difficult for them to feed the strikers with goal scoring opportunities.
Having said that, Susaeta robbed Marcelo of the ball and made a terrific run down the right wing, but his cross was disappointing and put the end to a real chance. You have to be ruthless when travelling to Madrid.
Just passed the half hour mark, Bilbao enjoyed a pleasant spell of possession. While they weren't creating many chances, they kept Madrid at bay. Susaeta was gifted another chance to swing the ball in, but again, the Spaniard scuffed the opportunity.
Benzema bullet header doubles Madrid lead

After being frustratingly denied earlier in the game by the offline flag, Karim Benzema firmly made sure he took this glorious opportunity. A high, curling corner found the Frenchman's head who was completely unmarked in the box. He thumped the ball straight past Iraizoz to double Madrid's comfortable, unharmed lead.
Half time: Madrid 2-0 Bilbao
The interval soon approached and Madrid looked so good on the ball, up front, and defensively A well deserved lead going into the break.
Ronaldo picked out Bale making a quick fire run down the right, into the box but he was ferociously stopped in his tracks by Laporte with a tremendous goal saving tackle.
Ronaldo taps home Bale's low cross
However, soon after that, Madrid struck the final blow this time. Their roar pace completely caught Bilbao off guard, and Ancelotti's men punished them. Bale sparked down the right - squared the ball across the goal for Ronaldo to tap in. Sensational piece of play between two of the best in world football.
Atrocious defending from Bilbao, who nearly conceded a fourth when Marcelo's stunning cross found Bale and the Welshman headed home only to learn he was offside.
Unselfish Ronaldo squares it for Benzema who hits a fourth

Even more terrific play was in store here, Modric threads Ronaldo through into the box when the Portuguese man, on a hat-trick, squared it to Benzema who easily tapped in to complete a one-sided performance.
It soon started to seem like shooting practice for Real, they were that dominant up front. Ronaldo grasped the ball, sensed a hat-trick but his low, quick fire strike was saved by Iraizoz.
Bilbao went forward for the first time in a while, and nearly poked a goal past Casillas. However, it wasn't meant to be. A huge scramble sees the Spanish keeper retrive the ball down low.
Ronaldo converts phenomenal hat-trick

Who else? Nobody, it was just amazing to watch Ronaldo celebrate this goal, after he tapped home again, which converted Madrid's fifth goal against a miserable Bilbao.
Absolutely fantastic performance from Real Madrid, who are undoubtedly favorites to win this year's La Liga title. It caps off a stunning night of action, all part of #TSMMatchday.
This article is part of TSM Matchday - our extensive and fantastic football coverage of a brilliant day of football across Europe. Learn more here. #TSMMatchday