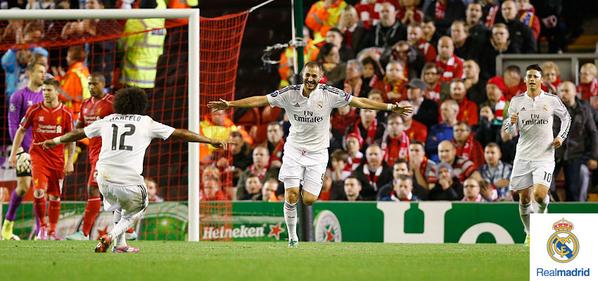 Liverpool 0 - 3 Real Madrid
Cristiano Ronaldo (23'), Karim Benzema (30', 41')
UEFA Champions League
Wednesday 22nd October 2014
7:45pm BST kick-off
Anfield, Liverpool, England.
Matchweek #3
Real Madrid smashed three goals past a helpless Liverpool side who fell victim to a ruthless performance from Los Blancos at Anfield.

Anfield was absolutely rocking with a passionate, emotional, vocal atmosphere ahead of one of the most eagerly anticipated Champions League group matches in a very long time.

The Reds made a swift start to the game, with several chances being created. The attackers seemed to be linking passes together with confidence which just wakened Madrid slightly.

James Rodriguez suffered a nasty injury early on which forced the Colombian off. Blood pouring from his eyebrow, he received treatment, a plaster and returned to the pitch.

Arbeloa was appearing to be a threat for Liverpool, and especially Alberto Morena. He popped up down the right flank several times and launched a few deliveries in the box. None were too threatening, however.

Cristiano Ronaldo registered his first shot of the game, cutting in from the left hand side past Johnson with a drilled strike that powerfully fell into the grasp of Simon Mignolet.

Not long after that, Madrid made their mark. A beautifully scooped chip from Rodriguez looped over Skrtel's head and found Ronaldo making a blistering run. He struck first time and guided the ball straight past Mignolet.

The attempted a fight back and Balotelli rallied it. However, his first time touch didn't reach anyone and the chance suddenly disappeared. Liverpool fans almost silent.

Rodgers' hopes of guiding his team to victory were supposedly dashed by Madrid on the half hour mark. Kroos whipped in a magnificent ball towards Benzema and the Frenchman made absolutely no mistake in putting it away. He rised above the Liverpool defence, and powerfully guided a header over Mignolet, but not over the bar, only into the top left hand corner. Simple, yet fantastic goal to put Ancelotti's men two up.

Liverpool yet again tried to rally a comeback, and it was Sterling this time who made a scorching run down the left. Unfortunately for the 19-year old, he was soon stopped in his tracks by the powerful Pepe who crowded him out and stopped a possible chance being created.

Coutinho slid Henderson through on the right wing, but the Englishman's attempted delivery was aimless. Gerrard and Johnson both then tried retrieving possession but it fell to no man's land, where Marcelo kicked into another gear and blistered forward with the loose ball.

Madrid earned a corner, in which they converted a third. Liverpool's shambolic defending allowed Pepe to head the ball down for Benzema who tapped straight past Mignolet who was left scrambling alongside Skrtel. Yet again, The Reds fall during set pieces. Game over at this point.

Coutinho came tantalizingly close to scoring. The Brazilian craftily cut inside on his right foot at the expense of Kroos, and launched a peach of a strike that completely beat Casillas, but not the post. Only just swung wide of the target there.

Half time beckoned and Brendan Rodgers had plenty of work to do in the dressing room, because that was dismal football from his side.

Madrid got the second half rolling, with a highly comfortable 3-0 lead over Liverpool. The game was seemingly over for The Reds at this point. All they could have done was grind through the latter final minutes.

Chances fell at either end, but for Liverpool it was Lallana who got his first shot registered with a cutter. At the other goal side, Isco clattered a selfish shot which resulted in nothing, but possibly could have done if he squared it to Rodriguez who was nearby.

Liverpool were playing much better football, stringing passes together in the middle and up front too, as you would maybe expect to see with Madrid sitting back.

More passing, and less chances filled the second half.

With that being said, the full time whistle blew to cap off a miserable night for Liverpool. Full time: 3-0 to Real Madrid.
Liverpool face the stern test of Real Madrid again in two weeks - what will they change and how will they approach it? Comment below!
More: Full Roundup For UEFA Champions League Games on Wednesday 22 September 2014