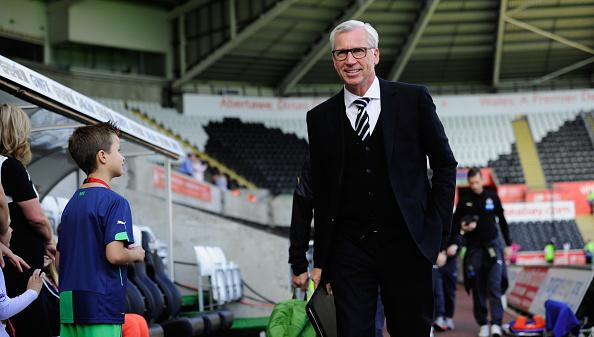 Pardew may have satisfied for now but still winless keeps the fans unhappy.

Image: Unibet
Under-fire Newcastle bought more time for their criticised manager Alan Pardew after salvaging a tough draw against Swansea City at the Liberty Stadium ― but how long will patience persist with the Magpies still failing to win in the English top flight?
Papiss Cisse like many other Newcastle United players - and even some ex-players as Yohan Cabaye defended the coach earlier this week - came to the rescue of Pardew during the resilient draw in Wales against Swansea City. Following another loss to Stoke which plummeted them into the realm of dejection, a loss to Swansea would have been catastrophic.
Four points on the board following seven games and the Tyneside club find themselves situated 18th in the Barclays Premier League table. Four draws haven't provided the best of uplift for the occupants at St James' but nonetheless its a working progress.
While this road to exit the doubt, of which is far from over, consisted of avoiding losses, as a club in England's elite league, a win will yield all which Newcastle need and more. Crucially though, heaIding into the International break this puts Pardew on relatively good terms for his job security.
Or does it?
A fortnight's hiatus from the Barclays Premier League could open up for a bit of a clearout and a rethink. If that's the case Pardew could be out, but it wouldn't be the wisest of bets with the satisfaction distilled.
The draw has ensured that the International break won't be a gloomy one. With another point on the board they can have time to prepare for upcoming fixtures and this will do them a great deal of good.
After the Premier League resumes following the International break, Newcastle host Leicester City in what will be a perfect test to resume. With that being said it's far from easy considering what Leicester have proved during their decade-awaited tenure in the league, but a replenished Newcastle can give it a good go.
Papiss Cisse is the nucleus to what beholds Newcastle's post and critical International break run. When it nears Christmas and the table still looks jeopardising, it's do or die. But surely when they glance towards their future duo of games vs. Tottenham (A) and Liverpool (H), the clash with Leicester at St. James' is looking more of an opportunity to break through with their first win of the campaign. Following that is a cluster of promising games that Newcastle should definitely look to get 50-75% of points from: West Brom (A), Queens Park Rangers (H), West Ham (A) and Burnley (A) before an incredibly hard end to the year.
It's kind of sectional when you look at the future fixtures because after that, Newcastle have Chelsea, Arsenal, Everton, Manchester United and the Tyneside Derby all in the space of December. Failing to seize on the games I alluded to earlier will see them on a straight course for relegation at the turn of the new year.
Fixtures are out of the way and it's all well and good to address which ones they win and which ones they don't, but its bound to have a plethora of twists considering Newcastle find themselves placed in the most competitive football league on the planet.
Meaning, it could go either way but when it comes to planning in the volatility and razor-close teetering on the verge of their survival in the top flight, worst case scenario planning is safest. Therefore, they must host Leicester and they must win, simply to boost spirits, show its possible and take the following fixtures on by storm before a huge ending to the year.
Now one question remains: Will Pardew still be there?
Let's wait till the post-international break to say any more.
More Barclays Premier League coverage
- 3pm kickoffs report