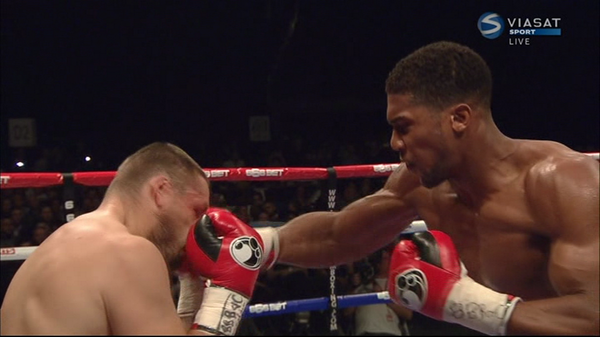 Joshua smashed Bakhtov's light outs with a devastating right hand. (Image: VIASAT)
Anthony Joshua battered Denis Bakhtov inside two rounds to remain unbeaten and become the WBC international heavyweight champion at London's O2 Arena.
Anthony Joshua made a sharp, big hitting start against Bakhtov on the inside of him. The Russian veteran was already being pummelled by lighting, spearing jabs followed by brutal right hands. There really wasn't much to report on except what was just mentioned. It got to the second round until he pounded Bakhtov on the ropes with a barrage of crushing punches. The referee did step in to what appeared to stop the fight but he let it go on. However, just for a few seconds. The Olympic gold medalist brutally demolished Bakhtov resulting in the official having to stop the fight for real. Absolutely ruthless.
Undercard
London-born middleweight, John Ryder, fighting for the vacant WBO intercontinental championship kicked off the show against Tetteh. He easily took the first round, being able to establish his jab well. The commentators stated that Ryder was getting too close to his opponent while throwing shots, which enabled Tetteh to grab him a lot more than he imagined. The first round marked total domination in favor of Ryder, who landed barrage of punches at the expense of the late thrown in opposition. Nothing but one-sided, Tetteh looked extremely fragile compared to Ryder who was roughing him about all over the place.
At the end of the 5th round, referee Richie Davies stopped the fight because it was so dominant. Not the best performance from Ryder, which could be blamed on the level of opposition but at least he got rounds under his belt and eventually walked out of the ring holding a title.

If you like hart hitting welterweights, this fight was definitely for you. Ricky Boylan battled Tyler Goodjohn in what promised to be a terrific scrap between two fighters who were involved in a spicy social media war of words. The Essex man Goodjohn made a tremendous start to the fight, gaining the first three rounds, well, according to Jim Watt. It was proving to be a flat out war, as both fighters were landing vicious shots, which came more from Goodjohn. He had Boylan on the ropes several times early in the fight. However, it wasn't all that way. Ricky landed some hurtful body shots which clearly agitated Goodjohn. Both men were trading counter punches as well as normal ones as well, making for an incredibly difficult fight to score. After fantastic action throughout the full 10 round, the judges scored it in favor of Tyler Goodjohn who became English champion. Very well deserved victory.