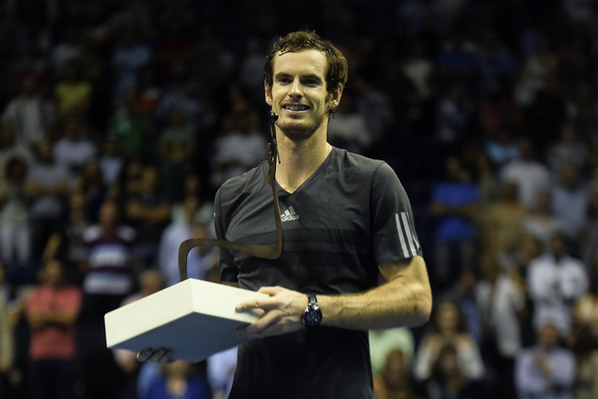 Murray stands victorious with the trophy in his possession. (image via. Sky Sports)
Andy Murray defeated Tommy Robredo 3-6, 7-6, 7-6 to secure the Valencia Open and re-
establish
himself
as a threat to the top dogs in world Tennis.
It was a match that Murray convincingly lost the opening set 3-6 to Robredo, who was feeling confident of robbing the Scotsman of a title win. He displayed some amazing tennis to do so, showing that whatever Murray can hit back at him with, he can do much better.
In the second set, the former Wimbledon fought tooth and nail with Robredo. At 30-30, Murray found himself in pressure on his own serve but rallied well and won the point.
Later in that set, Murray was really starting to get into his stride, and doing so he racked up a 0-30 lead over the Spaniard.
However, Robredo produced some of his best tennis of the game yet when he won the next five game points to keep his hopes of taking the second set well and truly alive.Rallying for his life, Robredo took Murray to the limit and outwitted the Scot.
Both
men really fancied it. Many experts had this in favour of the Spanish-born man taking the second set to dispatch Murray.
Robredo took another game point, which upped his chances of snatching the second set where he was 4-5 up on Murray, who yet again found himself in a rut when needed to fight back in such a vital stage of the match.
Murray shouldn't have been wrote off, because the Scotsman showed his fire-power and hit back to level things up at 5-5 with the next game point being the set decider.
Andy Murray's Valenica Open title destiny came much closer to his grasp, when he struck the sixth game, and second set to put himself in position to thwart Robredo, who wasted seven match points against Murray.
Final set, Murray's confident got the better of him when he dropped points to Robredo who equalised at 1-1.
Through a battle hard rally, involving both men providing terrific back and fourth action, Murray took the final set and, the match.

The Scotland-born player sank to his knees in relief, and pure happiness that he put himself back on track with a tremendous show of heart and passion to become the Valencia Open champion.

Incredible scenes, and very well deserved. This is how much it meant to Murray.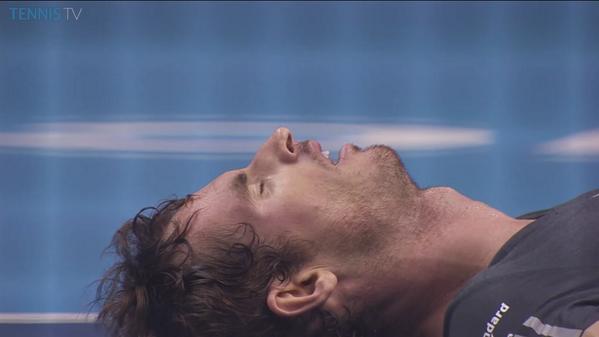 The Scot laid down flat on his with relief, knowing he is the Valencia Open champion. (image via. TennisTV)