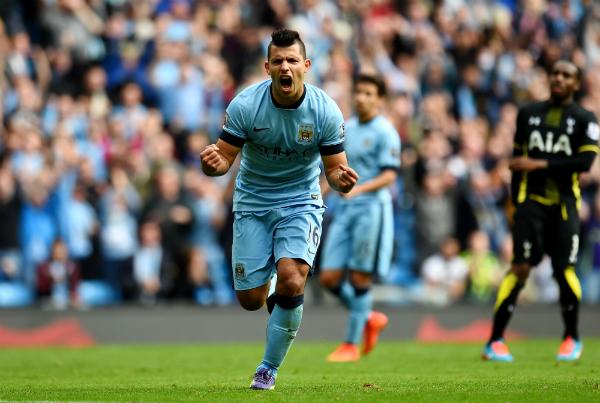 Aguero rips apart Tottenham.

Image: PremierLeague.com
Manchester City 4 - 1 Tottenham Hotspur
Aguero (13', 20', 68', 75'
) Eriksen (15')
Barclays Premier League
Saturday 18th October 2014
12:45pm BST Kick-Off
Etihad Stadium, Manchester, England.
Five goals, four penalties, one red card — and that's not even half the story. A magnificent four-goal frenzy from Sergio Aguero orchestrated Man City's riot of Tottenham at the Etihad Stadium.
A sending off to Fazio, along with four penalties gave plenty of headlines to the referee, but at the end of the day it all belonged to one man - Sergio Aguero.
Tottenham set out to vanquish the scars of their previous heavy defeats to Man City last season by forcing Joe Hart to make a save in the opening minutes. Roberto Soldado - making his first Premier League start since March - found Mason but his shot was blocked by England's #1. There were rumbles down at the other end too, as Sergio Aguero was inches away from putting it past the sprawling Hugo Lloris.
After things had settled down into the flow of the game, it was the Citizens who were showing most of the threats. Some fabulous link-up play with David Silva and Sergio Aguero almost saw the Argentine net the opener, only to be deemed offside by the linesman.
Eventually, Tottenham's lacklustre response in defence would cost the visitors. Frank Lampard exchanged possession with Aguero, who roamed around the left section of the box, before touching it forward and intricately placing it past Lloris with a delightful finish.
Another sensational finish put the Argentine level with his compatriot Carlos Tevez for most Manchester City goals. The lead would however only last so long, after the net bulged on the other end with a swift Spurs counter.
An error from Fernando squandered possession to Roberto Soldado, feeding through Christian Eriksen in the area. After glancing towards goal, he thumped it at the keeper, and it ricocheted off Joe Hart, onto the post and into goal to put the North London side back into contention.
The drama would notch up by a considerable dosage minutes later. After both sides continued to spark wherever possible, Frank Lampard would propel himself into the centre of a controversial decision.
Running in front of the defenders, he was taken down in the box and the penalty was issued. There was no shortage in different opinions on the ruling, it appeared he did take contact but the question - was it enough for a penalty?
Regardless of the decision, not only did Sergio Aguero ensure that he had put City back in the lead, but his 59th goal for the hosts meant he became Manchester City's all-time leading goalscorer. Sending Lloris the wrong way, he intricately tucked it to the side of goal.
After a thigh injury forced Frank Lampard off the pitch, Aguero would find himself with another penalty opportunity. David Silva was fouled by Kaboul but this time the penalty was saved by the feet of the Frenchman. It sat up for an acrobatic volley attempt, but it whistled over the bar.
Tottenham's goal-guard would come to the rescue for his side soon after once again, as Sergio Aguero danced past Kaboul before being denied off a hat-trick. Joe Hart kept up some impressive antics also, stopping a stinging long-range attempt from Eriksen.
Despite a fifteen-minute regroup over halftime, it looked like Spurs still had no solution to stop Sergio Aguero. He breached into the box and forced Lloris to stop him once again.
He would put Man City firmly ahead when another penalty was awarded, beating Lloris.
Tottenham would show glimpses of a fightback, but the wrath of City was not containable.
Then, sublimely cutting in and beating Lloris for a fourth time finished off his superb day.
Tottenham, with a man down following Fazio's sending off for the penalty, had a chance to get back into things but a poor penalty by Roberto Soldado saw him weakly touch it toward Joe Hart.
They just had to soak up the pressure as City ran riot.
All about Aguero. Phenomenal game underlines the quality of a phenomenal player.
The Premier League is well and truly back. Enjoy.