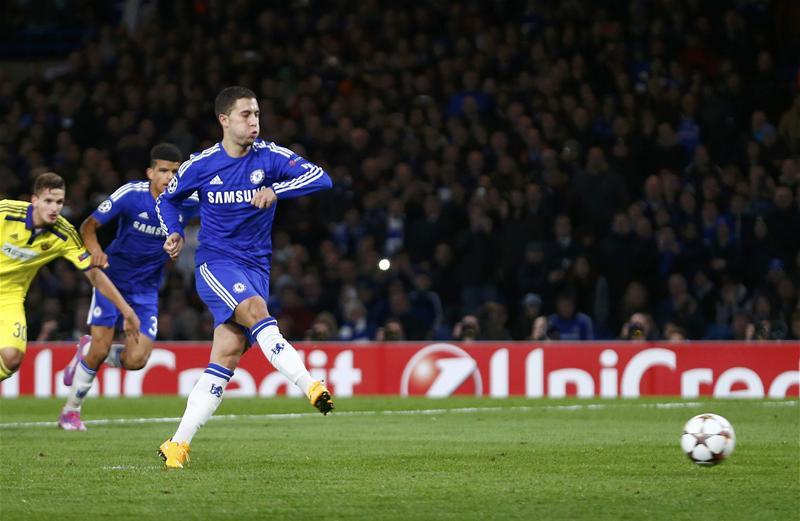 Along with all the drama and thrills from the Champions League on Tuesday 21st October, three particular games stood out and all had one thing in common - they were total routs.
Bayern Munich hammered Roma 7-1, Shakhtar Donetsk - spearheaded by Luiz Adriano's five goals - obliterated Bate Borisov and Chelsea blew away Maribor with a 6-0 win.
Not only did it show that the Champions League can shock you at any time, but plenty more.
Shakhtar Donetsk
Did anyone think they had it in them?
And did anyone ever think they would see the day that Luiz Adriano would score five goals?
Most likely, no.
So, what came together so well for Donetsk in their trip to Belarus?
Firstly, Borisov's defence was way too permeable. We can even nitpick the very first goal - Teixeira's, to use as an example. The back four were getting caught up way too often, allowing through balls to completely rip the defence apart and the rest was history.
Moving on, they were too rash in the box. Luiz Adriano's penalties could have been easily avoided, and then a few more tweaks and voila, its an open game.
But things didn't end up that way. Instead, Shakhtar Donetsk became the first Champions League side to score six goals in one half. And Luiz Adriano joined Lionel Messi as the only player to score five goals in a single Champions League game. Tremendous.
The combination of Shakhtar's pace going forward and the lack of motivation from BATE was all that was needed to the tragedy that occurred in North-Central Belarus.
Chelsea
Now that's more like it.
Chelsea took some time to display their prolific selves that we have seen in the Champions League, but when they did, it was clockwork.
Dismissing Maribor with a 6-0 win at Stamford Bridge, the Blues were clinical all over the pitch.
They were looking somewhat empty in their Champions League games prior to this, but this time, they were fresh - it all revolved around Fabregas, and he helped to bring out the individual quality tapped into Remy, Drogba and most importantly Hazard, who had his day. More performances like that from the Belgian on a consistent basis shall further skyrocket Chelsea's title chances.
For John Terry to even get on the scoring act shows how deflated Maribor were after just two goals - yes Remy's was of outstanding quality and Drogba a penalty, but like I alluded to earlier with Borisov in the same context, there was no self belief.
A masterclass from Mourinho.
Bayern Munich
Well, well, well.. Bayern Munich 7, Roma 1.
It's a scoreline that reverberates around Group E and keeps the battle for 2nd place well and truly alive between Man City and Roma.
For Bayern Munich to run riot and trample all over Roma like that, at the Stadio Olimpico is testament to their superb squad depth, manager, individual quality - and a mockery of Roma's consistency that this game has put a real negative on their season.
With a huge win over Moscow in the first matchweek of Champions League football, they were hoping for a strong performance as they hosted the Germans, but it was all over in a heartbeat.
Arjen Robben is an undeniable star, with all the talent its easy for him to get overshadowed. Lewandowski is one of the World's elite strikers, and Mario Gotze is up and coming to be one of the World's best - but that was only half the secret of the win.
Having the injections of Ribery and Shaqiri on the bench brings a whole new level to this side. ANY manager would love the dilemma that Pep Guardiola has - who does he leave out of that squad? Whoever he does, shall have a huge impact when they come on, just like Ribery and Shaqiri who thrived on the platform to take over the game.
Bayern are up their with the best. We already knew that. After this win, anything is possible.
UEFA Champions League: Roundup For Games on Tuesday 21 October 2014