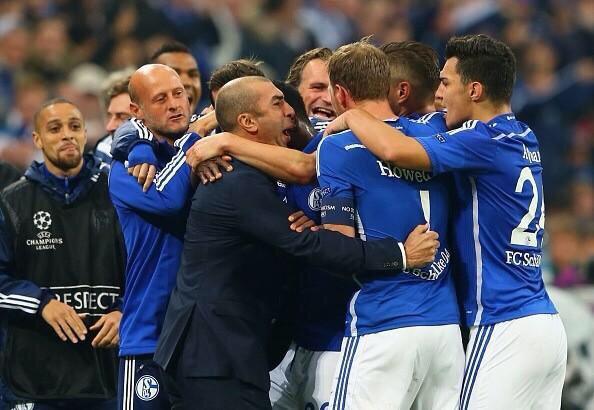 Schalke's compelling 4-3 win over Sporting Lisbon typified the German's Champions League run so far — uneasy, inconsistent yet emphatically thrilling in the same breath.
A stoppage time penalty by Eric-Maxim Choupo-Moting saw the Cameroonian register his first Champions League goal and, more importantly, Schalke's first win of the campaign.
They did however fight to the finish against a depleted Sporting Lisbon who were down to ten-men from half-an-hour onwards. Letting a two-goal lead slip, they let it go nail-bitingly down to the wire, leaving themselves both physically and emotionally drained afterwards.
Rewinding from that thriller to the first Champions League matchweek. Klaas-Jan Huntelaar came to the rescue after they trailed at Stamford Bridge. Retrospectively speaking it was a brilliant result to hold their biggest rivals in the group.
Shifting over to the other end of the spectrum saw Schalke back home at the Veltins Arena and hosting the weakest side of their group. Once again they looked to the services of their Dutch sensation, Huntelaar. He equalised in the second half, but the hosts were unable to seek the winner.
In their most recent game, Huntelaar once again got on the scoresheet however they relied on a young Cameroonian to get the winner. Schalke just got the three points then.
Over in the Bundesliga side of things, Schalke have played 8 games in their season, collecting just 11 points. Of course it'd be jumping the gun a slight bit to consider that its a catastrophe, but they definitely seem flattened by the abundance in fixtures.
Inconsistency has appeared to rub off onto their Champions League performances. A slight contrast
—
they held the Champions to a draw before Borussia Mönchengladbach stunned them with a 4-1 victory. It's converted like that throughout, and they have struggled to find form.
As a developing squad that still has work to implement in order to contend with the best, they have a real shot at getting out of their group.
But, they've still a tough task in hand. Sporting Lisbon pushed them to the limits with ten men.
Getting some consistency is what they need, a return fixture against Sporting Lisbon is where it can be done. They learnt a lot, and will need to bring even more if they are to put them away this time round. Getting that done, and with the luck of their group draw they are close from crossing the line.
Should Huntelaar continue to provide the reliability and allow others to thrive also, Schalke could really grasp the opportunities awaiting in the group.
Schalke will continuously face the dilemma, either open up more to get more goals and leave an already-vulnerable leaky defence more vulnerable or stay to the narrow wins that have recently come few and far between.
One thing is for sure, Schalke will continue to thrill us.
Whether they will make it out of their group remains to be seen.
Champions League: Roundup, Recap For Tuesday 21 October 2014
More Champions League coverage