It's the gift that just keeps on giving — the Premier League brings a ninth week of scintillating football from England's top flight, headlined by Manchester United vs. Chelsea, along with more games with the potential to thrill as ever.
All eyes will be on Old Trafford on Sunday teatime when they host hot title favourites Chelsea but prior to that and even after, there are plenty of storylines to keep your eyes peeled out for.
West Ham United vs. Manchester City
Saturday 25 October 2014, 12:45pm
Upton Park welcomes the English Champions in Saturday's early kickoff to get week eight rolling. The Hammers will be hoping that the terrific form following them into the clash could help them break a duck of ten games without a win over the reigning English Champions.
Speaking of English Champions, it was West Ham who Man City beat to claim their second Premier League title, with a 2-0 win on the last day of the season. In a team that Sam Allardyce has called the "best ever" West Ham, things could differentiate from May this year.
Situated fourth in the Premier League table after eight weeks of action, a win would see the hosts move within a point of the English Champions. Most recently seeing off Queens Park Rangers and Burnley with convincing performances, and their run has also included a stunning win over Liverpool, while ultimately coming up short against Manchester United.
Similarly to how I wrote last season, West Ham have enjoyed this spell because they're the type of team that continuously improves on runs like these, rather than deterring. But is this enough to thwart Manchester City?
Sergio Aguero's four goals against Tottenham re-iterated potential belief in the Citizens' quest to retain their Premier League title. While their Champions League blunders were shown in true light over the week, they are still a huge task for Sam Allardyce's squad to overcome.
While West Ham are able to pull it off, and probability can be increased with West Ham playing at their home ground, it remains a huge and unlikely task that West Ham will beat Man City for the first time in ten meetings between the two sides.
David Silva's presence shall ultimately make West Ham's defence permeable, and with Sergio Aguero lurking around, a few goals are ought to come. Don't count the Hammers completely out of it, though.
Prediction:
West Ham United 0 - 2 Manchester City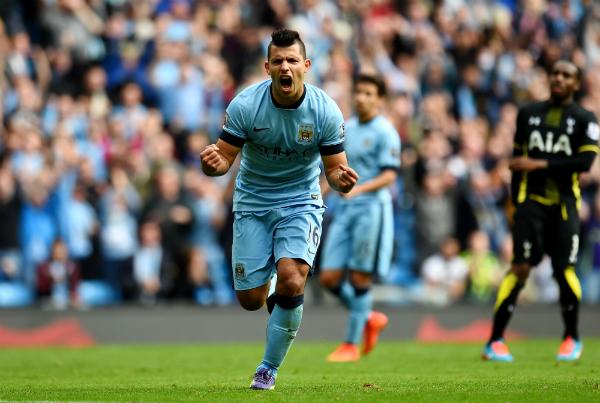 Sunderland vs. Arsenal
Saturday 25 October 2014, 3:00pm
Sunderland return to the Stadium of Light on one of Saturday's 3pm kickoffs, but their memories from last weekend are the opposite, much more gloomy - an Arsenal side who know they've had it lucky will look to break a team that was capitulated against Southampton.
In the biggest Premier League defeat in history, Sunderland were annihilated by Southampton, losing 8-0. Arsenal's fate was hardly as severe, but frustration overhang as the Gunners were stopped at 2-2 by Hull City. Most recently, Arsenal just scraped past Anderlecht in a sensational comeback in the dying moments of their Champions League clash on Wednesday night.
Arsenal know that travelling to face a vulnerable Sunderland creates a wealth of opportunities but also carries the weight of risk. Everyone knows that the Gunners have struggled to really hit their stride so far in this campaign, so a win is pretty much a vitality for Wenger, not just another birthday present.
They'll need to ooze out plenty of class against a side who will definitely want to be watertight on their defence, preventing another calamity, but they will get the goals.
Prediction: Sunderland 0 - 3 Arsenal
Southampton vs. Stoke City
Saturday 25 October 2014, 3:00pm
Southampton and Stoke both enjoyed jubilant home wins last weekend — the Saints pulverized Sunderland 8-0, while Stoke fought much harder in their win over Swansea.
Stoke City shall make the trip balancing the risks
— Southampton are dangerous, but Stoke have toppled Swansea, its open to play for. They have a big chance in this game, but going to St Mary's will be a tough task.
Southampton are 3rd. Ronald Koeman has reinvented a side who looked dead and gone after their summer exodus. With the exodus out the way, Southampton can win this like an exhibition. They won't blow Stoke completely away however.
Prediction: Southampton 2 - 1 Stoke City
West Bromwich Albion vs. Crystal Palace
Saturday 25 October 2014, 3:00pm
The Hawthorns was raucous last Monday night, but ultimately West Brom were only able to take a point in their dazzling performance against Manchester United. As for Crystal Palace, with a point less than their opponents, they've had it quieter.
Daley Blind left West Brom disappointed to draw
when they may have deserved all three points, as his late equaliser pulled back a point. Saido Berahino - Albion's rising hero - scored once again to continue his mesmerising form, with six goals in as many games for West Brom at home. He'll get the goods again, against a Palace side who won't be able to keep up.
Prediction: West Bromwich Albion 2 - 0 Crystal Palace
Liverpool vs. Hull City
Saturday 25 October 2014, 3:00pm
Anfield has been far from the fortress that Liverpool held a claim too last season, and the Tigers are going to rip open those frailties, or at least try, when Hull meet Liverpool in the Premier League.
With blades of grass still rumbling from Liverpool's 3-0 loss to Real Madrid at Anfield in the Champions League on Wednesday, the Reds are aware of a lot to improve.
Much column-space has been taken up by Liverpool's storylines thus far this season. From the Sterling rest scandal and now to Balotelli's shirt-switch and shortfalls, many questions shall once again be answered when Liverpool welcome Hull City.
Fatigue could present a major advantage to the visitors with the game only providing two days rest for Liverpool after their match with Madrid - and trust me, if you've heard anything about Sterling's England malarkey earlier in the month, you'll know rest, training and injury is a potential Liverpool debacle at the moment. In addition, Hull almost got the win over Arsenal.
Liverpool weren't too good against QPR either and even admitted themselves they didn't deserve to get the victory.
Against other teams, Steve Bruce's side has indeed proved they have the attacking firepower to mix it up in the Premier League, and that is significant against a Liverpool defence that has been plentifully criticised. No clean sheet again for the Reds, but a win? Yes.
Prediction: Liverpool 2 - 1 Hull City
Swansea City vs. Leicester City
Saturday 25 October 2014, 5:30pm
El Clasico may be stealing all the headlines on this same time slot over in Spain, but its still a game that can deliver back in Wales' Liberty Stadium.
Swansea City, while they may have slipped against Stoke last weekend, have enjoyed brilliant form to start their Premier League campaign. As for the Foxes, they have displayed great courage including a terrific win over Manchester United, but a loss to Newcastle and drawing to Burnley mean they don't make the trip to Wales exactly at their best.
It is the hosts who have played some sublime football so far, and that shall be enough to compress Leicester out of the contest.
Prediction:
Swansea 2 - 1 Leicester City
Burnley vs. Everton
Sunday 26 October 2014, 1:30pm
Still without a win this season, Burnley host an Everton side who are finally showing signs that they could be back to emulate their successful football last season.
Life at the top flight has been far from easy-going for both these clubs for that matter, but for Burnley they still see the ominous absence of a win among their Premier League record. As for the Toffees, they'll be looking to begin a streak of wins in a schedule that should see them taking near to maximum points for the next month.
However, Everton too have stumbled to start the season. Under the pressure of last season's success, they haven't exactly shown that they can challenge for a top four spot this season. With that being said, a win over Aston Villa last weekend, followed up by a convincing win here, could see them back on track. Nisar Khan: Can Everton find their feet?
Everton should have a strong day out, but it will take a lot to break the Turf Moor resolve that Burnley will surely present. Barkley will cause all the problems.
Prediction: Burnley 0 - 2 Everton
Tottenham vs. Newcastle
Sunday 26 October 2014, 1:30pm
Coming off a deflating loss to Man City, while Newcastle finally found an urgently-needed first win, both sides will be approaching this game at St James' Park very differently now.
Seeing off Leicester to give Alan Pardew's side a vital win was definitely uplifting for the Magpies but now they need to keep this momentum going. Tottenham are a quality side too but however have not had it easy either. Its an opportunity for Newcastle to really make their season, or for it to still hang in limbo.
As I wrote with Roberto Soldado earlier this week, Tottenham's Spanish forward may not get the nod for the game, but if he does it is really crunch time for both him and the club. This could be a draw with both sides not wanting to risk too much.
Prediction: Tottenham 1 - 1 Newcastle
Manchester United vs. Chelsea
Sunday 26 October 2014, 4:00pm
Then it's time for the big one, at Old Trafford, Van Gaal vs. Mourinho, Manchester United vs. Chelsea. One of those fixtures where everyone is watching.
Title favourites Chelsea boast the only undefeated record when they make the trip up North to face Manchester United who are struggling to find consistency. With just one draw so far, to Man City, the Blues have passed each test with flying colours and the game against Man United could be the same.
Stamford Bridge witnessed a Chelsea masterclass on Tuesday, as they thrashed Maribor 6-0 in the Champions League. With such rampant form even in lieu of Diego Costa, Chelsea are a force to be reckoned with.
In the buildup to this seismic encounter, there are doubts on Diego Costa and Angel Di Maria's fitness for Sunday. The game hangs on those two, who change the team significantly. Di Maria makes Manchester United a whole lot better team not only with his assists but his presence that rubs of on the side. While for Chelsea, Diego Costa's goalscoring record speaks for itself.
Manchester United face their toughest test of the season so far, and other than their win against Everton, on paper its been an easy schedule. But, Van Gaal's have performed like it was the opposite, inconsistent, leaky at the back and at a lot of the time, frustrating.
The Manchester United defence also holds the key to this game, if it unravels like it has done on many occasions prior to this contest, then it could be a breeding ground for a Chelsea rout. Manchester United must rise to the occasion and really go for the visitors. But by how they've started the respective seasons, its looking to go Chelsea's way.
Everyone is intrigued.
Prediction: Manchester United 0 - 2 Chelsea
Queens Park Rangers vs. Aston Villa
Monday 27 October 2014, 8:00pm
Loftus Road takes to the Monday night spotlight to close off the campaign. After coming cruelly short against Liverpool in a thriller, Harry Redknapp's men will be looking for the win when they host Aston Villa.
As for the visitors, a somewhat promising start to the season that saw them reach second place at one time has been overshadowed by a gloomy run of games. Even though they beat Liverpool, losses to Man City, Chelsea, Arsenal and Everton in an unforgiving run have work cut out for Paul Lambert's side.
This is three points for the taking for both sides. Knowing that both have their ways, its going to be all out for a much needed win, but who will it go to?
Prediction: Queens Park Rangers 1 - 2 Aston Villa
*******
Expect week nine of the Premier League to be served up with a considerable dosage of drama, thrills and everything else. Enjoy.
Do you agree with my predictions? Post me your thoughts in the comment box below this article!
More football
- Champions League Tuesday Roundup
- Champions League Wednesday Roundup
- Liverpool 0 - 3 Real Madrid Match Report
- Can Everton find their feet?
- No more excuses for Spurs' Soldado
- Premier League coverage