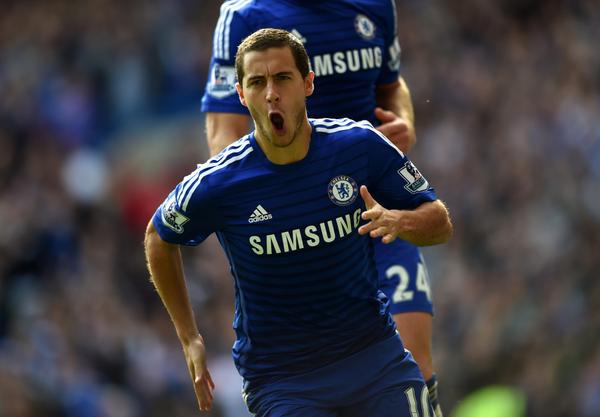 Chelsea 2-0 Arsenal
Eden Hazard pen (28'), Diego Costa (77')
Barclays Premier League
Sunday 5 October 2014
2:05pm BST Kick-off
Stamford Bridge, London, England.
Gameweek #7
TSM Matchday
Chelsea extended their dominant lead in the Barclays Premier League with a comfortable 2-0 victory over arch-rivals Arsenal thanks to goals from Eden Hazard and Diego Costa.

Kick off was frustratingly delayed at Stamford Bridge due to the away fans reportedly letting off flares. The stadium stewards were forced to keep the fans waiting for Chelsea and Arsenal to clash,

Finally, after a 20 minute delay that actually felt like one hour, Chelsea got the match underway to a vibrant roar from both sets of fans. Mourinho was looking to retain his undefeated streak against Wenger.

Chelsea were forced to take #1 goalkeeper Thibaut Courtois off the field after Alexis Sanchez's run resulted in the Chilean clouting him in the head by accident. Petr Cech placed his protective cap on, and took to the field.

The Blues struck just three minutes from the half hour mark. Hazard blistered through the Arsenal defence through into the box which resulted in Koscielny taking the Belgian down and giving away a penalty.
Hazard struck again to punish Koscielny's poor challenge
Calm and composed, Hazard slotted home past Szcezny to a humongous roar from the home-side. Mourinho 1-0 Wenger.
Wilshere had a brilliant chance to draw level, as he burst through the Chelsea back line, onto Ozil's slipped pass but the Englishman's heavy touch allowed Cech to retrieve the ball from his toes.

Arsenal's first choice striker Welbeck barely grasped the ball in the first 40 minutes. Wenger's men tried to up the tempo when Ozil, playing as a left winger, dipped past Schurrle but then felt the ferocious attempt of Ivanovic who easily robbed possession of the German.
More controversy filled the touchline when Oscar scraped away from a booking after his appalling challenge. Wenger felt offended that the Brazilian survived a yellow card - until Mourinho appeared in the Arsenal manager's face and exchanged an unpleasant war of words. It was ALL going on at Stamford Bridge.
Cazorla and Wilshere were just stringing a few more passes together, and the Spaniard ambitiously looked for Welbeck with a high ball across but was unable to find him as Cahill blocked the ball.
Arsenal were courageously hunting for that equalizer with Cazorla's low drive that came close to goal.
Cazorla was then surprisingly substituted by Wenger for the services of young, sparkling talent Oxlaide-Chamberlain. Considering that Santi was one of Arsenal's best players today - Wenger's tactics and choices really need to be questioned.
Costa chips past Szczesny to ensure Blues pick up three points

Who else? After a looping ball from Cesc Fabregas found the golden feet of Diego Costa through on goal - only one thing was in store. The Spaniard cleverly chipped the ball over Szczesny to a vibrant roar from the home side.
Full time: Chelsea slayed The Gunners thanks to a hazardous Belgian's touch, and Costa chip that put huge smiles on the face of their fans who are starting to believe Mourinho's men can go all the way.

Take away Courtois' injury out of perspective - what a sensational day for Chelsea and Mourinho, who retains his undefeated streak against Wenger while The Blues dominantly march on.
This article is part of TSM Matchday - our extensive and fantastic football coverage of a brilliant day of football across Europe. Learn more here. #TSMMatchday