UEFA Champions League
: Tuesday 21 October 2014, Matchweek #3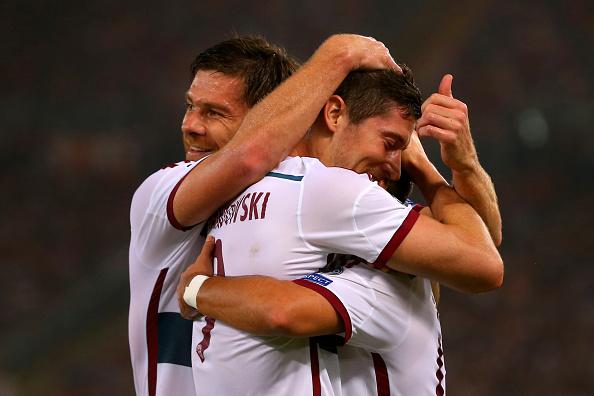 An abundance of drama, thrills, spills, controversy oh and goals - 40 to be exact - highlighted what was an oustanding night of UEFA Champions League action.
With three huge routs that stood out, along with stoppage time winners and everything in between, let's not waste any more time and delve into all the action.
Here in this stacked article, you'll find the complete comprehensive review and roundup for the night in the Champions League.
Night at a Glance
CSKA Moscow 2 - 2 Manchester City: City left frustrated as Moscow peg back two-goal deficit
Roma 1 - 7 Bayern Munich: Devastating yet classy Bayern dismantle woeful Roma
Apoel Nicosia 0 - 1 Paris Saint-Germain: Classy Cavani conjures late winner to overcome Nicosia
Barcelona 3 - 1 Ajax: Messi, Neymar on target as Catalans ease past Ajax
Chelsea 6 - 0 Maribor: Bolstering Blues pulverize Maribor at the Bridge
Schalke 4 - 3 Sporting Lisbon: Schalke break Sporting hearts with 93rd minute penalty
Bate Borisov 0 - 7 Shakhtar Donetsk: Five goals for Luiz Adriano as Shakhtar run riot in Belarus
FC Porto 2 - 1 Athletic Bilbao: Quaresma sinks Bilbao in Portugal capital
CSKA Moscow 2 - 2 Manchester City
Sergio Aguero (29'), James Milner (37'), Seydou Dombia (64'), Bebras Natcho (86' penalty)
Group E
CSKA Moscow Stadium, Moscow, Russia.
Manchester City suffered a major hit to their Champions League hopes after they let slip of a two-goal lead in the Russian capital against CSKA Moscow.
Sergio Aguero continued his prolific goalscoring form from the weekend as he opened the scoring in under half-an-hour. The Argentine was on the end of Edin Dzeko's cut-back across goal, where the Bosnian was initially found by David Silva. It was a simple process for Aguero to direct it at goal and put the visitors ahead.
Somewhat unintentionally, Aguero took to the provider role a few minutes later. His attempted shot bobbled across goal towards James Milner, calmly dispatching to sort City a comfortable half-time break in a pretty much empty stadium.
The introduction of Seydou Dombia onto the contest and tapped in after the hour mark, but he would be in the centre of the controversy in the crucial call.
Going down rather easily from Kolarov's challenge, he won the penalty - that City were furious about - and Natcho converted calmly, as Moscow avoided what would have been a seventh straight Champions League defeat.
As for the visitors and their manager Manuel Pellegrini, not only will they feel hard done by, but also under great pressure with the odds against them half way through the group stages. Can they still do it?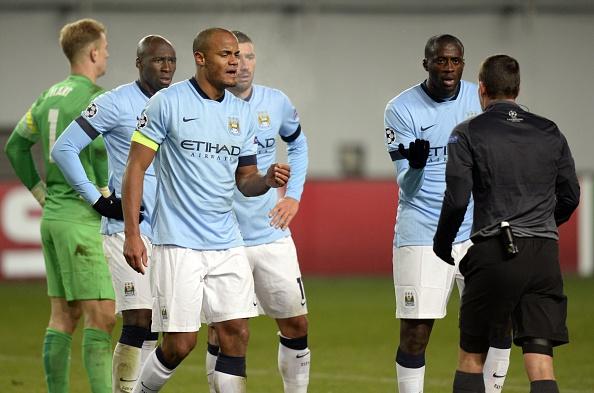 Furious: Man City players bombard the referee following the controversial penalty call.

Image: WhoScored.com
Roma 1 - 7 Bayern Munich
Arjen Robben (9', 30'), Mario Gotze (23'), Robert Lewandowski (25'), Thomas Muller (36' penalty), Gervinho (66'), Franck Ribery (78'), Xherdan Shaqiri (80')
Group E
Stadio Olimpico, Rome, Italy.
Bayern Munich annihilated a woeful Roma at the Stadio Olimpico to emphatically make their intents for a surge back at the Champions League title.
Arjen Robben initiated some mesmerizing class to put Bayern ahead. Matching the scintillating atmosphere at the Stadio Olimpico with a terrific strike, he cut inside on the right flank, curling in past the keeper.
A superb move with two of Germany's footballing nucles - Mario Gotze and Thomas Muller - developed a superb second goal. A one-two concluded with Thomas Muller's backheel finding Gotze to sweep away and take over the hosts.
Robert Lewandowski then got in on the scoring act some time after. Unmarked and drifting in the box, he simply headed on Bernat's cross straight into goal and Roma were looking pretty much done.
Arjen Robben then re-iterated that statement with another goal of his own, with Lewandowski providing after Robben skipped past Ashley Cole, easily beating the keeper at the angle.
Adding to the woes and extinguishing what was just, earlier, a terrific atmosphere, was Thomas Muller, as he struck away at will from the penalty spot. At the half, Bayern Munich had registered five clinical goals, Roma were distraught and utterly shocked at the ruthlessness that their opponents had brought.
In all the calamity that surrounded them, Roma found something to make a shimmer of a smile about as Gervinho converted a fantastic counter attack as he guided in Nainggolan's ball. That wouldn't bring a stop to the Bayern barrage, though.
Franck Ribery scored one of the finest out of what had been a tantalizing batch of goals. After coming on off the bench, he was found by a piercing through ball by Robben, allowing the Frenchman to coolly chip it right over the keeper for an unprecedented sixth against the Italians.
Then, the other substitute, Xherdan Shaqiri, closed out the rout after pouncing on Rafinha's saved shot and got in on what was an utterly dominant performance orchestrated by a masterful Guardiola. They pushed on through the final whistle and made a huge statement of what is to come. As for Roma, it's a dark, dark day. The emptying seats in the Stadio Olimpico perfectly symbolised that.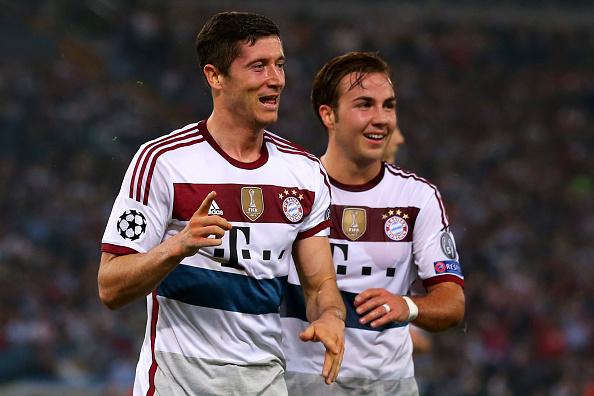 Unstoppable Bayern.

Image: PurelyFootball
Apoel Nicosia 0 - 1 Paris Saint-Germain
Edison Cavani (87')
Group F
GSP Stadium, Nicosia, Cyprus.
Edison Cavani's late strike sunk Nicosia as the Uruguayan produced some late scintillating magic to rescue his team from what would have been a disappointing draw.
While the first-half scoreline may have suggested so, it was a compelling opening phase. With all the star power at their disposal the Parisiens were held out by Apoel who continued to absorb then do some decent attacking of their own.
As expected, the French side eventually shifted the equilibrium based on their attack and Apoel's attempts to absorb those and clear away. But when Bahebeck couldn't clear his lines well enough, Cavani took possession and struck it straight at the goal to deflate the hosts after their hard work had collapsed.
Barcelona 3 - 1 Ajax
Neymar (7), Lionel Messi (24'), Anwar El Ghazi (88'), Sandro Ramirez (90+4')
Group F
Camp Nou, Barcelona, Spain.
Barcelona eased past Ajax with a convincing 3-1 victory over Ajax, allowing them to bounce back from the PSG game and set their sights now on a blockbuster El Clasico this weekend.
In Barcelona's first attempt of the game, Neymar smashed it past Cilessen after Lionel Messi picked up the Brazilian with a perfectly-timed through ball. That goal marked another moment for the Camp Nou to be in awe of the Catalans' class.
Andres Iniesta was steadfast in making Ajax pay for their mistakes. Gifting the ball away, the Spaniard retained possession and played through Messi, comfortably slotting away as it trickled into goal.
On towards the interval, Barcelona were playing like they had the game wrapped up - and that was pretty much a true statement. Ajax had no response for the quality oozing out of Luis Enrique's side.
Comfortably playing out the early goings of the second half, Barcelona felt they were in a position to really look ahead - El Clasico that is. Lionel Messi and Neymar were subbed, but then is when Barca had the scare...
Without Iniesta, Messi or Neymar it was the youngster, El Ghazi, who scored on the stroke of stoppage time, after his teammate Milik saw his shot blocked. Barcelona were on the verge of being stunned.
But, Ramirez diminished those hopes of an Ajax comeback as he raced away and fired past goal - not only securing the three points but reverberating the beautiful implementation of Barcleona's youth system.
Deadly Duo: Messi and Neymar score once again.

Image: Twitter (@messi10stats)
Chelsea 6 - 0 Maribor
Loic Remy (13'), Didier Drogba (23' penalty), John Terry (31'), Mitja Viler (54' own goal), Eden Hazard (77' penalty, 90')
Group G
Stamford Bridge, London, England.
Chelsea constructed their own destruction of Maribor as Eden Hazard's brace and a first returning goal for Didier Drogba were included in a masterclass win over Maribor at Stamford Bridge.
Loic Remy escaped down the right in the thirteenth minute to make the Blues pressure finally count. A few stepovers before unleashing a low tough shot to the side of goal was affirmative of putting the hosts ahead.
Didier Drogba then converted from the penalty spot some ten minutes later. Turning back the clock and reminiscing to his triumphant penalty that won Chelsea a particular Champions League title a few years ago, he slotted it to the right to set Chelsea coasting.
It was another easy looking goal for the hosts after half-an-hour. John Terry swept into goal in the area and Chelsea had it won well before the half-time whistle.
Things would go from bad to worse for the visitors right after half-time. Viler scored an own goal after Eden Hazard's cut-back was deflected into the net.
Ibraimi had a chance to pull one back from the spot but the ball hit the woodwork.
Adding to the final margin was Eden Hazard - first the penalty and second a well-controlled ball before smashing in and finishing the job emphatically for Chelsea.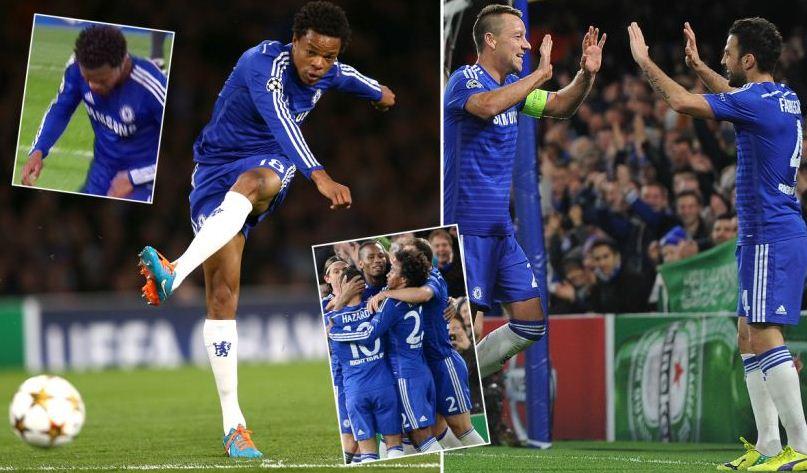 Chelsea with a scintillating performance.

Image; Daily Mail Sport
Schalke 4 - 3 Sporting Lisbon
Nani (16'), Chinedu Obasi (34'), Klaas-Jan Huntelaar, Bendedikt Howedes (60'), Adrien Silva (64' penalty, 78'), Eric Maxim Choupo-Moting (90+3' penalty)
Group G
Veltins-Arena, Gelsenkirchen, Germany.
Eric Maxim Choupo-Moting scored his first ever Champions League goal in the 93rd minute to hoist Schalke past a determined Sporting Lisbon who fell short in an extraordinary group game in Gelsenkirchen.
Nani directed in from close range, after Joao Moutinho found his compatriot with a ball across the area. The Portugese visitors had undone all the hard work by Schalke to impose themselves on the game.
Schalke received a huge boost however when Mauricio was sent off for receiving a second booking following his challenge on Hoger. The Germans acted on that advantage as Obasi headed in from a free-kick.
Klaas-Jan Huntelaar struck early in the second half to put Schalke ahead. Finding space down the right he struck it powerfully across the face of goal.
Howedes then solidified the lead, heading superbly on the hour mark to put Schalke in a comfortable position. That comfort would hardly last, though.
Adrien Silva's penalty four minutes later gave the visitors something to cling on to, before his subsequent header found the net too, sparking unimaginable scenes for the ten-man side.
What happened next was both heartbreaking and euphoric.
The hosts' Eric Maxim Choupo-Moting scored his first ever Champions League goal as he scored a penalty in the 93rd minute to seal the game.
Schalke just don't do boring Champions League football.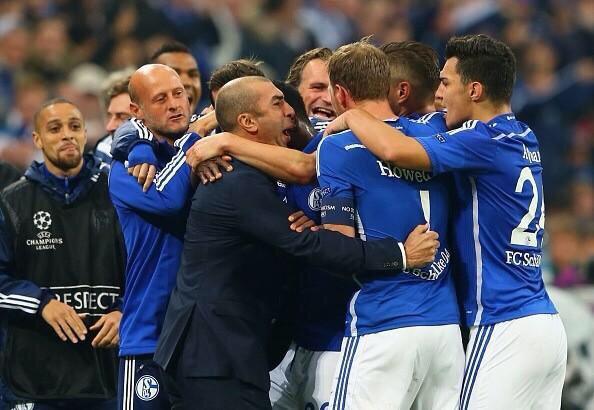 Roberto Di Matteo and his team embrace the dramatic victory.

Image: Twitter Photos
Bate Borisov 0 - 7 Shakhtar Donetsk
Alex Teixeira (11'), Luiz Adriano (28' penalty, 36', 40, 44', 82' penalty), Douglas Costa (34')
Group H
Borisov Stadium, Barysaw, Belarus.
Luiz Adriano's startling five goal game was the backbone of Shakhtar Donetsk's destruction of Bate Borisov in Belarus.
A swift through ball from Taison would eventually lead to the opening goal as Alex Teixeira got on the end of it, running around the keeper and then steadily displacing it towards goal as Donetsk pulled ahead.
Luiz Adriano broke through on goal but was taken down in the box. A penalty was ruled and the Brazilian ensured he would come across now shortfall the next time round drilling his penalty low into goal.
Douglas Costa then sunk the visitors as he got on the end of a surging break from Donetsk. Taison once again bagged the assist, setting up Costa for the easy tap-in.
Moments later it was Luiz Adriano who got his second goal. A simple shot at the near post crept in and Shakhtar were soaring. Another close range shot solidified the hat-trick, but he wasn't done and bagged his side's sixth goal on the stroke of halftime.
With that, Shakhtar became the first team in Champions League history to score six goals in the first half.
Another penalty by Luiz Adriano broke another record - he joined Lionel Messi as the only players to score FIVE goals in one Champions League game.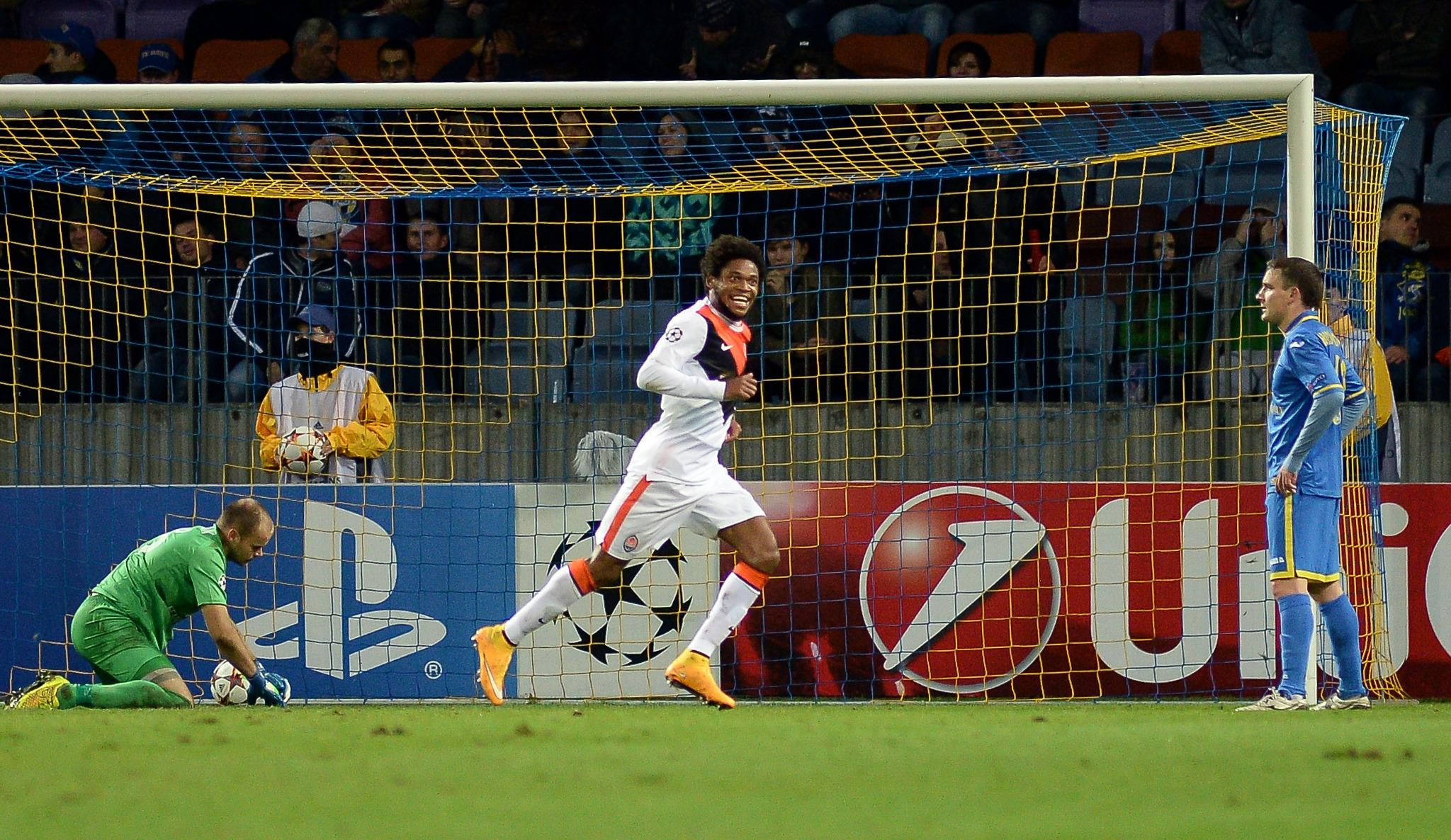 Five-Goal Hero: Luiz Adriano

Image: Bet365
FC Porto 2 - 1 Athletic Bilbao
Hector Herrera (45'), Guillermo Fernandez (58'), Ricardo Quaresma (75')
Group H
Estádio do Dragão, Porto, Portugal.
Ricardo Quaresma reinstated Porto's lead over Bilbao fifteen minutes from time to sink further dismay into the sights of the Spaniards.
Porto lead over the half time interval courtesy of Herrera, scoring on the stroke of the whistle with a first time finish after some nice passing by the hosts.
But, Guillermo Fernandez pulled one back getting past Maicon in the box and putting it away.
Overcoming the jitters, Quaresma slotted it below the keeper in the pivotal goal.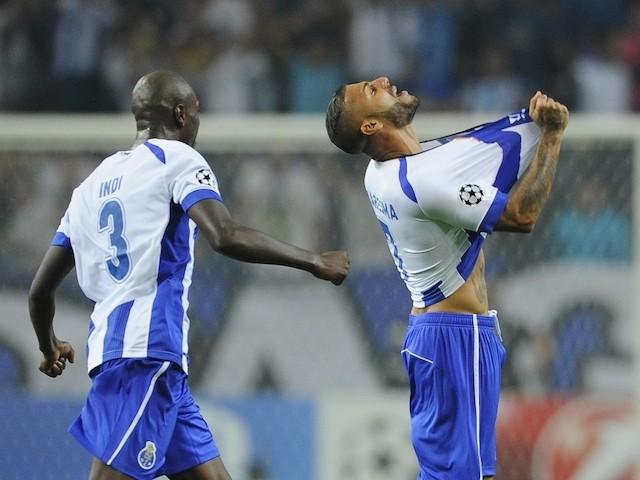 Quaresma the life saver.

Image: Twitter Photos
Match Breakdowns
CSKA Moscow 2 - 2 Manchester City: The English Champions definitely have a right to feel hard-done-by, but the way they unravelled their lead could imply they deserved only the point. Things have got a whole lot tougher for the Citizens now, despite all their effort they have claimed just two points from the nine available. Yaya Toure was rather muted over the course of the contest, and that along with other factors cost City. As for the penalty ruling, I'd say it was weak and definitely on another day would not have been given. There's no change now though, City have it all to do in the second half of their group stage fixtures.
Roma 1 - 7 Bayern Munich: Games like this are, mostly, a dream for football writers, there's just so much you can praise one team about and vice versa. This time all the glory is firmly in the palms of Bayern's ridiculous side. Manuel Neuer even made a terrific save so he gets a part. Bayern simply ripped apart a side who were posing the biggest threat for top spot in the group. It's astonishing how much depth they have and the likes of Shaqiri and Ribery are unprecedented utilities from the bench. Let the scoreline do the rest of the talking, that was just unbelievable.
Apoel Nicosia 0 - 1 Paris Saint-Germain: I'd be doing you a dis-service if I saluted Paris any more than Cavani's goal. They just seemed muted, out of it and Apoel seemed to engulf all of their flare that we saw against Barcelona. Apoel had plenty of takeaways from that considering they came close to 90 minutes of holding out the French Champions. Thank goodness for Cavani then, I suppose, it's never over when you have him on the pitch - the Nicosia side found that out in the hardest of ways.
Barcelona 3 - 1 Ajax: Barca got the job done. They did it relaxed, without injury and are now ready for the Clasico. Simply a perfect outing, They would be breathing with a sigh of relief though - especially Luis Enrique - considering they were almost bound for a collapse of complacency with the absence of Neymar, Iniesta and Messi in the final minutes. It was a great way to bounce back and they are really going to go neck-and-neck with PSG for the coveted top spot.
Chelsea 6 - 0 Maribor: Chelsea have, to be honest, had it easy in their group, but that didn't stop them from going full throttle. Didier Drogba and Remy's early goals just underlined the true quality and competitiveness of the strikeforce, not only boasting efficiency for other fixtures, but getting the job done in some style. In a night of goal fests, it may be overshadowed, but Chelsea are true contenders in all competitions, they look evolved.
Schalke 4 - 3 Sporting Lisbon: Champions League football... Just incredible! Sporting Lisbon put out one of the most courageous performances to date yet a poor error that lead to the penalty was their undoing. So close, yet so far. Schalke have been one of the most thrilling teams to watch - not necessarily due to their talents standing out, but the way they win games so dramatically. Wow.
Bate Borisov 0 - 7 Shakhtar Donetsk: Luiz Adriano, take a bow son. Yes penalties were involved but his focus throughout the game was unprecedented, what a performance. How embarrassing though, on the other side of the spectrum for Bate Borisov, they were just taken aback by Shakhtar, and it seemed that the visitors were shocked by how well they played too. What a crazy night in the UEFA Champions League.
FC Porto 2 - 1 Athletic Bilbao: Athletic Bilbao are having a torrid time in the Champions League thus far, while for Porto its been a rollercoaster. Quaresma's goal is crucial in giving them the advantage for the group.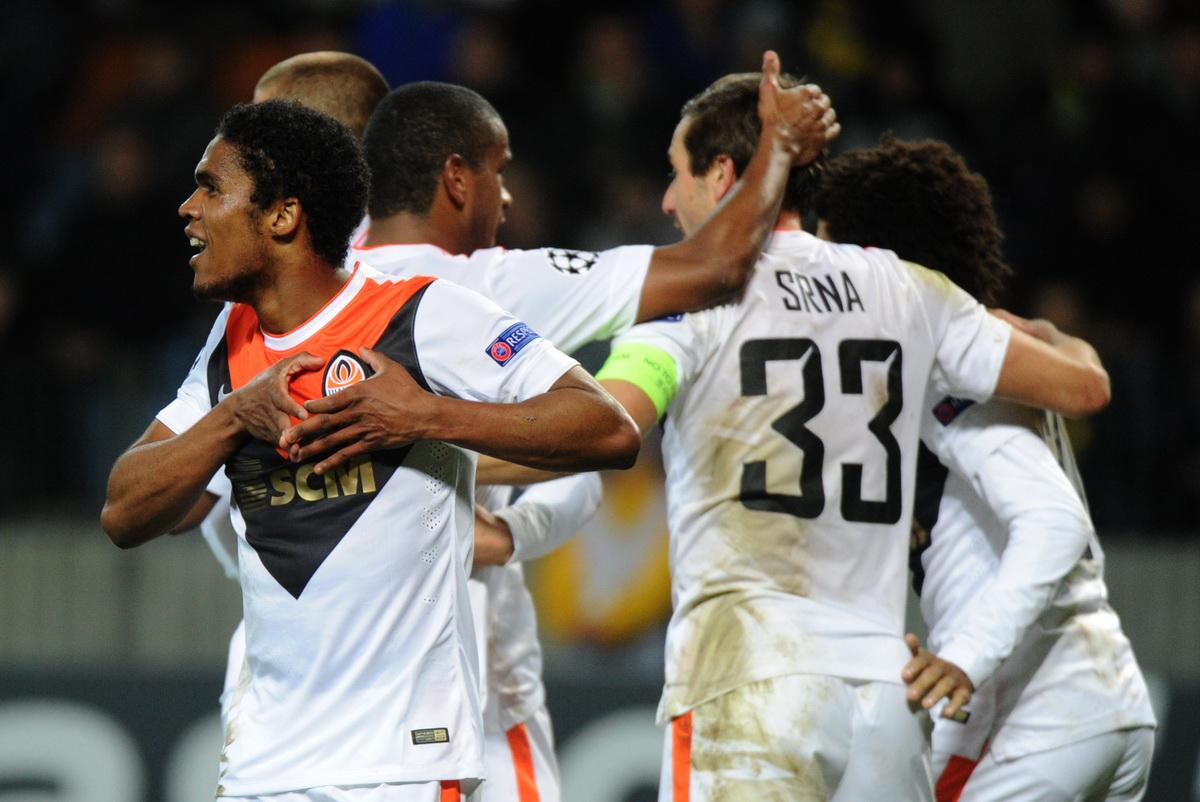 Image: ShakhtarDonetsk.com
What a crazy night in the UEFA Champions League.
40 goals scored, penalties, drama, an abundance of thrills and spills.
A really special night of football as we approach the midpoint of the group phase.
Now, take a deep breath, embrace the football and get ready for another instalment of the sensational Champions League.
More Champions League Week 3 Coverage