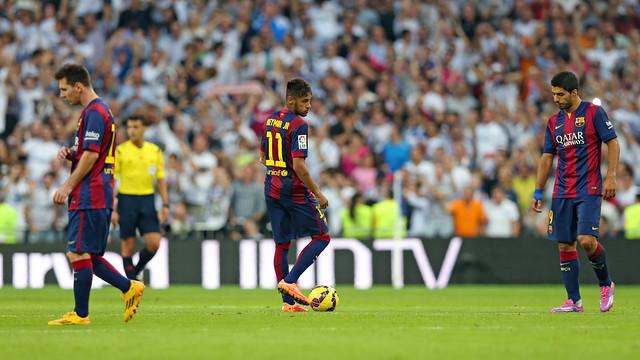 Dejection: Barcelona were outclassed by Real Madrid in a 3-1 Clasico defeat.

Image: FCBarcelona.com
The biggest club rivalry in the world
ended with an unfortunate scoreline
for the blaugrana of Barcelona. A 3-1 away loss to Real Madrid has left everyone questioning what went wrong with the La Liga leaders, who had not conceded in any of their first 8 games. The answer to that question after a thorough analysis is a lot clearer than it should be.
September 30th was the warning date. Barça were beaten 3-2 in Paris, and hints of the actual set-up we're much exposed. The tendency when Barça lose it so get right at the strikers. "They didn't do enough, they disappeared," but the front line was limited by Madrid's defensive alignment which was superbly planned out. Modrić, Kroos and partly James were placed right ahead of the back four so strikers were forced to go through 2 walls before getting in the box. The set-up saw Madrid sit deep defensively, but it was the right approach given Barça's set-up.
The direct problem to addressed can be credited to Luis Enrique's plan. Messi and Neymar have flourished together as a duo, Enrique's system features wingers or strikers in more central position and this has been great for their connection. Their ineffectiveness for most of the game can be credited to Real Madrid sitting deep which they don't often do. Neymar also looked more focus on the target, while Messi was lost in the mix of the game and seemed frustrated. The biggest problem in Enrique's system can be cut down to one word, SPACE. Watching the game, I realized there was a lot of it open, as to where and why it was open was what I had to re-watch to analyze.
The flaws in the defensive set-up that seemed solid have been unveiled. Strikers and wingers like Neymar or Pedro in more central positions means the flanks are wide open, and Barça's fullbacks can make these spaces their own. Fullbacks (Mathieu & Alves vs. Madrid) are allowed these SPACES to to attack, and they attack... A LOT! This factor is why a more defensively diligent RB like Montoya has only seen 90 minutes, Dani Alves has enjoyed much playing time (including in Paris were He gave as bad a game as you'll see in that position). Defensively, they get caught off position often and Barcelona were lucky Real Madrid only netted 3. Logically with fullbacks upfront SPACES on the flank are wide available, SPACES, which central midfielders (Iniesta & Xavi) have to drift out-wide to attempt and cover, while also handling spaces in the middle. Consequently, SPACE is left open in the middle of the field which Busquets, the defensive midfielders has to cover. Such available SPACE can't be effectively closed by a single player.
We got lucky. 3-1. pic.twitter.com/3fH9ysCFFo
— Visca Barça! (@RockBottom88) October 25, 2014
Real Madrid strikers enjoyed spaces centrally and through the flanks:
Barça FBs (24,22) were utilized highly in attack, allowing available spaces defensively in several areas.
I've argued for FB balance for a while now. Unfortunately, Enrique's system worsens it. Cuadrado = death. pic.twitter.com/7ZQXLTpeNj
— Visca Barça! (@RockBottom88) October 26, 2014
The system moves players into unusual positions and as a result, it seemed in the Clàsico that Barça had no midfield, the most important set-up in it's game. The role of the midfield was highly confusing and unusual, the midfield selection itself was questionable. Ivan Rakitić who has a more defensive profile but can still effectively control a game should perhaps have gotten the notch over Xavi. Iniesta has been on poor form this season, and Busquets had minor fitness issues and just returned from an injury.
Iniesta and Xavi had to cover up defensively, and given their lack of physique, they were ran over, unsurprisingly so. It was a role in Enrique's system very unusual to them, and they were restrained from displaying their magic. It obviously wasn't the Barça we are accustomed to, and it wasn't even Enrique's Barça per-say. Mathieu playing at LB for the second time this season, Piqué-Mascherano being paired for the first time this season, and especially Rakitić being benched demonstrate a lack of belief in his plan, and he stated it was wasn't how he intended the game to go. He questioned himself in a key game.
The goals in question came from Piqué's handball blunder, leaving Pepe with open space on a set-piece (like Veratti vs PSG), and Iniesta having a wrong reaction and playing the ball back in, combined with Mascherano being too close to him to receive it. Individual performances were off, but despite fairly individual mistakes, the game showed us what was wrong with the system utilized.
The system seems to be all individual patchwork and the connection with the team as a whole was barely existent. It now has everyone questioning what exactly in Luis Enrique's plan. That certainly wasn't "Barcelona". An absolutely mediocre performance, and Ancelotti seized advantage of it. He set up his Madrid side to defend and counter. A classic Mourinho tactic (but with more flair) that had failed often against Pep's Barça in previous years, but Ancelotti utilized it at the right time. He used it against a new
FC Barcelona that have a fantastic and versatile squad. The massive world class star Luis Suárez is just arriving, and the team is still to find it's stride.
So how can Barcelona improve? That is ultimately up to Luis Enrique. In my opinion, ensuring balance between fullback when they attack is a start. Clearly having a defined role for the midfield in transition and attacking is another, and moving back wingers a tad-wide imes is another. The issue of pressing seemed revived, but it's still noticeable how all out field players attack together but didn't defend as a whole.
Luis Suárez is just returning, and his abilities alongside Messi and Neymar could be deadly on all levels, and the club still awaits Vermaelen. There are many positives in the squad, but the negative aspects will now be closely watched, and Luis Enrique holds the remote to adjusting the system. Hopefully he recognizes these and other issues and keeps the club on top of the Ligue on the path to what looks a promising season.
Luis Enrique himself can only be judged by the end of the season; what he does to make his team better is what counts, and patience will be required. Does it hurt? Absolutely, will it help? It certainly will.
More Clasico coverage
- El Clasico as it happened
- Real Madrid 3-1 Barcelona: Match report
- 6 things we learned from the Clasico