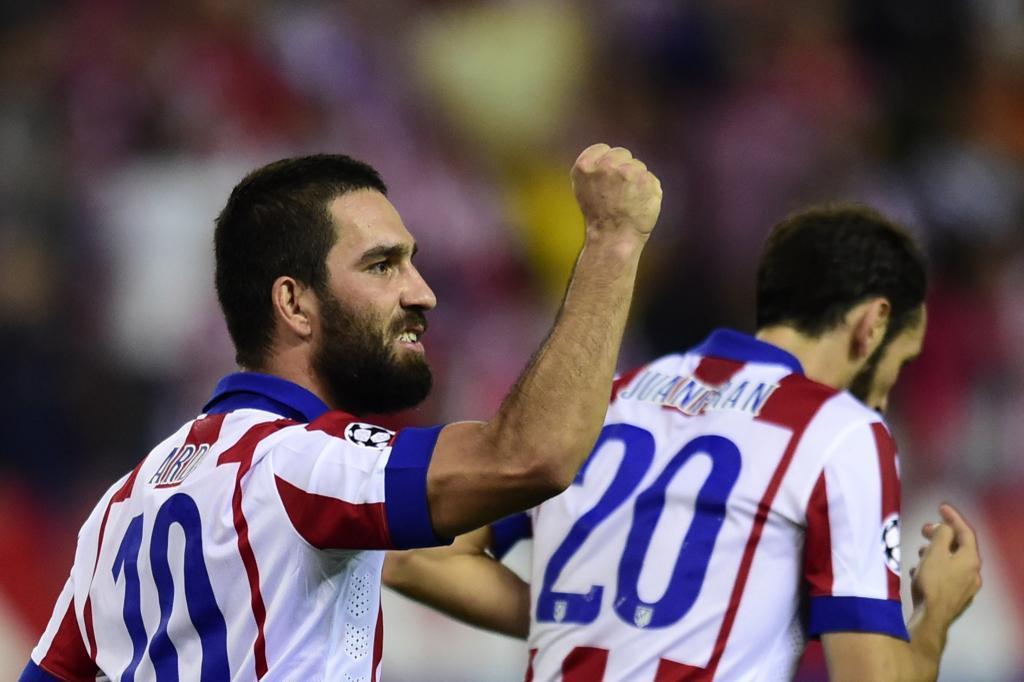 Arda delivers the goods for Atletico.
Atletico Madrid 1 - 0 Juventus
Arda Turan (74)
UEFA Champions League
Wednesday 1 October 2014
7:45pm BST kick-off
Vicente Calderon, Madrid, Spain.
Matchweek 2, Group G
Arda Turan's 74th minute strike was enough to see out a dismal Juventus who conceded their first goal in six games at the Vincente Calderon.
There was a vibrant atmosphere inside the Vicente Calderon, and it all dependent on the home team Atletico to deliver a fantastic performance in this highly competitive Champions League group stage clash against solid Italian side Juventus.
Mandzukic struck on target after winning the ball from Juventus outside the penalty box. His shot fired into the grasp of Buffon who unsurprisingly saved with ease.
As expected, Pogba launched a fair few top quality, looping balls over the top to wingers. Tevez latched onto one but failed to create any real goal scoring opportunities.
Atletico put slight pressure on the Juventus back three with fantastic manoeuvring of the ball up top. It just seems they are lacking big killer instinct though.
It was still goalless after the first 30 minutes. No real chances fell for either side, many will argue that the large amount of fouls disrupted the rhythm.
Saul Niguez came close to breaking the deadlock with a strong header but frustratingly for Atletico, the attempt flew wide of the left hand side post.
The half time whistle blew but neither side capitalised on their respective chances made. Highlights of the first half included Mandzukic's drilled shot saved by Buffon. Apart from that, nothing huge took place.
Second half
Vidal's shot swung wayward past the post after being assisted by Tevez. Still goalless at the 49th minute mark.
A golden opportunity fell for Atletico, three minutes from the hour mark. A quick fire, low cross tangled the legs of Mandzukic and stunned Cacares which forced legendary Buffon to clear off his goaline. Atletico knocking on the door.
The home side smelt blood and were feisty going forward. Clever linked play saw Koke set up Raul Garcia but the Spaniard's shot was blocked.
Juventus were just struggling to kick into gear, as every chance of attacking they had, was cut off by Atletico.
Turan fires Atletico ahead
The home side finally struck and it was Arda Turan who gifted the fans with a well deserved goal. Juanfran's cross found the Turkish midfielder and he made no mistake of putting his team ahead in such a vital game.
Juventus were forced to throw men forward with only ten minutes remaining. Morata came on for the Italian side.
That was that, thanks to Turan's vital winner Atletico march past Juventus and pick up a very important three points in the Champions League group stage.
What did you make of Atletico and Juventus' performances tonight? Did the Spanish based team deserve a win?
Champions League: Live Tweets