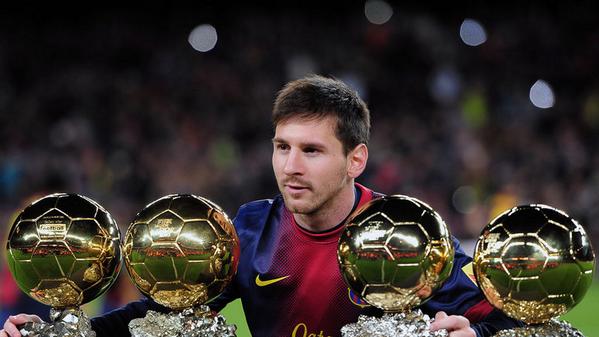 Barcelona's Lionel Messi poses with his accolades. (image via. Sky Sports Football)
23 players have been
short-listed
for the award, but only one man can take the accolade. Here our the 2014 FIFA Ballon d'Or nominees.
Gareth Bale - Real Madrid
Karim Benzema - Real Madrid
Diego Costa - Chelsea
Thibaut Courtois - Chelsea
Cristiano Ronaldo - Real Madrid
Angel di Maria - Manchester United
Mario Gotze - Bayern Munich
Eden Hazard - Chelsea
Zlatan Ibrahimovic - PSG
Andres Iniesta - Barcelona
Toni Kroos - Real Madrid
Philipp
Lahm - Bayern Munich
Javier Mascherano - Barcelona
Lionel Messi - Barcelona
Thomas Muller - Bayern Munich
Manuel Neuer - Bayern Munich
Neymar - Barcelona
Paul Pogba - Juventus
Sergio Ramos - Real Madrid
Arjen Robben - Bayern Munich
James Rodriguez - Real Madrid
Bastian Schweinsteiger - Bayern Munich
Yaya Toure - Manchester City
Many people have severely criticised the type of players shortlisted of this award, and I can definitely see why. It should be considered unfair that someone like Yaya Toure, with all due respect who has been mildly out of form, this season and a player like Luis Suarez, possibly the best player in England at Liverpool hasn't.
It's nothing but an absolute travesty, and you can make the claim that Suarez bit Chiellini and didn't deserve to be nominated but I'm still making a case for the Uruguayan He was EXCEPTIONAL last season, scoring a whopping 31 goals in 33 just games played under manager Brendan Rodgers.
Not all with agree on this one, but I'd have liked to see Manchester United's goalkeeper David De Gea nominated for the award. He saved his team absolutely tons of goals playing in-between the sticks. The Spaniard was voted United's best player last season along with Player of the Months awards. He may not have gone on to win the Ballon d'Or, but he definitely deserved a chance.
Apart from those two, I'm quite okay with the rest of the nominees. Good luck to them!
Who do you think should have been nominated, and who shouldn't? The comment box is below, so share your thoughts!