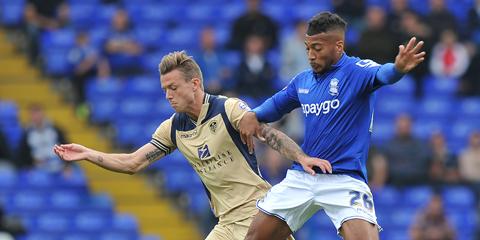 Birmingham City drew level with Leeds United, and Blackburn sunk Wigan in a thrilling day of football in the Npower Championship.

Birmingham 1-1 Leeds

A late goal from Leeds' Mowatt salvaged the Yorkshire based team a point against Birmingham at St. Andrews.
Blackburn 3-1 Wigan

Rovers smashed three past Wigan with seconds half goals from Marshall (2) and Rhodes to send their supporters home extremely satisfied.
Blackpool 0-0 Wolves

Blackpool and Wolves battled hard to a 0-0 stalemate as many chances fell for both sides, but obviously none were taken.
Bolton 0-0 Sheffield Wednesday

The game above wasn't the only stalemate. The Wanderers took Wednesday to a goalless 0-0 draw at the Macron Stadium
Bournemouth 1-1 Rotherham

A 93rd minute stoppage time winner from Rotherham's Bowery spoiled Bournemouth's early celebration in a highly competitive match.
Brentford 3-2 Brighton

A five goal thriller saw the home side Brentford prevail as they put away three vital goals against a valiant team effort from Brighton.
Cardiff 2-4 Norwich

The Npower Championship was full of four, five, and even six goal thrillers as Norwich slayed Cardiff 4-2 in a terrific second division match.
Charlton 1-0 Watford

An early 3' penalty from Buyens was enough to see former first division side Watford off in the Championship,
Huddersfield 1-2 Middlesbrough

A stoppage time converted pentalty put frowns on the face of Huddersfield fans as Borough' thwarted the Yorkshire based side.
Ipswich 2-0 Millwall

Two goals from McGoldrick and Murphy was enough to sink a down and out Millwall side at Portman Road.
Reading 3-0 Fulham

A double from Murray and a late Blackman goal easily put Fulham back in their place in a one sided match at the Madejski Stadium.