WWE Night of Champions 2014
Sunday 21 September 2014
Bridgestone Arena, Nashville, TN, USA.
John Cena managed to beat Brock Lesnar on Sunday night - but it was through a controversial disqualification after Seth Rollins' intervention brought an end to an incredible match.
Closing in on victory, John Cena thought he had it won, but a shocking unfolding of circumstances meant Lesnar remained the WWE's king pin.
Brock Lesnar was set to impose his physicality and dominance early, barging Cena into the corner unloading. However, the raucous crowd in Nashville was on their feet when Lesnar was toppled by a huge clothesline from the CeNation's leader. Following it up with a quick Attitude Adjustment, the WWE World Heavyweight Champion kicked out immediately.
We would eventually see the German Suplexes come into play, while on the ground Lesnar used his UFC credentials when he locked in the Kimura. Cena escaped both, but any time he looked to conjure up offence, Lesnar would eventually take control of the match.
John Cena continued to feed off glimpses of his resolve when he stopped a track of Lesnar domination in it's tracks with a second attitude adjustment. While he may have kicked out extremely quickly, it had an effect on the Champion allowing John Cena to operate an STF.
Lesnar powered through though before Cena again pulled off the Attitude Adjustment and another long STF that Brock Lesnar really struggled in. Eventually, a fourth AA looked to have put Brock Lesnar away, only for Seth Rollins to interefere and hit Cena with the briefcase.
After taking out John Cena, Seth Rollins attacked Brock Lesnar and cashed in his contract, until he was thwarted by Cena.
Cena had won the match by disqualification. But Lesnar was still Champion of the World.
Undercard
Here are the other matches from the night.
Goldust & Stardust def. The Usos (New WWE Tag Team Champions)
The near-seven-month reign of Samoan sensations, The Usos, came crashing to an end at the hands of the clinical brotherly tandem of Goldust and Stardust who captured the prized gold in the opening match of the night.
Jimmy and Jey Uso, who have been in many heated exchanges with the Rhodes anti-aliases over the past few weeks, imposed their game plan early on and aggressively worked against their eccentric counterparts.
However, as the match wore on, the injuries sustained played their part and eventually they were in the midst of a beatdown.
Instincts came into play, but they would be The Usos downfall - a Samoan splash attempt was thwarted by Stardust who finished the job of to complete the transaction of the tag team titles into new hands.
The brothers embrace their huge win.

Image: WWE.com
Sheamus def. Cesaro (Retains United States Championship)
Sheamus was forced to give it all at Night of Champions - and he managed to weather the ferocious storm from the Swiss Superman Cesaro to retain the US strap.
Early in the match, the Switzerland native Cesaro had a razor close encounter with getting his hands on the Gold after rolling up Sheamus after a Brogue Kick attempt.
After the kickout, the two would engage in a gutsy and hard-hitting brawl that was jam-packed with pulsating moves as Cesaro sent Sheamus flying.
While the Irishman may have retained a fair bit of influence on the match, he was a recipient of Cesaro's relentless striking that left him dazed. A huge kick rocked him in the turnbuckle, but when he came charging at Sheamus he was rudely awakened with an emphatic Brogue Kick that lead to Sheamus keeping his hands on the title.
Hard Day's Work: Sheamus' hands are raised in victory.

Image: WWE.com
The Miz def. Dolph Ziggler (New Intercontinental Champion)
The Miz stunned Dolph Ziggler in controversial and chaotic circumstances to recapture the Intercontinental Championship.
Florida Georgia Line were on commentary and it was absolutely horrific to listen to, speaking on behalf of all WWE fans here. Little was discussed about a match that had a great pace to it.
The guests did push Damien Sandow to momentarily take Mizdow out of the equation however, he did return to play a pivotal role on the outcome.
Returning back to the apron, Ziggler dealt with the issue with a super-kick however The Miz scored a roll up pin, pulling the tights to secure it, recapturing the title.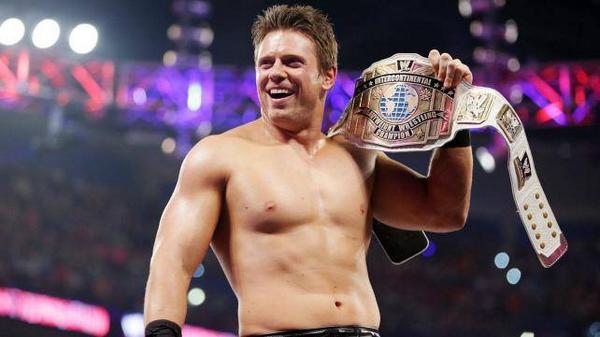 Dean Ambrose returns and accepts Seth Rollins' open challenge
Roman Reigns vs. Seth Rollins was originally on the card however emergency surgery for Reigns ruled him out of the match. Rollins declared victorious but then his open challenge received a shocking response.
After he got the referee to rule him the winner through forfeit. Then he declared an open challenge.
A taxi pulled out, outside the arena and what emerged was an amped up Dean Ambrose who headed straight for Rollins, unleashing a beatdown as he searched for vengeance when he was injured by Rollins a few weeks ago on Raw.
Triple H and his security cronies eventually restrained him and consoled a shell-shocked Seth Rollins.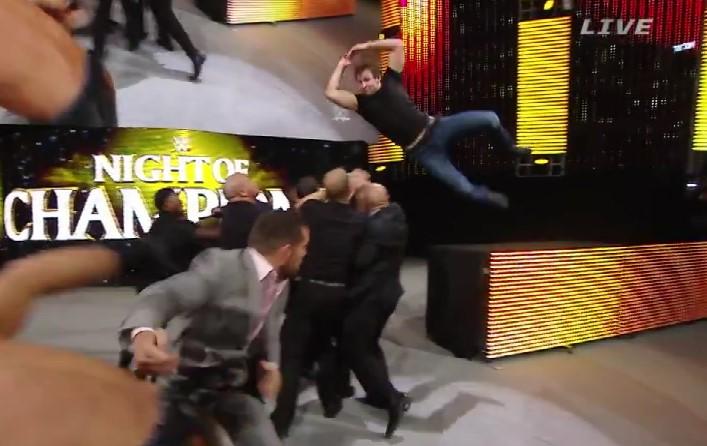 Rusev def. Mark Henry
Mark Henry was left in a heap of misery after Rusev broke his resolve in a key International match.
Tears were flowing out of the eyes of Mark Henry as the USA anthem was performed. Henry would convert the fired up attitude on to the match, leaving Rusev frustrated for the early goings.
A back injury would lead to the undoing of the World's Strongest Man though, as he became subject to the wrath of the Bulgarian Brute.
Demonstrating incredible athleticism, his kicks levelled Mark Henry before making him tap out to the accolade.
On to the next one.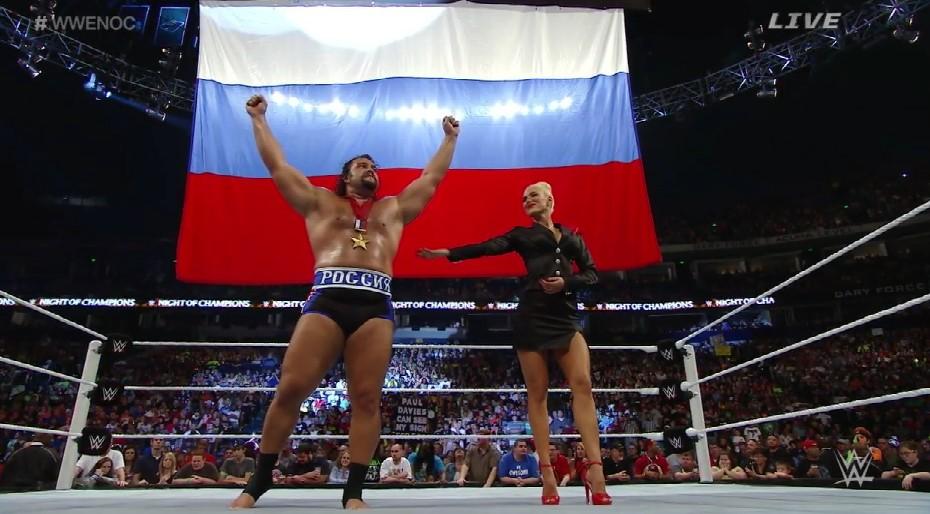 Randy Orton def. Chris Jericho
The Apex Predator Randy Orton waited for his perfect moment to strike as he dispatched Chris Jericho in an incredible match.
Both went toe-to-toe as they unearthed their history with a phenomenal contest.
But it was an RKO that would settle it, off the turnbuckle, as the Legend Killer put away Y2J.
AJ Lee def. Paige, Nikki Bella (New Divas' Champion)
A "Black Widow" submission would prove decisive as AJ Lee recaptured her Divas' Championship in a triple threat match for the title.
Paige controlled a majority
of the match but when Nikki Bella was pulled away from pinning the English-born Champion, AJ Lee capitalized by submitting Paige.