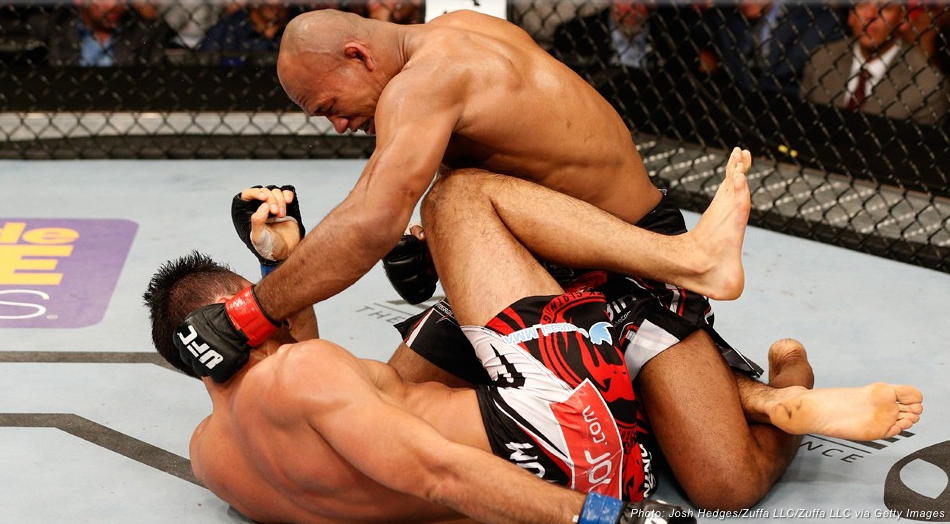 "Jacare" finished Mousasi in the 3rd round to redeem himself from a loss six years ago.


Image Courtesy: Josh Hedges/Zuffa LLC via Getty Images
UFC Fight Night: Jacare vs. Mousasi
Foxwoods Resort Casino, Ledyard, Conneticut
Friday 5 September 2014
Jacare Souza avenged his 2008 loss to Gegard Mousasi by submitting the Dutchman as part of a spectacular performance to put himself well in the mix for a Middleweight title shot.
It was part of an extraordinary night in the Octagon as it made it's first appearance in Conneticut since 2005.
Elsewhere on the card featured two first round finshes with heavyweights and a night to remember.
Preliminaries
Chas Kelly dominated Sean Soriano to take a deserving unanimous decision win to kick off the proceedings at Foxwoods'. Exhausted after plenty of wrestling and relentless submission attempts, he powered through the fatigue for his second UFC win.
Chris Beal extended his professional record to 10-0 with a hard-fought unanimous decision victory over Tateki Matsuda. The Japanese fighter was heftily cut in the first round and Beal would fight to the victory. Despite this, Beal exclaimed that he was disappointed with his performance.
Rafael Natal outlasted Chris Camozzi in a razor-close tilt of two-halves. The Brazilian, close to his adopted home near Manhattan, started off strongly but Camozzi made a big argument also in the second round. Natal prevailed through split decision.
Yes, I know what you're thinking. Spectacular? Exciting? Well, after these three fights that went the distance, the judges were not needed again!
Al Iaquinta stunned the masses with a phenomenal finish to Rodrigo Damm. Training partner to UFC's Middleweight Champion Chris Weidman, he finished off Damm in the final round after dropping him. Rodrigo Damm was beaten to a pulp.
Closing out the prelims was John Moraga and the former #1 Flyweight rose to the occasion to choke out Justin Scoggins. A toughly-gripped guillotine choke would eventually prove in favour of Moraga for the win, rallying for a hometown fight after.
Prelims indeed exceeded expectations but, living up to the hype, the main card would go a few steps further.
Lauzon forces Chiesa doctor stoppage
Joe Lauzon prevailed over Mike Chiesa to propel the main card following an entertaining scrap in UFC's crammed Lightweight division.
As expected, the pace was frantic from the bell as Joe Lauzon, rallied on by the Conneticut fans, took an early advantage on Mike Chiesa. After an opening two-minute spell of a ground battle, Lauzon came close to taking the back of The Ultimate Fighter winner, but to no avail. Eventually, both were up to their feet and the culminating thirty-seconds of standup proved to be exciting, as
they wildly traded and Chiesa landed a last-gasp head kick of the round.
Doctors were forced to intervene midway through the second round as Mike Chiesa was badly wounded over the eye following a barage of strikes. A brutal knee forced the cut and damage was increased with strikes upstairs and down. Despite Chiesa's resilience to continue, the doctors and Herb Dean waved it off.
"I won't f***ing fight again unless I get a rematch" exclaimed Mike Chiesa was outraged following the decision in the heat of the moment. In his post-fight interview, Chiesa explained "I
wasn't done, my plan was for it to be a dog fight", and referred to Lauzon's fight with Jim Miller whereby Lauzon suffered a huge cut also. This shall no doubt put the discussion back into focus and Chiesa is searching for a rematch.
Official Result: Joe Lauzon defeats Mike Chiesa via TKO (Doctor advice) in Round 2, 2:14
Joe Lauzon consoles Mike Chiesa following the fight.

Image Courtesy: FOXSports.com
Mitrione responds to Lewis challenge emphatically
"Judges not expected to be needed for this one, but we shall see", UFC commentator Jon Anik said, as the fight got underway.
That prediction took only 30 seconds to kick in.
As Derrick Lewis backed off towards the fence, he swung wildly to take out Mitrione, but instead, went straight to the short right hand of the latter and toppled to the ground. A huge right hand then saw Lewis go down followed by numerous strikes that would eventually see "The Black Beast" succumb and force the referee to stop it all.
Fired up after the win, Mitrione was pumped up and said "I was highly offended to be called out by a name like that" in the post-fight interview. Onwards and upwards for the towering heavyweight now who intends to rise into the rankings.
Official Result: Matt Mitrione defeats Derrick Lewis via Knockout in Round 1, 0:41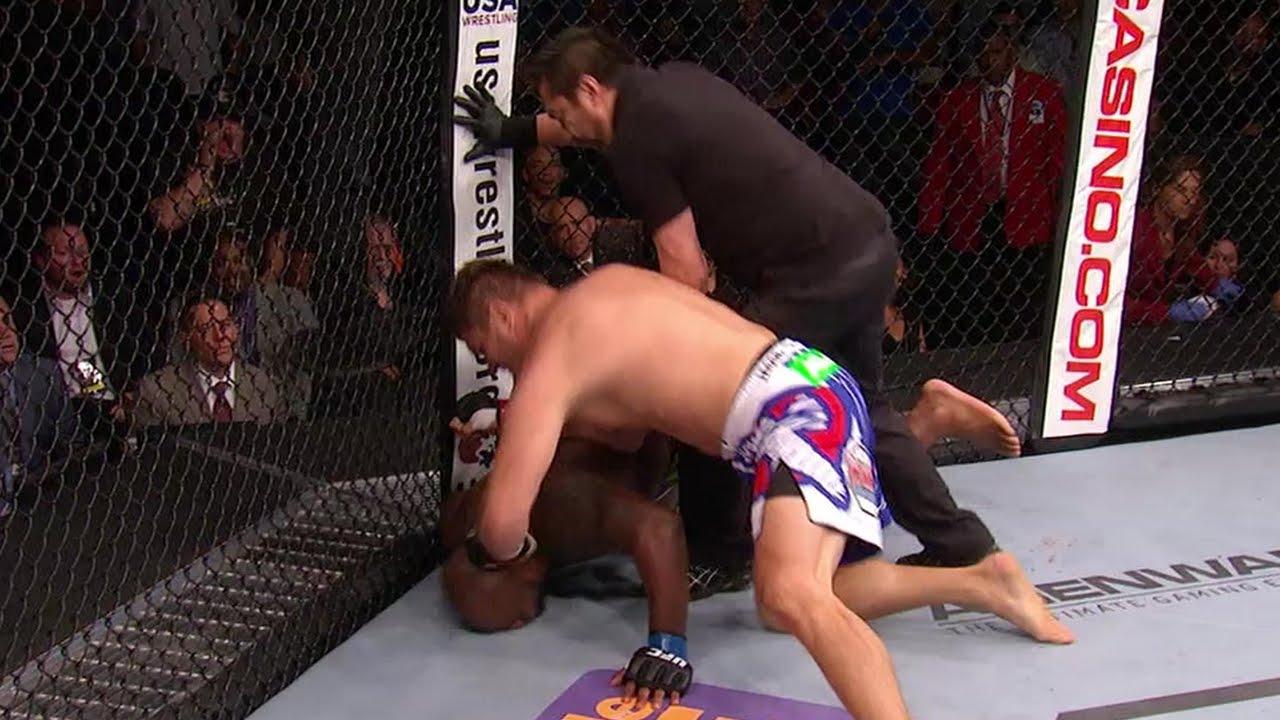 Moment of Stoppage: Mitrione pummels Lewis
Rothwell rocks Overreem
Heavyweights not going past one round? We saw it earlier on, and guess what - it happened again.
Despite a promising and efficient opening minute from the Dutchman Overreem, which included heavy shots to the body, Ben Rothwell rocked him soon after that left the big man reeling. Attempting to trade, Overeem was dropped by a big right hand before some ground and pound to close it out.
For Overreem it remains the similar, harrowing story - he can't get a string of wins together and is derailed. Where does he go from here? As for Rothwell he says "I hope I can get myself to #1 contender", and with a performance like that, it's undoubtedly a possibility.
Ben Rothwell defeats Alistair Overreem via TKO in Round 1, 2:19
Rothwell looks to climb up into the Top 10.

Image Courtesy: MMAJunkie.com
Jacare breaks Mousasi resolve
It was a submission-filled first round which included two big attempts. First, Souza managed to slip out of a Mousasi triangle before his own Kimura attempt was to no avail. Both were determined to enforce the dominance on the ground.
Jacare really steamed forward in the second round, to go with his ground dominance. His striking ripped Mousasi apart and left the Dutchman reeling and fatigued. Three takedowns in as many rounds typified a superb display.
With near to eleven minutes of control on the ground, Jacare finished to state his case for a title shot in the late stages of the third round. He managed to lock in a tight guillotine choke to break the resolve of the former Strikeforce Champion.
A huge win for Mousasi - is it enough for a title shot?
Official Result: Ronaldo Souza defeats Gegard Mousasi via Submission in Round 3, 4:30
UFC Fight Night 50: Classified Results
Main card
Ronaldo Souza def. Gegard Mousasi via Submission (Round 3, 4:30)

Ben Rothwell def. Alistair Overeem via TKO (Round 1, 2:19)

Matt Mitrione def. Derrick Lewis via Knockout (Round 1, 0:41)

Joe Lauzon def. Michael Chiesa via TKO (Round 2, 2:14)
Prelims
John Moraga def. Justin Scoggins via Submission (Round 2, 0:47)

Al Iaquinta def. Rodrigo Damm via TKO (Round 3, 2:41)

Rafael Natal def. Chris Camozzi via Split Decision (29-28, 28-29, 29-28)

Chris Beal def. Tateki Matsuda via Unanimous Decision (29-28, 29-28, 30-27)

Chas Skelly def. Sean Soriano via Unanimous Decision (30-27, 30-27, 30-27)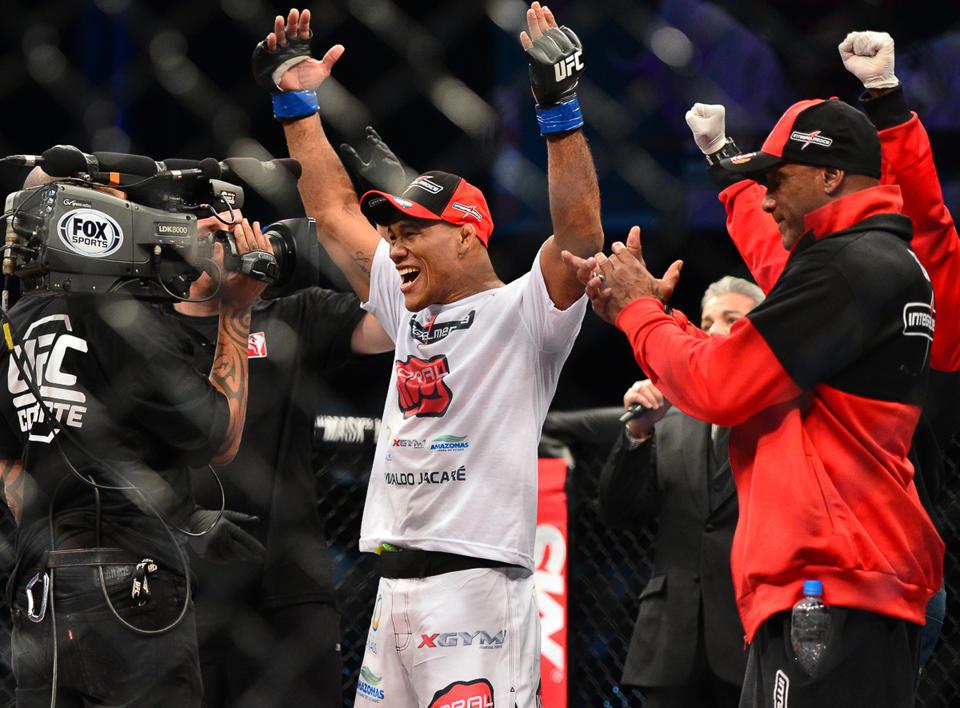 Image Courtesy: Yahoo Sports
Spectacular night in the Octagon, simply spectacular.
After three fights that went the distance, the judges were simply not needed from then on and it proved to be an unforgettable night to mark the 50th edition of "UFC Fight Night".
Jacare Souza has picked up a huge win by ending the determined Mousasi via submission, can he go all the way to the Middleweight strap now?