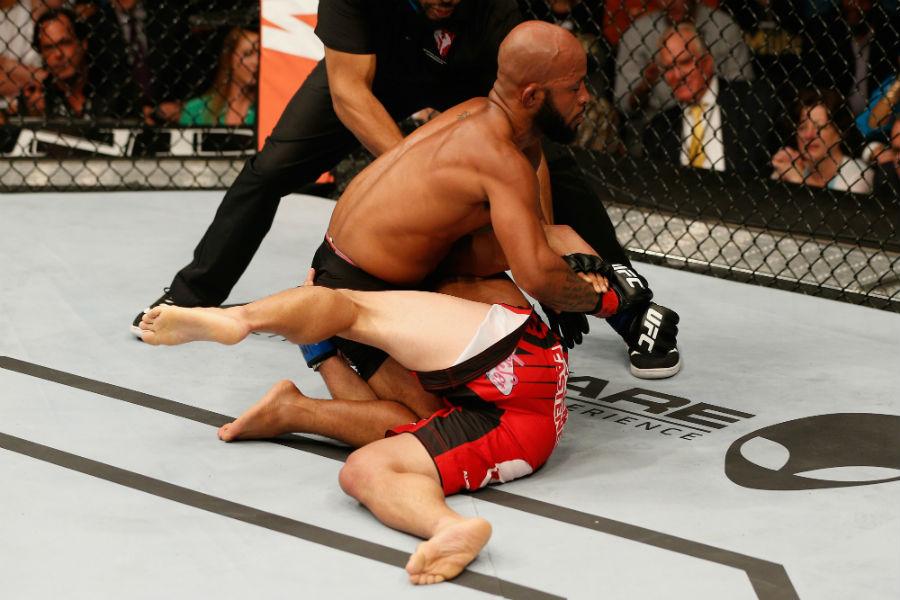 Another day in the office for UFC's Mighty Mouse.

Image: ESPN UK / Getty
Demetrious Johnson submitted Chris Cariaso in the second round of their main event title tilt at UFC 178 on Saturday night, further enforcing his incomparable defence as he continues to clean through the division.
It was on a sublime night inside the eight-sided UFC cage that also featured Conor McGregor prevailing in a highly-anticipated grudge match with Dustin Poirier. Dominick Cruz made an emphatic return lower down the card and Eddie Alvarez was beaten in his UFC debut.
Johnson domination continues
Is there no stopping Demetrious Johnson?
With now five straight title defences to assert himself as the validated kingpin of UFC's flyweight division, his win over Chris Cariaso was a formality. Once again, he showed his big leap in skills improvements with a kimura to win the bout.
For the first round, "Mighty Mouse" dictated the pace inside the Octagon with some swift striking. Going to the ground, his perfect performance would last for around seven minutes or so, with a kimura that left his opponent no option to tap.
"I was a little too patient for my own good", explained Johnson post-fight. Even with a fantastic performance like that he can still find improvement. That's a Champion for you.
#AndStill the undisputed UFC flyweight champion of the world...@MightyMouseUFC! #UFC178
— UFC (@ufc) September 28, 2014
Cowboy spoils Alvarez welcoming par
ty
Arguably the greatest MMA fighter on the planet to not fight in the UFC, Eddie Alvarez finally ended that statement when he stepped into the Octagon to face Donald Cerrone.
Starting off with a solid round where his aggression peaked in the clinch, his heavy hands got working on "Cowboy" Cerrone although he didn't come close to the finish. Takedowns were stubbed and Cerrone may have stumbled out of the blocks, but he did eventually get into full swing.
Alvarez was hurt in the second bracket, before Cerrone would unleash heaps of brutality upon the established Champion, bruising the legs and eventually forcing him off his feet to grind it out in the third.
Cerrone is no pushover.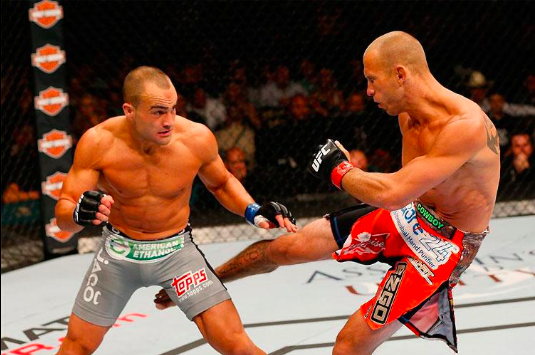 Story of the fight.
McGregor is the real deal
What was on everyone's lips both before and after the curtain had been drawn over UFC 178 was Conor McGregor and Dustin Poirier.
A highly-anticipated grudge match between the two featherweights continued to swivel out into chaos and animosity, with security having to refrain the pair in the face-offs. Even when Poirier entered the Octagon, he had a visual altercation with the Irishman forcing security to step in. They were ready to go.
Hands down, moving like fluid, McGregor took some shots and gave some, but when Poirier really opened himself up for a true exchange with the "Notorious" one, he was clipped round the ear and crumbled to the ground allowing McGregor to finish it off and the referee put a stop to the fight.
The American did indeed claim that he was struck behind the ear however he was already stunned. It's looking like McGregor is the 'real deal', and the Irish fans - occupying 10% of ticket sales for the event - absolutely know it.
"I don't just knock people out, I pick the round".
He's coming for the World title.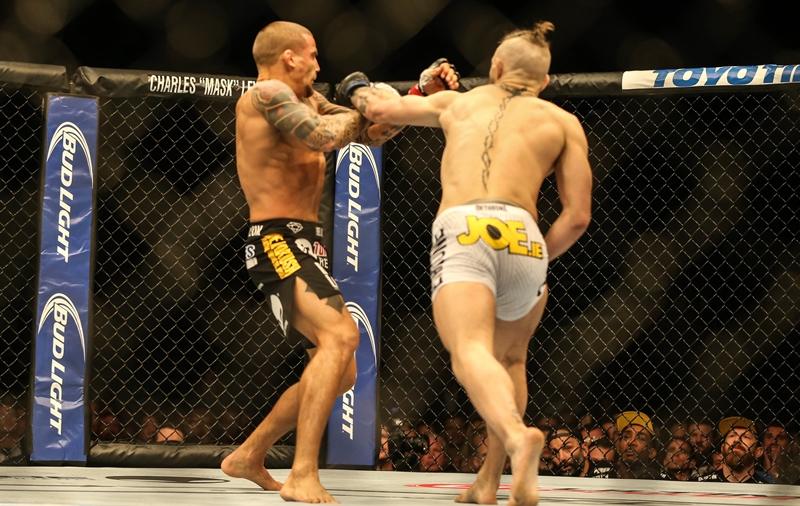 Image: JOE.IE
Romero reverses fight on Kennedy controversially
Tim Kennedy had Yoel Romero stunned. On the stroke of the end of the second round. However, the "Solider of God" wasted time and sat on his stool for an extra and pivotal 29 seconds that allowed him to recover.
Livid, Kennedy approached Romero and told him to get up. He eventually did and then shocked him in the third round.
Catching him with a brutal right, Romero had it won, battering him and leaving him bloodied for the fight to stop.
There were ignited protests after the fight though as Kennedy claimed that Romero should have lost because he couldn't get up in the time required. Kennedy was hard-done-by.
Zingano returns and remains the force
It's been a hard journey in Cat Zingano's absence from UFC, but when she did return following an injury and tough personal issues, she stated herself as a true contender for the UFC Women's Bantamweight championship.
Still undefeated, she rallied past an early onslaught from Amanda Nunes before finishing off the fight in the third round.
Cruz doesn't miss a beat
The last time Dominick Cruz fought in the Octagon was 3 years ago where he defeated Demetrious Johnson.
Following two hard knee injuries and a groin tear, he finally returned and put setbacks away to absolutely destroy Takeya Mizugaki.
There were no signs of deterioration either, with slick footwork and an awkward style for Mizugaki to deal with, eventually going out after just a minute or so of action.
Welcome back, Dominick Cruz. Oh and he called out the Alpha Males so opponents will be there...
Simply an outstanding night inside the Octagon.