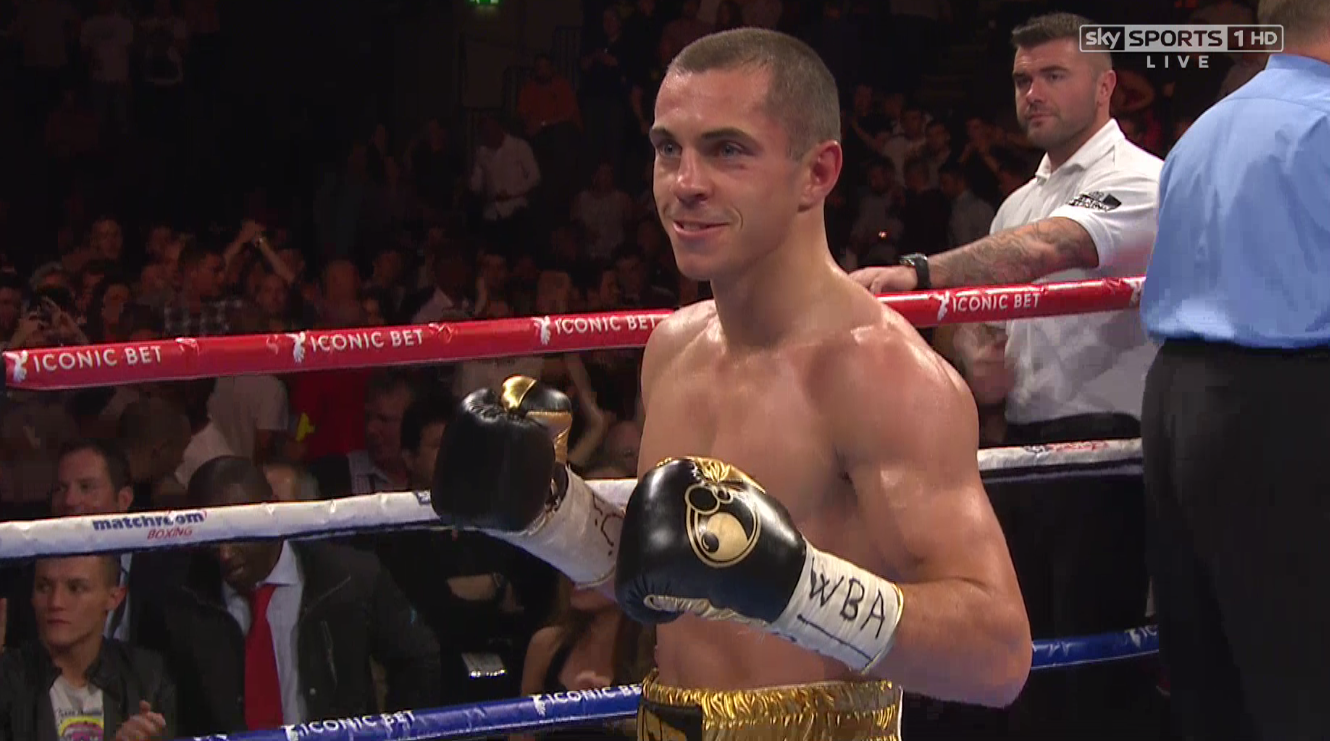 Quigg stood tall at the end of the boxing card at the Phones4U Arena in Manchester.

Image: Sky Sports
Scott Quigg finished Stephan Jamoye in the third round of their main event in Manchester to retain the WBA Super-Bantamweight title.
Earlier in the card, British heavyweight prospect completed his fight in the same manner, seeing off Airich within three phases of boxing.
In the main event, it would take one referee intervention to call the fight off. Loading with punishing body shots, Jamoye was reeling as he felt the Quigg take control.
Signs of effect were taking their toll on the Belgian challenger, and he would eventually succumb to the offence of Quigg in the third round.
A vicious right hand floored the visitor, who, despite getting back up to his feet, proved too groggy and unable to continue forcing the referee to wave the fight off.
Stephan Jamoye couldn't really bring to the table what many were expecting - the body shots limited him from the outset causing it to be a mere chase for survival rather than an upbeat challenge.
Scott Quigg speaking after his victory spoke of a possible bout with Carl Frampton.
Joshua decimation
It was yet another exhibition of total domination by Anthony Joshua as he dispatched Kazakh Konstantin Airich within three rounds.
His piercing jab continued to hassle the German veteran, constantly following up with right hands that forced the neck to snap back. Airich's resistance proved futile although he was the first to take the Gold-medalist into the third round, but in those rounds it was when he would thrive.
First the referee had to intervene when a series of punches up against the rope saw him go down, and Airich was never the same after feeling the wrath of the Brit. "I was taking my time with things, no rush.", explained Joshua after the fight, as he methodically took out the durable veteran. It would prove to be a matter of when, and that would be later on in the third as he was nailed with a clean punch to wrap up the fight.
There was some controversy during the fight when Joshua appeared to hit Airich when he was down although the fighter dismissed it himself and was proud in taking his record to 8-0, with knockouts every step of the way.
He continues to progress and make leaps every fight. Britain's next big thing in boxing just keeps getting bigger and bigger.
Cut stops Crolla, Diaz
Anthony Crolla and Gamaliel Diaz's fight frustratingly concluded in a technical draw after a third round head collision, causing a gaping cut on the head of the Mexican. Convicting reports suggested that it was the Diaz team who pulled the plug while others suggested that the doctors had the definitive input. It unfortunately ended what was set to be an excellent fight.