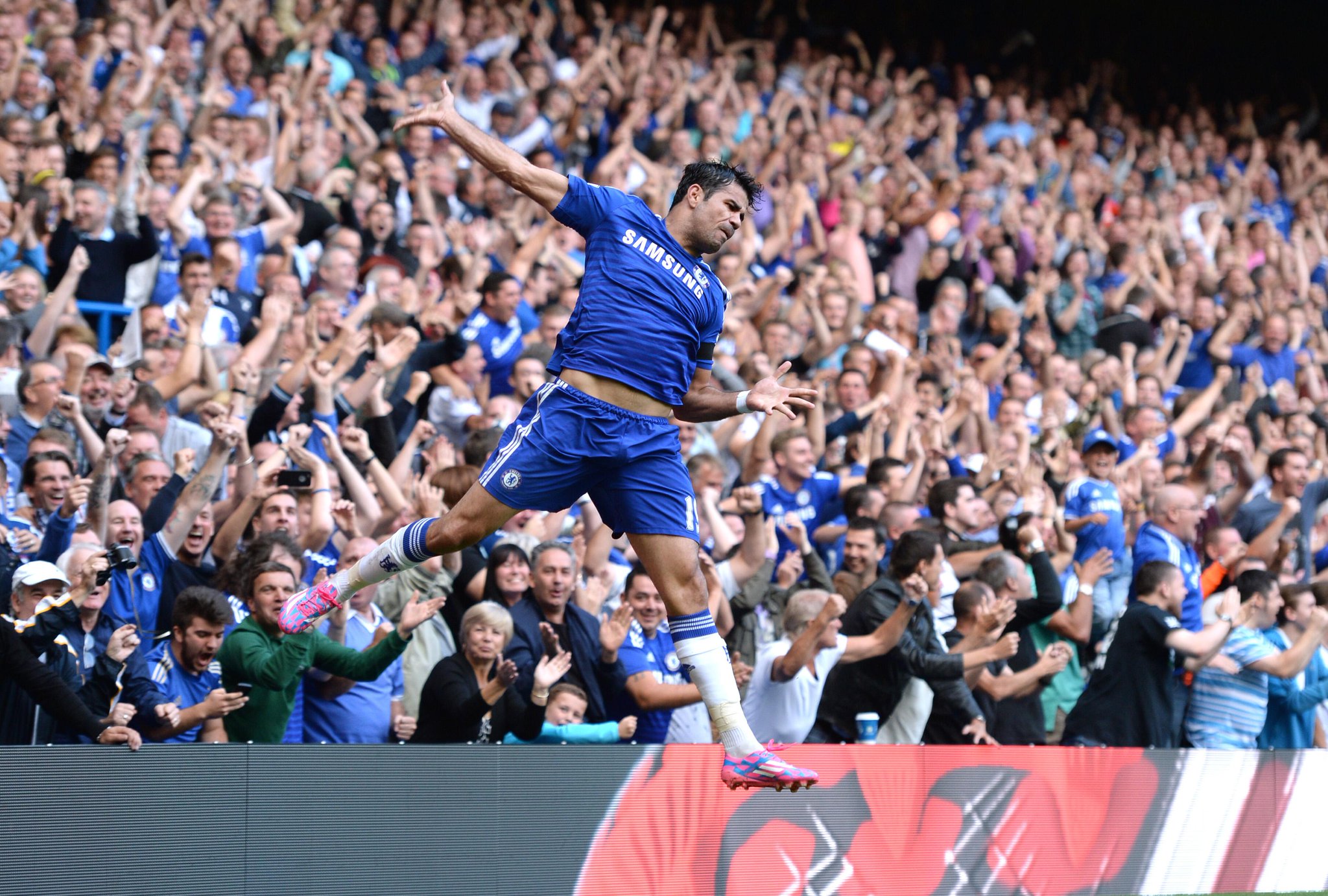 Hat-trick hero: Diego Costa thumps Swansea.

Image: FOX Soccer
The teams where chosen the stadiums where almost full for the return of the English Premier League after the much criticised international break.
At half time there was goals in four games but no goals in only two of the games with Two winning sides in Southampton and Stoke and the other four games where level at half time.
This is how it all happened at 3pm in the Premier League.
Sunderland 2 - 2 Tottenham
Stadium of Light, Sunderland.
Goalscorers: Chadli, Johnson, Eriksen, Kane (OG).
Four minutes in Nacer Chadli scores for Spurs but Adam Johnson cancels out the Spurs goal with on of his own for Sunderland after five minutes.
HT: SUN 1-1 TOT.
KO: the second half at the stadium of light begins.
Just after the whistle for the second half to begin Christian Eriksen puts Spurs in front at The Stadium of Light, Finally! Sunderland get level with Tottenham but unfrotunately Spurs player Harry Kane sends the ball into his own net for an own goal.
FT: SUN 2-2 TOT.
Stoke City 0 - 1 Leicester City
Britannia Stadium, Stoke.
Goalscorers:
Ulloa.

No Goals in this game but chances where taken by the Foxes Ulloa and Stokes Attacking 6.
HT: STO 0-0 LEI

KO: have we got a treat of a better half in this game?
After chances from the Foxes Ulloa gives Leicester the breakthrough versus Stoke at the Britannia.
Crystal Palace 0 - 0 Burnley
Selhurst Park, London.
Goalscorers:
No goals where scored.

Another goalless game at half time and this was Palace vs The Clarets at Selhurst park, chances where taken but keepers where on to form in this one.
HT: CRY 0-0 BUR

KO: There are hopes that this half will be a cracker.
A boring second half at Selhurst park in London, no one was entertained and it was the only goalless match of the day.
FT: CRY 0-0 BUR.

Chelsea 4 - 2 Swansea City
Stamford Bridge, London.
Goalscorers: Terry (OG), Costa (3 Goals) Remy, Shelvey.

Chelsea didn't start off well with a John Terry own goal eleven minutes in but on the stroke of half time Chelsea goal machine Diego Costa scored to make the game level at half time.
HT: CHE 1-1 SWA

KO: who will come out on top in this one?
Chelsea score and it's only Diego Costa with his second of the game for Chelsea. CHE 2-1 SWA, The Blues have turned the game around, can they get more?

GOAL! Diego Costa with the Hat-Trick puts Chelsea 3-1 In front versus Swansea at Stamford Bridge.
Goal! Loic Remy comes on to the pitch and scores on his debut to give Chelsea a four - one lead. CHE 4-1 SWA.
Swansea get a consolation goal and it's Jonjo Shelvey who scores for Swansea. CHE 4-2 SWA.

West Bromwich Albion 0 - 2 Everton
The Hawthorns, West Bromwich.
Goalscorers: Lukaku, Mirallas.

New Everton signing Lukaku made his mark on the game by scoring for Everton at the Hawthorns.
HT: WBA 0-1 EVE

KO: After Lukakus' early goal have WBA got a chance?
Goal! Mirallas doubles Everton's lead at the Hawthorns. WBA 0-2 EVE.

FT: WBA 0-2 EVE.
Southampton 4 - 0 Newcastle
St Mary's Stadium, Southampton.
Goalscorers:
Pelle (2 goals), Cork, Schneiderlin.

The Saints started well vs the Toon with Pelle hitting the back of the net twice for Southampton at St. Mary's.
HT: SOU 2-0 NEW
KO: Are Newcastle down and out after Pelles' first half double?
Jack Cork puts The Saints three In front with a goal. SOU 3-0 NEW.
Goal! In the ninetieth minute Morgan Schneiderlin scores for Southampton. SOU 4-0 NEW.
All of the games finished but only one game finished with out a goal but throughout today there has been sixteen goals including four goals at the Emirates which was Arsenal vs Man City where it finished 2-2 and we still have to bring you Liverpool vs Aston Villa from Anfield which will be reported on and live tweeted on.