WRITTEN BY KASSEM ADOURE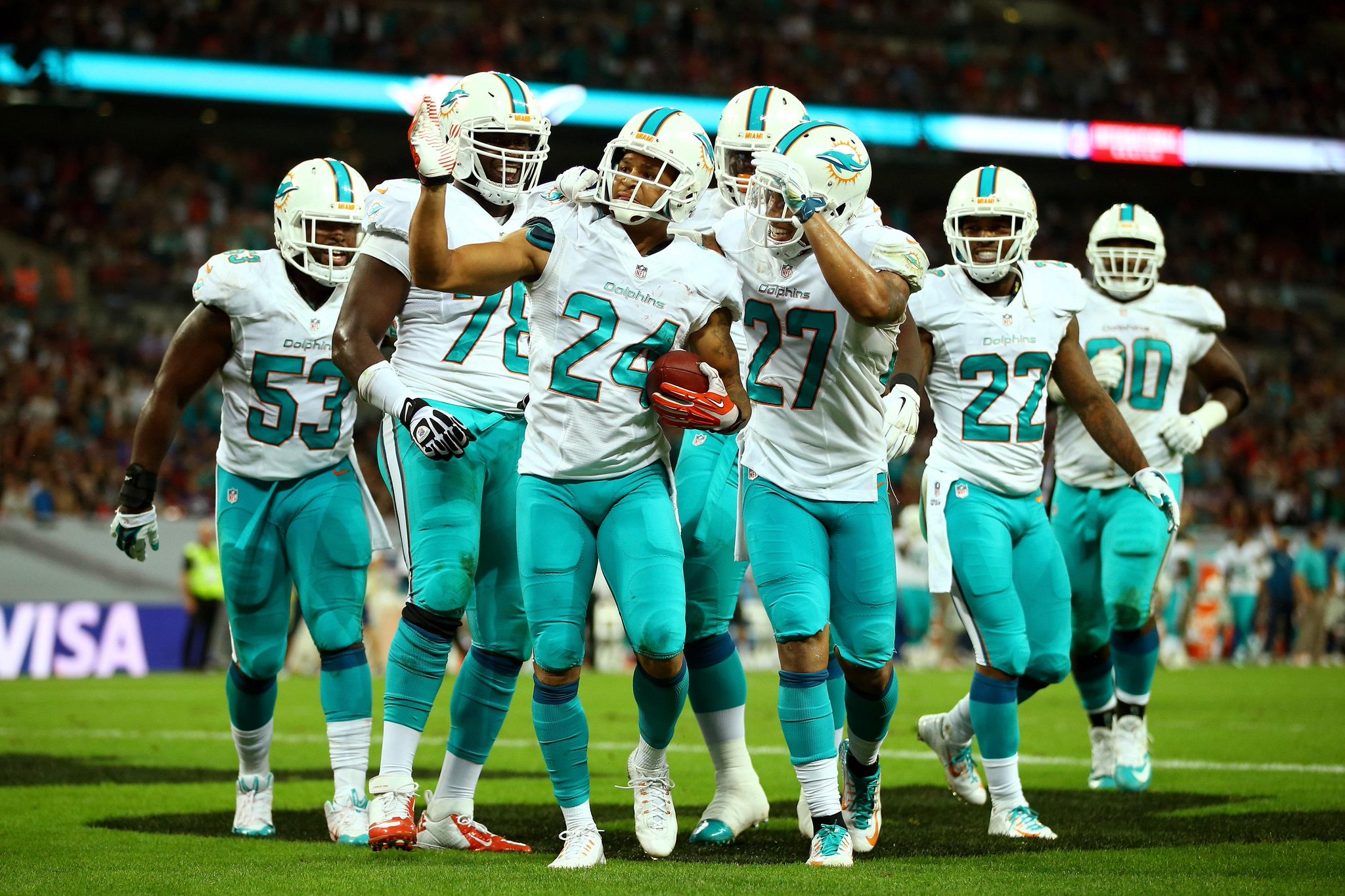 Dolphins relish in a sold out Wembley Stadium.

Image: Getty
The first game of three that will be played in London this year in the NFL was on Sunday afternoon, the UK was buzzing for this one as they've been waiting all year for this.
And it was a domination on the part of the Miami Dolphins
The Raiders had a quick start as they scored on the first drive of the game, Carr had 4 completed passes on this drive & McFadden had 18 rushing yards on this drive. They capped it off as Carr threw a 3 yard TD pass to Leonhardt.
The Dolphins answered right back as they scored a field goal, Lamar Miller had a big 21 yard run on the drive and Tannehill completed 3 passes on this drive.
The Dolphins got the ball back after a Raiders punt and Ryan Tannehill was terrific on this next series as he completed 6 passes and capped it off with a 13 yard TD pass to Mike Wallace.
Raiders went three and out and then the Dolphins had good field position to start the drive. Daniel Thomas 25 yards on two carries, Tannehill had two completed passes Ina row and it was 4th and 1 and Miller ran it for a 9 yard TD.
Raiders had two chances to score as they went 3 and out but recovered the fumble and went 3 and out again. The Dolphins scored once again as Tannehill was brilliant on this drive as completed 5 passes and drove 90 yards to the Raiders end zone for a 18 yard TD pass and he connected with Sims.
To start the second half, the Dolphins fumbled and the Raiders got the ball back. But it didn't result in anything good, Carr threw a interception that was returned to the Raiders three yard line. Lamar Miller then ran it in for a TD!
The Raiders looked good on this next drive until they got to the Miami 30 yard line. Derrick Carr got injured and came in Matt McGloin came in the game and the he fumbled the snap and it went over his head! Cortlinen Finnegan recovered it and ran it in all the way for 50 yards for a TD! It couldn't get any worse for the Raiders as they were down 38-7.
The Raiders got the ball back and threw and interception, so did Tannehill after Miami got the ball back. Both teams punted after that and the Raiders scored a TD 2 drives later. The game ended with a couple of more drives from both teams but they resulted in no points.
The Raiders played sloppy the whole game after their first drive, the London crowd didn't get what they wanted as in a good game. The Dolphins dominate the Raiders 38-14 and improve to 2-2. The Raiders are 0-4 and still looking for their first win of the season.