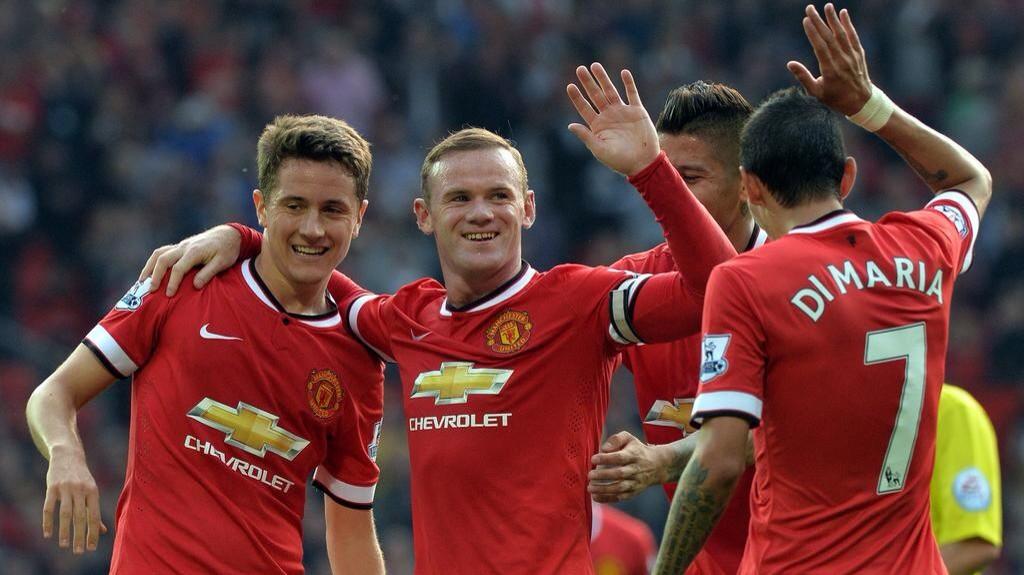 Emphatic: Man United reigned supreme as the Van Gaal era got into full swing.

Image: ManUtd.com
Manchester United 4 - 0 Queens Park Rangers
Angel Di Maria (24'), Ander Herrera (36'), Wayne Rooney (44'), Juan Mata (58')
Barclays Premier League
Sunday 14 September 2014
4:00pm BST Kick-off
Old Trafford, Manchester.
Gameweek #4
Manchester United picked up their first win of the season as they thumped four past Queens Park Rangers in a triumphant day at Old Trafford.
Falcao made a cameo late on but it was Herrera and Di Maria who bagged their first Man United goals, while Rooney and Mata furthered the margin.
Man United eventually broke the resistance of QPR that rigidly kept them at bay, and when they did, they ran riot.
Poised and prepared to witness the ushering-in of a long-awaited revamp of Manchester United, Old Trafford was a far different place - raucous, energized and an upbeat atmosphere. Radamel Falcao featured on the bench while Van Gaal bought in a new 4-4-2 formation to face Harry Redknapp's side.
With a lot to prove, Manchester United set about their work early on. QPR were forced to rest back and pressurize the onrushing surge, and were successful in the opening minutes by forcing mere half-chances to be squandered. Juan Mata was teed up well by Rafael but his shot flew straight into the stands.
As the new-look side got into the feel of the game, occupying a lengthy period of possession, QPR were just looking to soak up the pressure. Ander Herrera was denied of opening the scoring when a delectable string of play saw his shot blocked. Their decent spell continued but at times they overcooked it - van Persie was clear in front of goal but a heavy touch took it away from the oncoming Ander Herrera.
Angel Di Maria would eventually find the breakthrough from a free-kick. QPR were looking well structured to defend but the Argentine's curled ball in, targeting others, found the back of the net providing a much needed lift for the hosts.
From then on in, Manchester United really took the game by storm. Angel Di Maria catalysed all the movement and showed exactly why he broke the British transfer record fee.
Surging down the left, he delivered to Rooney whose first attempt was blocked. Able to retain possession, he played it to Herrerra on the edge of the box and he drilled it low into the bottom left corner. Old Trafford was rocking.
As the first half closed Manchester United grew stronger. Wayne Rooney picked it up on the box after some pacey passing and rifled it into the bottom corner beating Green. It wrapped up the half, and most probably the game for the hosts.
Manchester United picked up where they left off as the second half began. Fluid and upbeat in their movement they continued to compress Queens Park Rangers.
Di Maria continuously pestered the Rangers' defence and he provided another assist ahead of the hour mark. He found Juan Mata with a cutting edge ball and the Spaniard nestled it straight into the roof of goal.
Vargas came close to scoring for QPR when Blackett switched off but his shot refracted away from goal.
Falcao's inception saw him come close but he was unable to add to the scoring.
The full time whistle marked a glorious day for Manchester United, where will their season end up?
As We Tweeted
Live Tweets from Man Utd v QPR
Man Utd vs. QPR: Live