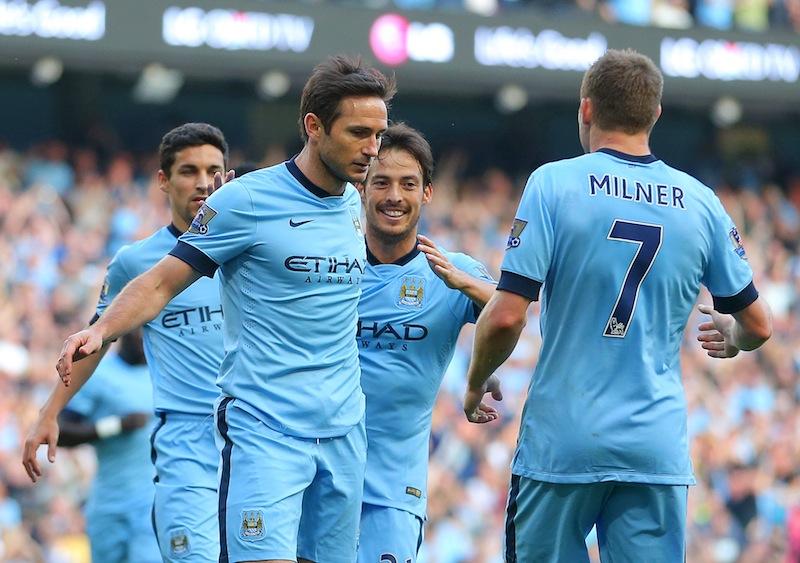 Muted in Celebration: Chelsea's third top scorer in history now scored against them.

Image: itv Football
Manchester City 1 - 1 Chelsea
Andre Schurrle (71'), Frank Lampard (85')
Barclays Premier League
Sunday 21 September 2014
4pm BST Kick-off
Etihad Stadium, Manchester, England.
Gameweek #5
Frank Lampard was muted in celebration knowing that he had scored one of the most symbolic goals in Premier League history, after he scored the equaliser against Chelsea to get his new club, Man City, a point at the Etihad Stadium.
Spending most of his career at Stamford Bridge, he came back to haunt Mourinho's men with a stunning equaliser to cancel out Andre Schurrle's earlier goal in the second half.
Manchester City got the ball rolling for the heavyweight clash, and the Champions were quick to start, stringing together early passes and delivering in crosses that had plenty of potential. Looking to control a majority of the early possession, the back four saw plenty of the ball including Elaquim Mangala who started for Pellegrini's side.
They were definitely registering the chances in the opening ten minutes, albeit comfortable ones that either didn't phase Courtois or were comfortably collections for the Belgian. Dzeko fired wide from his weaker foot on a turn before Yaya Toure's header was caught by the keeper.
Chelsea were force to do a lot of ball chasing early, with the Champions really keeping the (darker shade of) Blues busy. The first ten minutes saw Manchester City control 73% of ball possession. Continuing to keep upt he start, their journeys to the box were more frequent. Dzeko and Yaya's link up saw a header directed straight up and out back into Chelsea territory.
After half-an-hour of play Manchester City were still controlling the game, barring a small stint in Chelsea positivity. It amounted to little thus far however as they didn't have a goal for their efforts.
Even though Chelsea began to push further up the pitch into the thick of the first, they couldn't get much done. Neither keeper was forced to make a really vital save throughout a very cagey first half.
Man City continued to assert themselves in the second bracket. Setting out at a blistering pace, Yaya Toure's penalty appeal was rejected but the tempo would increase as the home fans prepared for a goal. Fernandinho's shot whistled wide of the post before a spell lurking round the box saw Aguero's shot palmed away by Courtois. The game was picking up around ten minutes into the second half.
The complexion completely changed when Pablo Zabaleta received a red card for a foul on Diego Costa. Taking out the Spaniard from behind, he was dismissed. It may have seemed light and the City fans made sure the referee knew it with a prolonged boo after they gave Zabaleta an ovation during his departure. Worryingly for City, it was the pass that Zabaleta was running on to which was catching out Chelsea.
Chelsea eventually relished with the advantage.
A ferociously-paced counter attack from a Manchester City corner saw Chelsea break away and the Citizens were defending desperately. It wasn't desperate enough, as Eden Hazard was able to play it low for Schurrle to tap it in.
Diego Costa saw his powerful header collected courageously by Joe Hart before Frank Lampard was substituted on, replacing Kolarov, to challenge his former club. Monumental.
However there would be little time for a reunion as such, as Diego Costa pulled the trigger past Milner, beating Joe Hart but fortunately for the hosts, it crashed off the post and came back out. Ever so close yet possibly so far, with David Silva almost managing to beat Courtois on the subsequent attack.
Man City would eventually find the equaliser in through the most shocking source.
Andre Schurrle failed to track the run down the left of James Milner, who clipped a first-time ball across the box that was volleyed straight in by, wait for it, Frank Lampard. Yes, you are reading that right, FRANK LAMPARD scored against Chelsea, leaving the Blues shocked and depleted. Chelsea were stunned and playing very unstable for the minutes that followed.
A stunning turn of events.
Chelsea and Manchester City both take a point for their efforts. Wow.
It was a day of emotions for Lampard who was reunited with John Terry, split between two Worlds. He said he had to be professional, and was lost for words.
If you didn't know already, things like that show why the Barclays Premier League is the true top flight of football.
Chelsea v Man City: Live
More Premier League coverage
- West Ham 3-1 Liverpool: Match report »
- Leicester City 5-3 Manchester United: Match report »