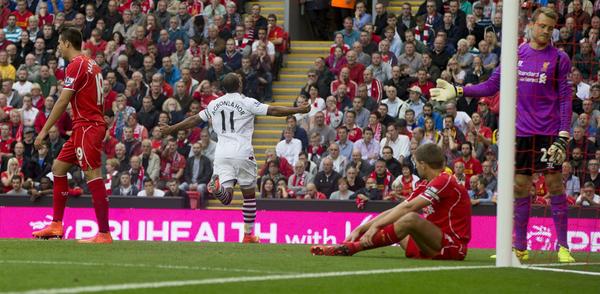 Liverpool 0 - 1 Aston Villa
Agbonlahor (9)
Barclays Premier League
Saturday 13 September 2014
5:30pm BST Kick-off
Anfield, Liverpool.
Gameweek #4

Gabby Agbonlahor's unlikely goal in the 9th minute proved to be the deciding factor as Aston Villa stunned a mediocre Liverpool 1-0 at Anfield.
Villa's quick fire start to the game caught the Reds off guard as a big scramble in the box saw Gabby Agbonlahor slot home from close range.
Phillipe Senderous found himself on the end of a golden opportunity as he latched onto a looping ball into the box unmarked. Unfortunately, he lashed it over the bar to a sigh of relief from the home fans.
Liverpool still frustratingly trialed 1-0 by Paul Lambert's men just 25 minutes from the half time break. However, The Reds were slightly threatening the Villa back line. Adam Lallana's shot was very well saved by Brad Guzan in goal.
The half time whistle blew to a loud rupture of sighs inside Anfield. Liverpool fans were making it clear they were frustrated with the Reds' first 45 minutes performance.
The Reds were looking much more aggressive on the counter attack. They enjoyed spells down the right flanks, creating a lot more space to feed the strikers with more opportunities.
However, in many attempts to break Villa down, no chances were taken. Lambert's men still led by a goal to nil at the 60 minute mark.
Brendan Rodgers enforced a substitute to bring more pace into his attack. Raheem Sterling came on to try and establish that.
Liverpool continued to surge forward, desperately trying to break Villa down.
Such fine margines was the word, as Coutinho's low, curling strike clipped Brad Guzan's post. Stood helpless, the American keeper saw the Reds come tantalizingly close to an equalizer.
The Reds continued, and continued to hunt for that crucial equalizing goal that would salvage them a point.
Anfield was filled with frustration as the final whistle blew, recording a shocking 1-0 loss to Aston Villa.
Nobody expected this, but the real question is - how will Liverpool react to this shocking defeat? For Villa, they move up to 2nd in the league!
As We Tweeted
Live Tweets from Liverpool v Aston Villa
Liverpool v A.Villa: Live