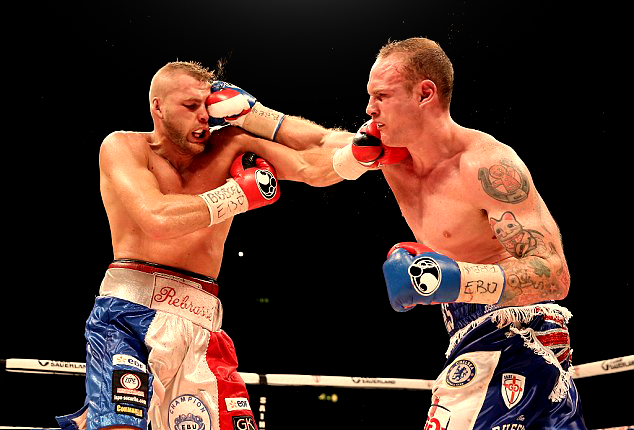 George Groves returned to the ring Saturday, and he dispatched durable Frenchman Christopher Rebrasse with a solid points win.

Doing so, "The Saint" secured a WBA Super-Middleweight title shot.
A raucous Wembley Arena was undoubtedly prepared and fuelled for the return of George Groves. Making his profound entrance, the Saint had everyone on their feet and followed it up with a solid opening round. Rebrasse's moment was restricted allowing Groves to work with the jab and perform sharper. Speed was proving a divisive factor.

In the second, Rebrasse made key improvements in order to combat the Saint's quick movement, with slipping and blocking of the shots from the London-raised fighter. However, the jab would continue to bother the Frenchman in the third, where he became even busier and began to really unload testing the toughness of the Champion.

The fourth really exemplified the quality of the fight. Both were throwing fantastic punches and Groves was putting out a high work rate. Rebrasse got some shots of his own but they were taken well by Groves.

George Groves was edging most rounds and looking strong. While the rounds may have been close, Groves looked better. One catch though - he was working extremely hard.
It was clear that Groves was a mile away on points, but he would bring Rebrasse's toughness into question, throwing with full intent but his durability came into action once again and he battled through it.
The rounds really winded down and the margin of Groves victory continuously expanded. Rebrasse was in desperate search for a finish when the twelfth round was in full swing, but Groves fought on and continued to test the Frenchman also.
When the final bell sounded everyone knew the outcome. A valiant effort from Rebrasse saw him reiterate his toughness and made Groves work incredibly hard, managing to keep the work rate up throwing 952 punches compared to Rebrasse's 615.
Welcome back, George Groves.
Official Result: George Groves defeats Christopher Rebrasse via Unanimous Decision 118-110, 117-111, 118-110.
Undercard

Luke Campbell vs. Krzystof Szot was the co-main event set to go 8 rounds between the lightweights. Olympic Gold Medalist looked good throughout the fight, landing solid punches, up and downstairs. To be totally honest, the first four rounds were quiet in both corners but Campbell slightly upped the tempo with more body shots, switching between right and left hands. After picking his punches carefully, looking for counters, Campbell got the stoppage win. He dropped Szot in the 5th round, who managed to get up off the floor but then fell victim to a ruthless onslaught from "Coolhand".

The undercard also featured Kal Yafai. He was up against Herold Molina. After dropping his opponent twice with crippling body shots, the Birmingham switched his attack upstairs and floored Molina, resulting in referee Steve Gray counting him out. After the fight, Yafai expressed his future ambitions and a possible bout against Paul Butler in around 12 months time.
Kal's brother, Gamal Yafai, another big prospect who held an unbeaten record of 3-0-0. That undefeated tag wasn't set to be halted either. With a lively opponent on his hands the Birmingham born fighter showcased a very quick workrate. But, don't think he was just carelessly throwing without any care. Yafai picked his shots extremely well, and gradually broke Bellahcene down with solid punches to head and body. "The Beast" paced himself as the fight went on and it paid off. He comfortably knocked off the Frenchman on points.