The UEFA Champions League made its profound return in the most dramatic, prolific and entertaining way possible on Tuesday.
Runners up and winners from last season, the Madrid clubs had contrasting nights. Liverpool returned to the tournament in dramatic fashion while Dortmund dominated. Meanwhile, Juventus and Zenit got on winning ways also.
Here in this stacked article, you'll find the complete comprehensive review and roundup for the night in the Champions League.
Night at a Glance
Juventus 2 - 0 Malmo: Terrific Tevez ends goal drought with double
Olympiacos 3 - 2 Atletico Madrid: Greeks keep one step ahead of Atleti
Liverpool 2 - 1 Ludogorets: Gerrard converts stunning stoppage time penalty
Real Madrid 5 - 1 Basel: Madrid open defence with thrashing
Monaco 1 - 0 Bayer Leverkusen: Moutinho maintains 3 pts for Monaco
Benfica 0 - 2 Zenit: Benfica crumble to remorseless Russians
Galatasary 1 - 1 Anderlecht: Yilmaz rescues point for hosts
Dortmund 2 - 0 Arsenal: Dortmund shut out mundane Arsenal
Juventus 2 - 0 Malmo
Carlos Tevez (59', 90')
Group A
Carlos Tevez emphatically ended his goal drought with a delightful double as Juventus saw off a defiant Malmo with a second half rally.
Malmo took the fans in Turin by surprise with such a resilient effort in the first half. Buffon was forced to make a brilliant save in the 18th minute and Asamoah couldn't score for the hosts before half-time.
Carlos Tevez found his scoring boots once again prior to the hour mark. The Argentine's sublime link up with Asamoah saw him break through into the box and sl
ot the ball home. Juventus thought they had added soon after but it was deemed offside.
To further put the goal drought in the past, Tevez converted with a beautifully-curled free kick into goal before stoppage time, sealing and dealing the win for the Italian Champions.
Tevez scored his first UCL goals since being with Man Utd.

Image: PremierLeague.com
Olympiacos 3 - 2 Atletico Madrid
Masuaku (13'), Afellay (31'), Mandzukic (38'), Mitroglou (73'), Griezmann (86')
Group A
Olympiacos stunned Atletico Madrid in Group A after an early start proved too much for Atletico to keep up with.
Masuaku brilliantly scored the opener for the Greeks, after Ibrahim Affelay found the defender to sweetly place it into the bottom corner and stun the runners up of last season's tournament.
The assister would then turn scorer after the half-hour mark. A well worked goal saw Dominguez power his way through so Mitroglou who guides it to Afellay for the drilled shot into goal.
However, the towering Croatian Mario Mandzukic gave last season's runners up some encouragement with a goal late in the first. Beating Abidal in the air his thumping header was a certain goal.
Mitroglou extinguished the once-ignited faiths from Atletico in the thick of the second. He found the ball after a cutting edge run and simply slotted away.
However it wasn't all steady rolling from there. Antoione Griezmann set up for a nervy finish tapping in from Koke's cross. The runners up would ultimately fall short however in their attempt to salvage a point from the game.
Liverpool 2 - 1 Ludogorets
Balotelli (82'), Abalo (90+1'), Steven Gerrard (penalty 90+4')
Group B
Full match report available here
Liverpool returned to Europe in the most dramatic of circumstances after Steven Gerrard scored a last-gasp penalty to sink a courageous Champions League debut by Ludogorets.
Liverpool assaulted the Champions League novices early on however they couldn't find that final bit of quality to jump ahead of Ludogorets. It could have easily went the other way too when Dejan Lovren appeared to foul in the box but the referee took no action. Liverpool were frustrated after all their work had amounted to hardly anything.
Mario Balotelli finally found the breakthrough Liverpool looked like they'd get all game. A key goal from the Italian after a superb challenge saw him blast it into the top corner and provide a much needed lift for the Anfield attendance.
However, Abalo's stoppage time left Liverpool shell-shocked.
Manquillo's surging run in response to the equaliser saw him win a penalty, and it was down to the skipper Steven Gerrard, to convert the penalty right in front of the Kop.
Real Madrid 5 - 1 Basel
Suchy (OG 14'), Bale (30'), Cristiano Ronaldo (31'), James Rodriguez (37'), Gonzalez (38'), Benzema (79')
Group B
Real Madrid thumped five goals past Basel in a dominant performance from start to finish to begin their Champions League title defence rampantly.
James Rodriguez did well to find Nacho on the right, but looking to create the chance he in fact caused an own goal as it took a deflection of Suchy and found the back of the net.
Matters would suddenly deplete into a tough situation for Basel. First, Gareth Bale linked up beautifully with Luka Modric as the ball was lobbed over the keeper for an easy tap in.
Less than one minute later, Cristiano Ronaldo tucked it away after it was easily squared across by Gareth Bale. James Rodriguez concluded the first phase barrage as he pounced on Benzema's saved shot to guide into goal.
Basel looked to put down something, they did, a little. Gonzalez skipped away from Ramos and tucked away.
Real Madrid dominated the majority of the second and Benzema got in on the act too, with sensational team play with Ronaldo, an exchange of passes that lead to his rocket of a shot clipping the bar and going in.
They cruised to a comfortable opening three points to their account.
Bale scored and assisted in the game.

Image; Real Madrid
Monaco 1 - 0 Bayer Leverkusen
João Moutinho (61')
Group C
Joao Moutinho's strike on the hour mark was the only goal of the game as Monaco stopped Leverkusen in their tracks.
Monaco initially restricted the midfield for the Germans, but that phased out nearer to the interval allowing Bayer Leverkusen to go into the break on a much better performance.
Berbatov found him surging forward, and his shot clipped a defender going straight into goal, a pivotal breakthrough after an hour of play.
That lone goal would be the only in the game as Monaco delivered on all cylinders in the late stages to maintain their lead.
Benfica 0 - 2 Zenit
Hulk (5'), Witsel (22')
Group C
Zenit became the first ever Russian club to beat Benfica on home soil after a catastrophic opening for the hosts.
Hulk bagged the first goal of the Champions League after five minutes as Shatov's through ball found the Brazilian whose left-footed attempt found goal, making an instant impact for his new club.
A red card was shown early to the hosts' own Artur, for a challenge as the last man before the keeper. Benfica were up against it and that would worsen.
Axel Witsel emphatically headed past his former club in the 22nd minute to put the game entirely in favour of the Russians. The Belgian glanced it in off a corner despite Paulo Lopes scooping it out, however it clearly crossed the line.
Benfica were out from the early stages and showed little of really getting back in the game.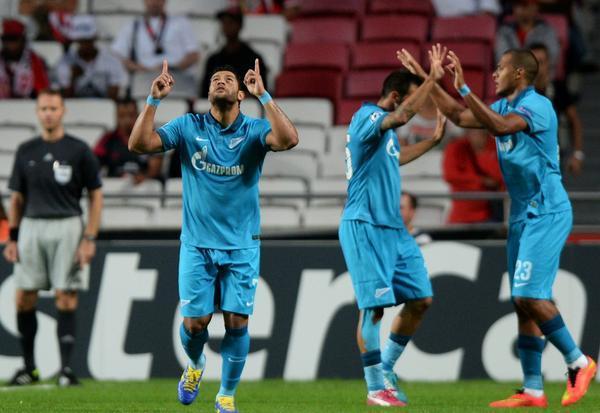 Galatasaray 1 - 1 Anderlecht
Praet (52'), Yılmaz (90+1')
Group D
Headline
Anderlecht took the hosts by storm with a ferocious pace to start, forcing Muslera into action to make a batch of early saves. The Turks were less rampant on their attacks in the first period.
The visitors opened up a huge advantage six seven minutes into the second period. Intricately chesting the ball outside the area, his touch saw him dazzle the nearby defenders to arrow a shot straight into goal.
Burak Yılmaz ignited the Anderlecht away fans with a stunning stoppage time equaliser to salvage a point tapping in from a nifty piece of play.
Dortmund 2 - 0 Arsenal
Immobile (45'), Aubameyang (48')
Group B
Full match report available here
Dortmund scored a goal on either side of half-time to sink a defensively-confused Arsenal at the Signal Iduna Park.
It was looking to go all so well for the Gunners as they were goalless with half time looming. Danny Welbeck missed a huge chance to put Arsenal up, in front of the keeper he slid it wide disappointingly.
Ciro Immobile struck on the stroke of half-time. Picking up the ball at pace, the burners were on as he sprinted away from Koscielny and slotted it past the oncoming Sczcesny. Disastrous end of the half for Arsenal.
Pierre-Emerick Aubameyang delivered a huge blow to Arsenal minutes into the second half. Sczcesny came rushing off his line in an attempt to thwart him, however he got away and Koscielny was the only man on the line, proving easy for the Dortmund forward to dispatch.
Arsenal were unable to keep up and their risks proved fatal.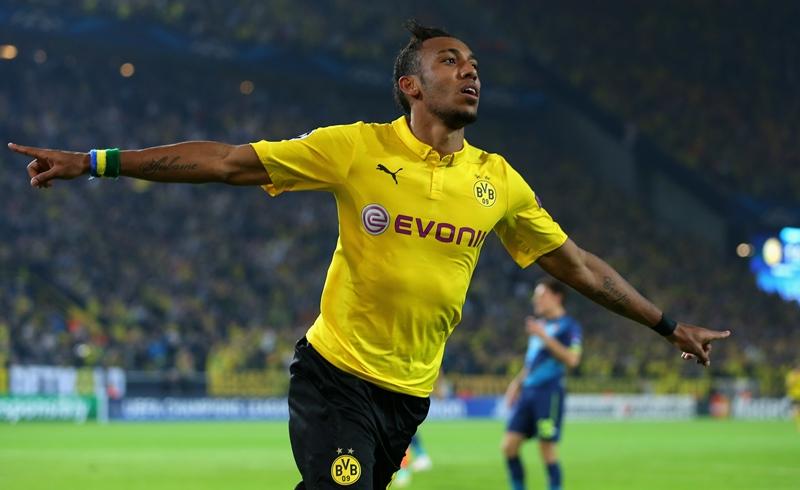 Flying: Aubameyang celebrates his goal against Arsenal.

Image: Bundesliga.com
Match Breakdowns
Juventus 2 - 0 Malmo: Finally Carlos Tevez has found his scoring boots and did so in the best way possible. Malmo had a good shout for themselves but not getting off to a good start puts them really up against it.
Olympiacos 3 - 2 Atletico Madrid: Atletico Madrid just didn't seem the same against Olympiacos. They should be credited for their brilliance to score and Atletico left it late to really pile against the Greeks.
Liverpool 2 - 1 Ludogorets: It took plenty of time and luck but Liverpool started off their campaign with a vital three points. As a Liverpool fan I genuinely believed that we were going to get a point at most for a lot of the second half, but that Gerrard penalty moment was phenomenal. What a showing from Ludogorets.
Real Madrid 5 - 1 Basel: Real Madrid may have let the standards slip in La Liga but they were unforgiving against Basel and reinforced themselves as the heavyweights of Group A.
Monaco 1 - 0 Bayer Leverkusen: Quietest of games on the night, that is all.
Benfica 0 - 2 Zenit: Benfica barely gave themselves a chance in the game before it all crumbled before them, it was almost as if they gave up. Hulk is thriving in his new colours.
Galatasary 1 - 1 Anderlecht: A point a piece is deserved, Anderlecht's period of phasing out for the game lead to them conceding.
Dortmund 0 - 0 Arsenal: Arsenal's defensive mishaps just lead to them being completely outplayed by Dortmund.
Phew! The Champions League is back where it belongs and it's already got the hearts racing.
Proving exactly why we craved it, the Champions League kicks off with a bang.
Some left it late, some decided to dominate. Elsewhere defences were open providing an attacking token. When the dust settles and we embrace the delight, what a way to reflect on this European night.

Welcome back, Champions League.