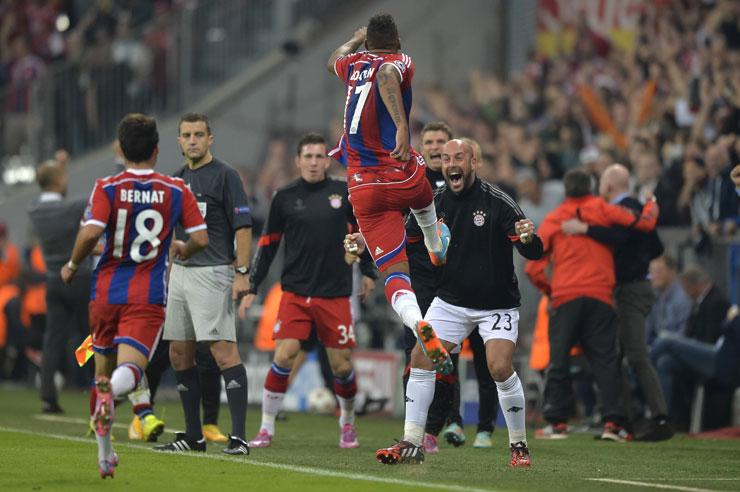 Euphoria for Boateng and Bayern, heartbreak for City.

Image: Eurosport.com
Eight more matches were in store as the second batch of the Champions League was served up, with goals from the beginning to the dying minutes.
Dominations were in order as Porto got their biggest Champions League win and Roma thrashed Moscow. A gamble from Chelsea backfired, Barcelona squeezed past Apoel and Man City were heartbroken by Boateng. This and much more - further showing why the Champions League is the place for the best football on the planet.
Here in this stacked article, you'll find the complete comprehensive review and roundup for the night in the Champions League.
Recap from Tuesday's games
»
Night at a Glance
Bayern 1 - 0 Man City: Boateng rocks former club with stunner
Roma 5 - 1 CSKA Moscow: Roma rout Russians
Barcelona 1 - 0 Apoel: Pique poaches with lone goal to see off Apoel
Ajax 1 - 1 PSG: Sublime Schone salvages point against PSG
Chelsea 1 - 1 Schalke: Huntelaar barges Blues into draw
Maribor 1 - 1 Sporting Lisbon: Zahovič zaps back late point for Maribor
Porto 6 - 0 Borisov: Brahimi blitzes, Porto pulverise Borisov in biggest CL win in club history
Athletic Bilbao 0 - 0 Shakhtar Donestk: Snoozefest in only goal-less draw of matchweek
Bayern Munich 1 - 0 Manchester City
Boateng (90')
Group E
Jerome Boateng scored a 90th minute winner to crush Man City's resolve in a fiercely-contested group E clash at the Allianz Arena.
Manchester City had a razor-close encounter with going behind in the opening seconds. Thomas Muller found a way through to go one-on-one with Joe Hart, but after getting away from the City keeper his shot at the gaping goal hit the side netting. The prolific German forward did appear to take a foul on the way to the shot but advantage was played.
While the visitors also had their close shaves on goal in the first period, it came down to another close chance that again met the side netting. This time, Lewandowski got away but couldn't get it directed on goal.
As the clock ticked towards stoppage time Man City were edging towards a well-earned point, but they would be stunned by the most unlikely of scorers, Jerome Boateng. It sat up for him on from a corner and he struck his half volley straight into goal to agonisingly sink Man City late on.
The match drew to a close, Man City had fallen to a late, late goal that proved a dagger in a evenly-poised game.
Roma 5 - 1 CSKA Moscow
Iturbe (6'), Gervinho (10', 31'), Maicon (20'), Ignashevich (OG 50'), Musa (82')
Group E
Roma thumped five goals past a poor CSKA Moscow to state their intent to qualify for the next round.
Juan Manuel Iturbe got a passionate and fired up Roma, including Totti who was in tears hearing the Champions League anthem, ahead within the opening minutes. Former Arsenal man, Gervinho, found the young Italian in plenty of space around the box. The flag stayed down and it was a straightforward process of tucking the ball past the keeper.
Provider turned scorer and scorer turned provider - it was a terrific switch of roles as Yao Kawasi scored the second to double the Italians' advantage in just ten minutes of play. Keeping steady on his feet he was able to touch it past Akinfeev.
Maicon scored ten minutes later contributing to Roma's dream start. He raced to the near post and his shot deflected of keeper Akinfeev into goal - a mixture of quality from Roma and disaster from the Russians set the pace for the game that Roma had pretty much sealed early.
Gervinho was found superbly with an incredible lofted ball, allowing the Ivorian to race away into the area and nestled his shot into the top corner. His second goal in around half-an-hour extended Roma's lead to four. They were running riot and Moscow couldn't do much about it.
In the early goings of the second half, things would get even worse for the visitors. Ignashevich scored an own goal, with a significant touch on Florenzi's header from a sharp cross. Nonetheless, Roma had extended their lead and were showing no signs of a let-up.
Musa however took home some sort of consolation if you will, taking the ball from Doumbia and just managing to stay upright and take it past the keeper.
That was it, the Russians took a consolation but it was all about Roma who completely obliterated them with a dazzling performance.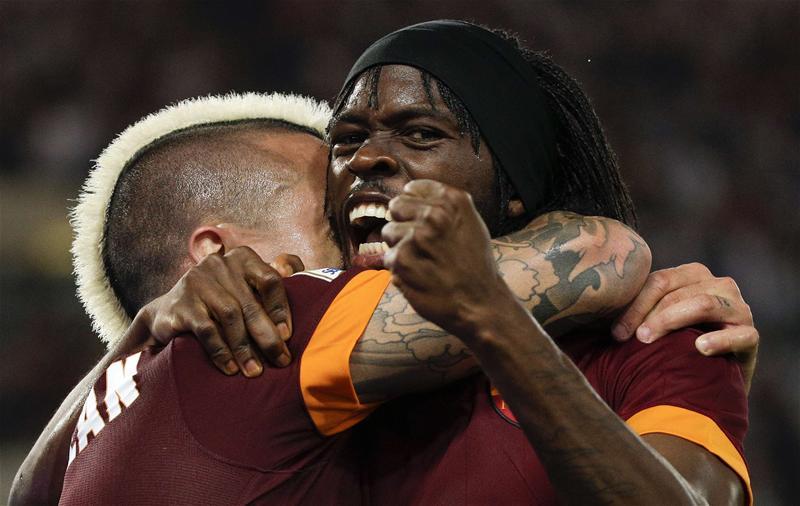 Gervinho thrived for the Italians.

Image: Squawka Football
Barcelona 1 - 0 Apoel
Pique (28')
Group F
Gerard Pique's first half header was decisive as Barcelona narrowly defeated Apoel in their Champions League opener at the N
Lionel Messi delivered in a majestic curling cross into the area, met with a thumping header by Pique to put Barcelona ahead after the whereabouts of half-an-hour of turgid play. A nicely worked goal almost seemed routine for the classy Catalans.
Apoel hung on though and ended up losing just 1-0, something they can take positives from with excellent resilience. A much-changed Barca side got the job done, and that's what ultimately mattered.
Ajax 1 - 1 Paris Saint-Germain
Cavani (14'), Schone (74')
Group F
A free kick from Ajax's Schone pulled back a point for Ajax as they hosted Paris Saint-Germain.
A determined run down the right wing by Lucas opened up a catalog of opportunities for the hosts to take the lead, and they did so eventually. Staying strong after the block, it was teed up well to Zlatan Ibrahimovic but his attempt on goal against his former club was saved. The excellent save was alas, in vein, as Edison Cavani easily fired in from the rebound.
One hour of back-and-forth battling later, a delightful free-kick from Schone was palmed by Sirigu into the top corner from close range.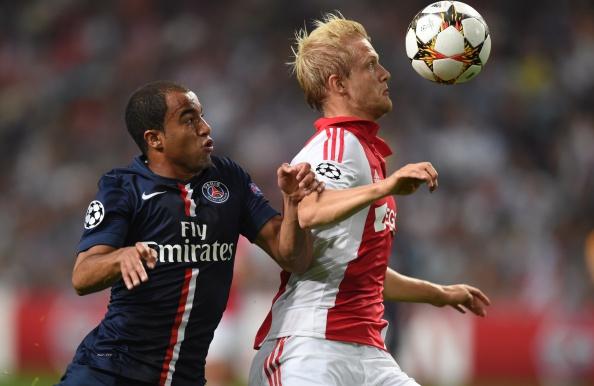 Image: WhoScored.com
Chelsea 1 - 1 Schalke
Fabregas (11'), Huntelaar (62')
Group G
Read a full match report here
Klaas-Jan Huntelaar ensured Schalke got a point from their efforts as they stalled Mourinho's Chelsea at Stamford Bridge.
Taking over possession in their attacking third, some fine collaboration between Eden Hazard and Cesc Fabregas created the opener. A quick one-two set Fabregas to the near post where he composedly finished to get Chelsea's Champions League campaign off to a flyer.
Klaas-Jan Huntelaar finished off the break after the hour mark to put Schalke back into the mix. Beating Fabregas for possession, he fired away, beat the defenders and beat Cahill to for the goal.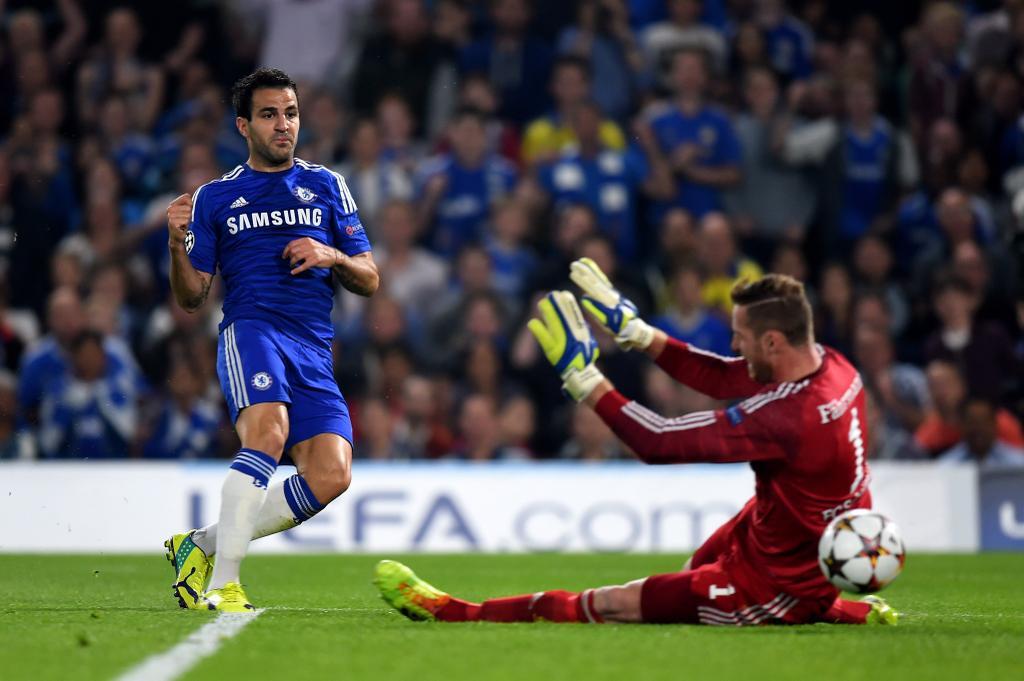 Cool, Calm, Collected: Fabregas puts away the opener.

Image: UEFA.com
Maribor 1 - 1 Sporting CP
Nani (80'), Zahovič (90+2')
Group G
Zahovič rescued a point for Maribor with a last-gasp header as they and Sporting Lisbon left it late to get scoring.
0-0 was hardly the story at the interval. Both sites had struck the woodwork over the course of a half which the majority was controlled by the hosts. Sporting Lisbon came alive in the closing minutes of the first 45 though.
It took some time, till the 80th minute in fact, for the breakthrough to come. When it did, it was a spurt in quality by Nani, touching it ahead and drilling his shot straight into goal.
Zahovič pounced on a loose ball in front of goal to head home in the dying moments of the game. Both sides left it late and hence took a point away each.
FC Porto 6 - 0 Bate Borisov
Brahimi (5', 32', 57'), Martinez (37'), Lopez (61'), Aboubakar (76')
Group H
Brahimi scored a phenomenal hat-trick on his Champions League debut as Porto annihilated Borisov with their biggest ever win in the Champions League.
Brahimi pounced on the opportunity to provide the Portugese an early goal, taking on Chenik's throw in and surging into the box. He thumped it from a challenging angle and it was arrowed in to the roof of the net.
Some 27 minutes later he'd add another to Porto's tally. A dazzling run from the half-way area saw him beat three defenders to infiltrate to the box. Cutting it onto the right foot, his run was completed with a shot clipping off the post and in.
Danilo found Jackson Martinez to deliver a thumping header for Porto's third. After a lengthy spell in possession, Danillo capitalised on a fortunate bounce off a defender to whip in the cross which was well taken by the Colombian.
Early in the second, Brahimi capped off a hat-trick in perfect style. He was fouled in free-kick range and his attempt was terrific, curling over the wall and into the top corner.
Adrian Lopez guided away an unprecedented fifth goal as he guided in well from a chaotic corner. Quaresma's shot back into the box eventually found him and he made sure that Porto would lead by five when he was done with it.
Then, Aboubakar chipped in, set up by Cristian Tello, calmly slotting it past the keeper calmly. There was no cap to the humiliation that BATE were suffering.
Bate would find no consolation. Porto would find much glory as they completely picked apart their opponents.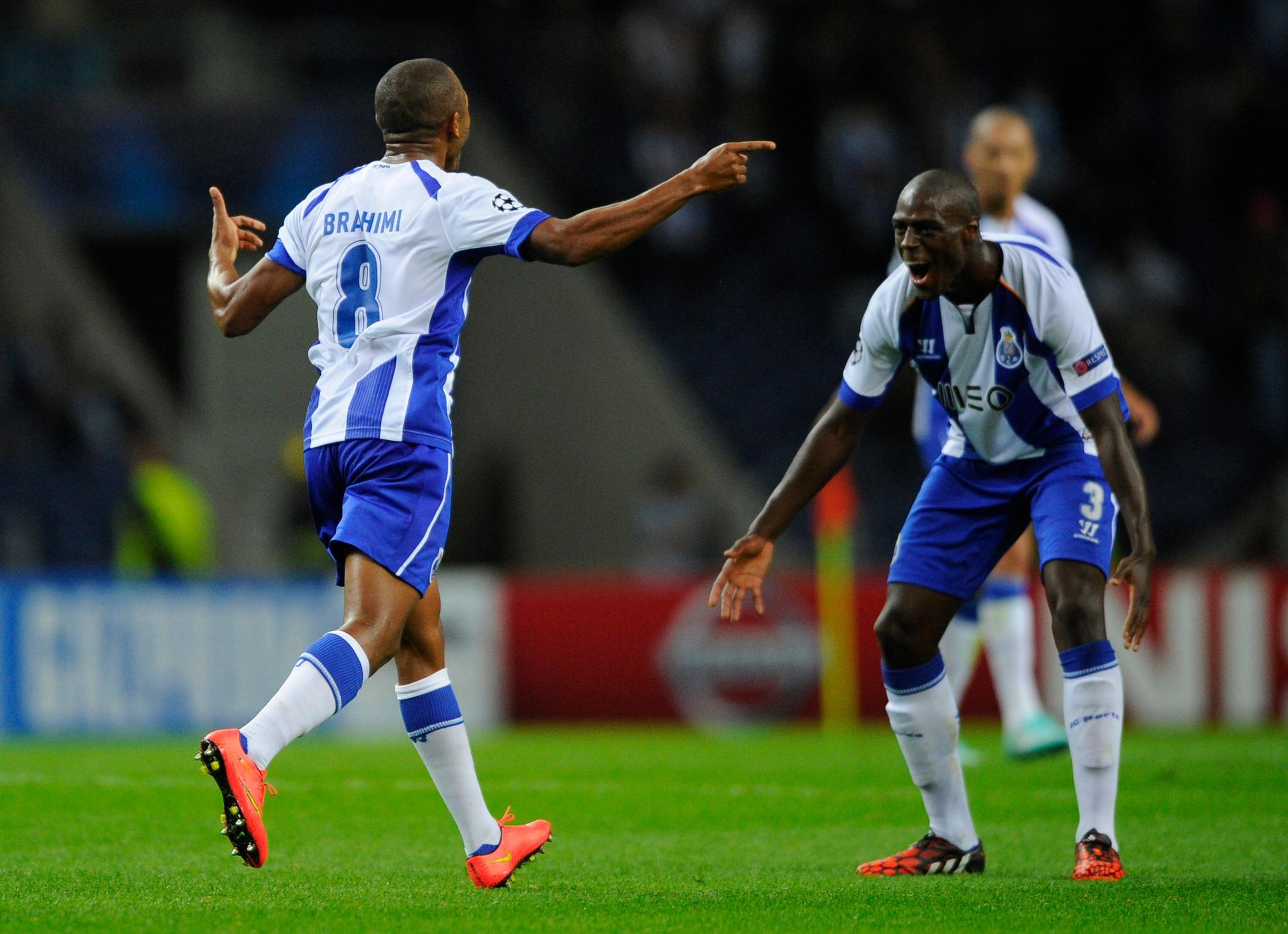 Brahimi, the first ever Arab player to score a hat-trick in the Champions League.

Image: Eurosport
Athletic Bilbao 0 - 0 Shakhtar Donetsk
Goalscorers
Group H
Shakhtar continued their clean sheet spell - but they didn't affect Athletic Bilbao's clean sheet either, as both sides had scarce chances in the only goal-less draw of the matchweek.
Match Breakdowns
Bayern 1 - 0 Man City: Cruel, isn't it? But oh so sweet for Boateng... The amount of times Man City stopped or had fortune from Bayern not scoring was phenomenal. It rightfully took one cracking strike to end that. They will take a lot from this though, getting their toughest fixture out of the way.
Roma 5 - 1 CSKA Moscow: Roma had something good about them throughout the game, they were just so fired up for the match it was unreal. It definitely converted onto the pitch. CSKA Moscow's chances just got slimmer but Man City and Roma are going to go neck-and-neck for qualification.
Barcelona 1 - 0 Apoel: Surprisingly a courageous feat by Apoel, taking an unexpected scorer to sink them. It's gutting that Apoel conceded to a set piece, but then again Messi did take the free-kick, and you can't be too disheartened by losing by just one goal to Barcelona, can you?
Ajax 1 - 1 PSG: Schone's goal was terrific, what a free kick. PSG were restricted from running riot and it's a deserved point a piece.
Chelsea 1 - 1 Schalke: Schalke fought hard to redeem themselves when they went down. Chelsea oozing with quality but not consistent further down, and they were bitten badly on the break.
Maribor 1 - 1 Sporting Lisbon: Maribor and Sporting Lisbon with all due respect won't be a red button choice for most. Those final ten minutes were thrilling though and incredible scenes with the Zahovic equaliser.
Porto 6 - 0 Borisov: Go, Porto, go! What a way to start their Champions League campaign! Brahimi made a huge impact and had the perfect hat-trick, just phenomenally done. Borisov were destroyed, simply destroyed.
Athletic Bilbao 0 - 0 Shakhtar Donestk: No need to type for this one....
So, matchweek 1 in the books. What a start to the Champions League.
Brahimi steals the headlines with his amazing hat-trick along with brilliance from Boateng, rampance from Roma and just all around a showcase of Europe's elite.
Brahimi bolstered as Porto pulverize, Boateng's goal set Bayern a 3-point prize. Another superb night, simply amazing.
More Champions League Coverage