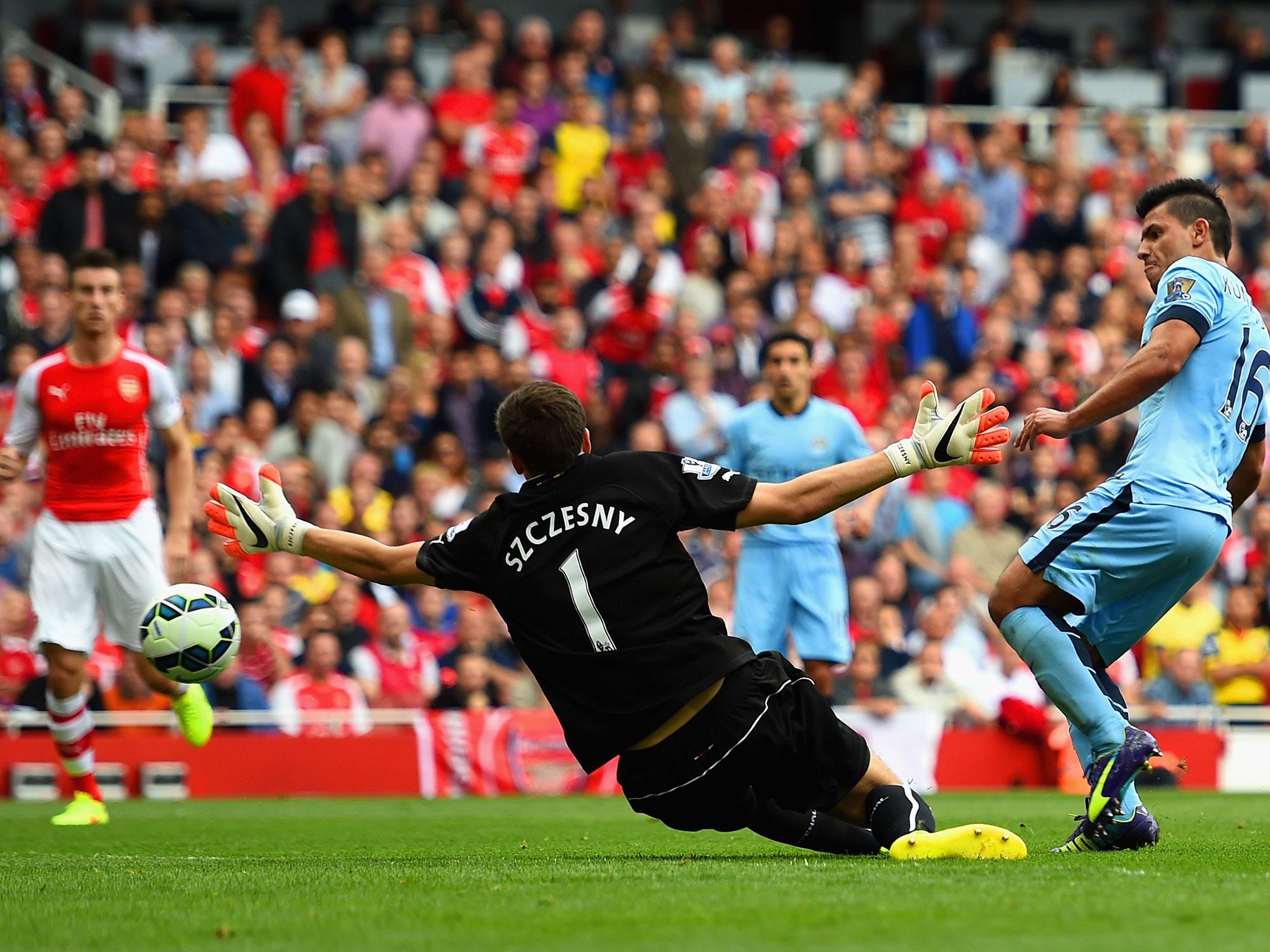 Both sides deservedly take a point home for their efforts.

Image: The Independent
Arsenal 2 - 2 Manchester City
Sergio Aguero (28'), Jack Wilshere (64'), Alexis Sanchez (74'), Martin Demichelis (84')
Barclays Premier League
Saturday 13 September 2014
12:45pm (BST) Kick-off
Emirates Stadium, London.
Gameweek #4
Martin Demichelis ensured that Manchester City stole a point from Arsenal in a fiercely-contested meeting at the Emirates Stadium.
After Aguero opened the scoring, a stunning equaliser by Wilshere was then added to by an emphatic Sanchez strike. Demichelis however kept a point intact.
Team news reverberating around media outlets were blasting open discussion from the outset, as Danny Welbeck and Frank Lampard made their starts for their respective new clubs. Meanwhile, concerns were raised for the visitors who were without Yaya Toure and Fernando for the key game.
Some early Manchester City pressing forced the Gunners to keep on their toes before Wenger's men forced it to the other end of the spectrum, oozing with creativity and poised to test Joe Hart. Wilshere's appeals for a free-kick on the edge of the area were dismissed and Ramsey's long-range shot flew straight into the stands. Early spells of promise continued as Alexis Sanchez's dipping shot fell straight to Joe Hart. Moments later, Hart once again had to scurry out and punch away the ball after Wilshere almost found Sanchez free in the area.
Manchester City showed mere glimpses of what they behold in their most prolific selves. Sergio Aguero's dazzling run would grind to a halt when Wojciech Sczcesny rushed of his line to stop it. The Arsenal bombardment would resume...
After Danny Welbeck hit straight wide from a through ball, a mistake from Fernandinho opened up for the new signing who went one-on-one with Joe Hart. His chipped attempt was audacious yet tantalizingly-close as it hit the woodwork.
Arsenal looked rejuvenated and galvanised in momentum as they continued to make things uncomfortable for Pellegrini's men. The ball popped up to Aaron Ramsey and Hart once again had to make a simple, but demanding save.
Despite City managing to lurk inside the box, a consistent and turgid defence made it hard for Aguero, Silva and others to conjure up a convincing attempt at goal. Lampard almost rolled it to Milner on the far post but to no avail.
Twenty minutes in and Arsenal would have been delighted with their start. Despite 50-50 possession it was the Gunners really threatening throughout the opening phase, Man City had no response besides making it difficult to really get the job done. Man City did receive something from referee Mark Clattenburg however - a booking to Frank Lampard as he attempted to stamp down his authority with a rash challenge on Ramsey. Zabalata received one a minute later.
James Milner registered Man City's first convincing goal attempt when his incisive link up with Sergio Aguero opened up for a long range belter that went clean over the bar. Man City would use the counter attack however for their real sucker punch.
A blitzing run from Jesus Navas on the break ended with a pass into the box that found Sergio Aguero, who easily clipped into goal to put the hosts ahead against the run of play, once again re-iterating that goal-less dominance means nothing without the goals in football.
Alexis Sanchez squandered the chance to put Welbeck through on goal and then Man City would subsequently force Arsenal on the backfoot significantly for the first time in the game, some half-hour after the game began. David Silva's attempt just ricocheted away before Aguero got a shot saved straight at Sczcesny.
It seemed an all-so-sudden shift to uncharacteristic feats from Arsenal. Alexis Sanchez's free kick fizzed over the bar before Ozil's shot trickled wide. City were in control and breaking up all of the hosts' play.
Half-time signalled plenty of disappointment for the hosts who seemed to crumble at the emphatic ability of Manchester City to take the reins of the match. They had done so well except score the goal and rued the missed chance from Welbeck. Manchester City demonstrated their Championship winning ability by swinging the odds back in their favour. Wenger had some work to do.
Dismay for Welbeck who comes close while scorer Aguero is euphoric.

Image(s): PremierLeague.com / Arsenal.com
Samir Nasri replaced Frank Lampard over the half-time interval with Man City really looking to run ahead from the whistle. Cued were the boos for every time he got the ball...
Arsenal were off to the start that they needed with Alexis Sanchez making three key attempts to put through Danny Welbeck. Jesus Navas and Pablo Zabaleta thwarted the first two before the cross went out of play.
Gael Clichy came razor-close to scoring his first Man City goal when he beat Ozil to go one-on-one with Sczcesny but his chipped attempt floated wide. Arsenal were still looking flat and not brimming with the life they needed to challenge City.
Arsenal really began to up the ante when urged by the near-sellout attendance at the Emirates. After a flat spell they really threatened and eventually it would all click.
Jack Wilshere completed a fine move where Sanchez found him at the near post. He calmly chipped it over Joe Hart to put the game back on. Just what the doctor ordered.
After Sergio Aguero made way for Edin Dzeko, Joe Hart was forced to intervene Danny Welbeck's surging run whereby the England forward beat Martin Demichelis to fire the shot straight at the keeper.
Both sides were somewhat civil in their exchanges around the seventieth minute, much less bombardment and more resistance. But three points were there to be won.
And Alexis Sanchez would aid them to it with fifteen or so minutes left on the clock.
Wilshere headed back into the box after scrambling for possession, and it fell straight to Alexis Sanchez who volleyed it straight into the top corner and ignited wild celebrations for the hosts who marked an extraordinary turnaround.
Mathieu Debuchy was forced off for Callum Chambers and was stretchered off in the 79th minute.
Man City continued however to throw it all at Arsenal and would, eventually, be rewarded.
Martin Demichelis' thumping header found the back of the net after it was tipped on by Sczcesny. Flamini was awaiting on the line to head it away but the keeper got to it first and it found the back of the net. The Emirates Stadium was muted.
Six minutes of stoppage time provided the opportunity for either side to seize the moment.
Earlier, Alexsandar Kolarov struck the woodwork and then the post saved Koscielny from scoring an own goal off Dzeko's attempt.
The final whistle blew and that was that, an excellent game with a point justified for both parties.
We will have more reaction and coverage as it comes on TheSportMatrix.com
As We Tweeted
Live Tweets for Arsenal vs. Man City
Arsenal vs Man City: Live