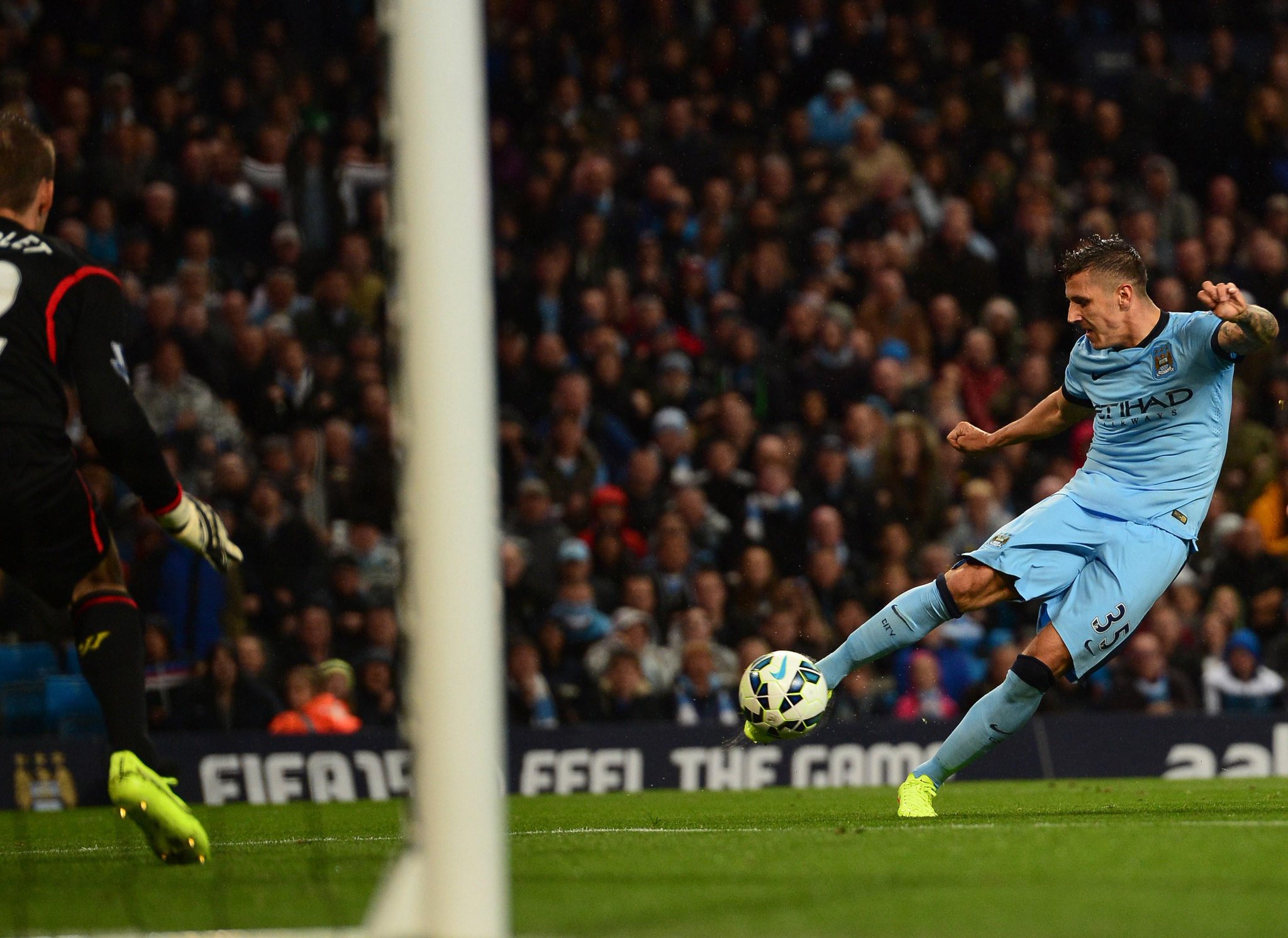 Stefan Jovetic's sublime double paid dividends in denting Liverpool's hopes.

Image: Sky Sports
Manchester City 3 - 1 Liverpool
Jovetic (2), Aguero, Lambert
Premier League
Monday, 25th August 2014
8:00pm
Etihad Stadium, Manchester
A late goal from Sergio Aguero, plus Steven Jovetic's glorious double easily saw off Liverpool in this highly anticipated fixture at the Etihad.

Liverpool made a promising start to the game, as young star Raheem Sterling was running up and down the flanks, through the centre aswell. Rodgers' men were getting into threatening positions but were unable to fully capitalize.
No major chances fell in the first 20 minutes, but Sterling was amongst one of the few when he latched onto Steven Gerrard's long, leeping ball. He took it on the chest but unfortunately swung it around Joe Hart's goal.
Yaya Toure's curling strike from range, came close but Simon Mignolet easily saw it off.
Daniel Sturridge came close when the Englishman left Vincent Kompany behind with ease, but his shot at an angle was parried away by Joe Hart. Very good chance for Liverpool.
Just 5 minutes before the half time break, Manchester City took the lead. Liverpool's new signing Alberto Moreno was caught on his heels by Stefan Jovetic and the City striker thumped the ball straight past Simon Mignolet to roar of relief inside the Etihad Stadium.
The half time whistle blew and Manuel Pellegrini's men lead going into the break, despite Liverpool having more of the ball and promising chances. Brendan Rodgers and his players must have felt hard done by.
Man City were knocking on the door again. A cheeky backheel that put Samir Nasri in on the edge of the box and he lashed the ball across the face of goal but swept past everyone. However, it didn't sweep past unmarked Steven Jovetic who struck it first time past Glen Johnson who was covering on goal line.
Liverpool had a good spell in the game shortly after Jovetic's second. A cheeky flick from Raheem Sterling fell to Daniel Sturridge on his weaker foot but the powerful strike flew past Joe Hart, and sadly for Liverpool, the post.
Manuel Pellegrini brought Sergio Aguero on and he made an immediate impact. Just 23 seconds on the pitch, the Argentine found himself one-on-one with Simon Mignolet after a clever through ball. Aguero slotted past the Liverpool keeper to make it 3-0.
Liverpool reacted well to Aguero's goal and it payed off when Rickie Lambert latched onto a promising ball and scraped it into the goal. Goal line technology was needed but still allowed.
The referee blew the full time whistle and goals from Aguero, Jovetic (2) was enough to defeat Brendan Rodgers' men at the Etihad Stadium.