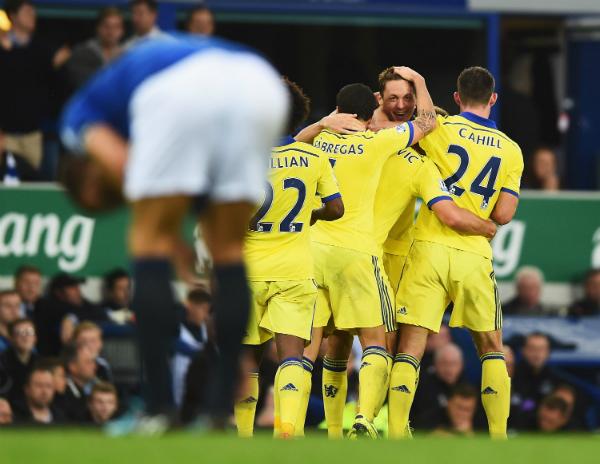 A compelling Goodison encounter saw eight different goalscorers involved.

Image: PremierLeague.com
Everton 3 - 6 Chelsea
Diego Costa (1', 90'), Branislav Ivanovic (3'), Kevin Mirallas (45+1') Eden Hazard (67'), Steven Naismith (69'), Nemanja Matic (74'), Samuel Eto'o (77'), Ramires (79')
Barclays P
remier League
Saturday 30 August 2014
17:30 (BST) Kickoff
Goodison Park, Liverpool.
Gameweek #3
Chelsea kept one step ahead of Everton at Goodison Park to maintain their 100% win record in an incredible nine-goal thriller.
Goodison Park was energized although it wouldn't last long - Diego Costa once again got his scoring boots filled after Cesc Fabregas put his Spanish compatriot through and his powered shot proved unstoppable for Tim Howard in between the sticks. That so called "energized atmosphere" at Goodison was all of a sudden, drained.
In similar fashion to the first, Everton were once again ripped apart when Branislav Ivanovic stunned the Toffees with a second goal just two minutes later. The Chelsea defender registered his second goal of the campaign as he was picked out unmarked in front of goal, being able to slot it away at ease for the shocking second.
Chelsea had rampant appeals for a handball when Tim Howard appeared to scoop the ball outside the box. While the referee waved it off, replays did show that the American keeper was in fact outside the area when he picked up the ball.
Everton managed to overcome a period of deflation to re-immerse themselves in the game. Romelu Lukaku headed onto the bar from a corner before Distin guided in, only to be adjudged offside. Naismith then fired wide, but Everton were more active now in the game.
The equilibrium of the contest shifted more evenly - Mirallas' long range shot was comfortably saved by Courtois after a Chelsea counter had broken down. Neither side was letting up and the game was poised to spring back into action at any given point.
Kevin Mirallas headed past Courtois on the stroke of half-time to crucially propel Everton back into contention for the game. Coleman was found on the flanks and crossed into the Belgian whose thumping header left his fellow International Courtois no chance of saving.
Chelsea dictated the flow of the game to open the second half. Everton were compressed to defending their own box for a lengthy and agitating period. Diego Costa was put through on goal once again, but this time was unable to place it past Tim Howard who remained large to stop the shot.
Eden Hazard surged down the left and his shot took a convicting deflection off Seamus Cokleman into goal. Diego Costa and Tim Howard got into an altercation after the Spaniard appeared to say something to Coleman when celebrating. Then, Howard got involved with Azpiliceuta and tensions were running high.
Back on the other end, Lukaku's charge saw McGeady needle through Naismith, and he slotted away to catapult Everton back into contention. Goodison was raring again with plenty of time left.
Nemanja Matic's long range strike put the Blues up by two once again as his strike clipped off the inside post and went into goal. Chelsea were controlling, but not for long...
Samuel Eto'o scored against his former club with his towering header cruising into goal. Goodison Park was loud and Everton once again got back in it.
There was no restbite there, though.
Ramires then surged into the box and slid it past Tim Howard to assert Chelsea's lead. There were ten more minutes remaining..
Muhamed Besic replaced Romelu Lukaku but his first touch was a poor one which eventually fell to Costa. The Spaniard was calm and composed to skip away from Howard and defenders to guide it away.
What an amazing match - a real treat that shows exactly why the Premier League is the BEST League in the World.
Analysis: Things We Learned From Everton 3-6 Chelsea
More Premier League coverage
- Burnley FC vs. Manchester United: Match report »
- What did we make of Di Maria's debut? »
- 3pm Kickoffs: Recap from thrilling Saturday afternoon »
- Takeaways from Chelsea's 6-3 win over Everton »
- Tottenham 0-3 Liverpool: Match report »
- Aston Villa 2-1 Hull City: Match report »
- Leicester City 1-1 Arsenal: Match report
»