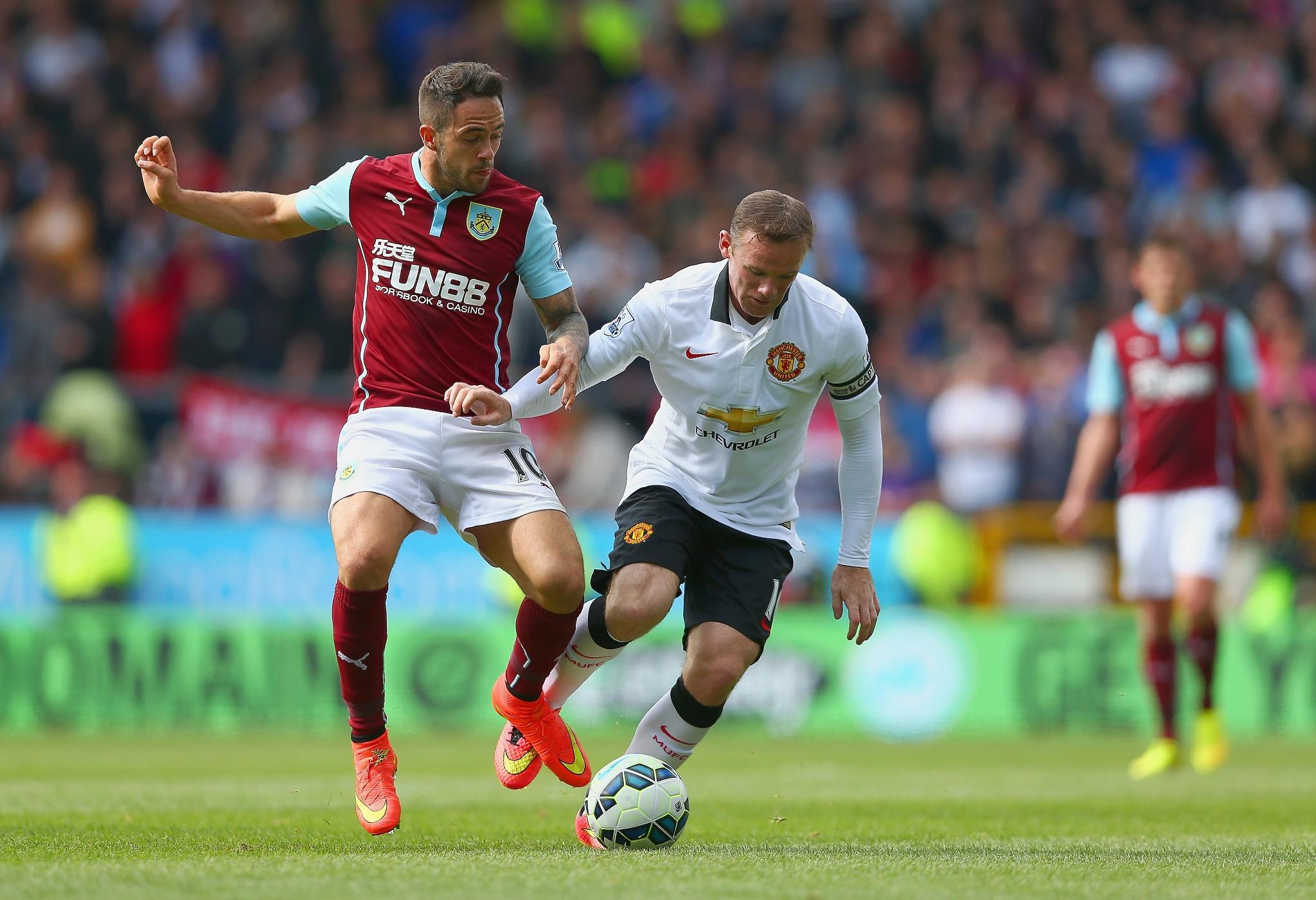 Burnley clinched their first point of the Premier League campaign.

Image: ManUtd.com
Burnley 0 - 0 Manchester United
Barclays P
remier League
Saturday 30 August 2014
12:45 (BST) Kickoff
Turf Moor, Burnley.
Gameweek #3
Burnley secured their first point of the Premier League season after a defiant stand at Turf Moor against Manchester United leaving Van Gaal's men still without a win.
Angel Di Maria featured in the game and chances were there for both sides, but penalty appeals left United with a bad after taste.
Raucous and galvanised in optimism were the fans at Turf Moor as the third instalment of the Premier League was under way - with both teams desperately in search for their first win, the atmosphere was fitting.
Fuel to the fire was provided less than three minutes in as Manchester United were already suffering from jitters. Hearts were racing for Van Gaal's men when David Jones free-kick clipped the bar - De Gea, United's keeper, was merely a spectator as the hosts came tantalisingly close. To make matters worse, just moments later, Phil Jones' back-pass to his keeper put through for another chance only for United's man between the sticks to, once again, thwart Burnley.
Some five minutes in and heart rates were already increasing for Manchester United fans, players and of course, manager, alike. Burnley could have been easily ahead and the pressure was hurled towards the Red Devils.
There were glimmers of hope however for the visitors as the game got into full swing. The first of those was a minuscule pulse to say the least as Robin van Persie's link up with United skipper Wayne Rooney was digested at ease by a charging defence. However, the Dutchman van Persie would hop up into prominence once again just a minute later. Angel Di Maria completed his first successful pass and it was an intricate one - from behind the halfway line to the box. Van Persie's first touch was excellent only to be terrifically thwarted by the onrushing keeper. Signs, albeit small, but signs that the visitors were beginning to click.
Burnley on their own part were showing no signs of deterioration either. Scott Arfield landed a header wide of goal after another United error created the chance. Moments later, the ball bounced up perfectly for David Jones whose sweetly-struck volley was hastily palmed away by David De Gea.
Angel Di Maria would then unearth more indications of threat when he found Wayne Rooney lurking outside the box. The captain tried to feed it off to van Persie but some quality defending made sure the attack would grind to a halt.
Scott Arfield came close to registering his second goal of the Premier League season when he skipped past Blackett and deceived Fletcher to conjure up a shot on goal. It did however receive a timely deflection, forcing a corner that amounted to the visitors' possession.
The remainder of the opening period saw passing slow down but both sides were still in it. At the interval there had been no breakthrough but there could have been, with both sides coming close. Burnley had been quick out of the blocks but De Gea's saves and a pinch of fortune meant the visitors could mould themselves into the game and did so well. However it wasn't plain sailing from then on, with Burnley still threatening when they could.
Both sides were raring to go as the second half commenced, and it showed, as the match picked up from where it left off. In the opposing attack after Burnley's corner, Robin van Persie volleyed a headed clearance but it was stopped on the line by Marney. The Dutchman then saw his headed attempt rise over the bar.
Angel Di Maria was substituted off for Anderson in the 70th minute. The game was quietened in that period as it became more methodical. Mancheser United were beginning though to liven up and register a first win.
After being beaten on latching onto Rooney's ball, Robin van Persie ended his game and Danny Welbeck replaced the Dutchman. Manchester United were looking to inject further energy to escape Burnley.
Rooney headed wide in the next throw of the dice, but Burnley weren't laying down either. The game continuously was upbeat and United were growing desperate. The visitors were in need of utilising the wings and when they did, it dropped to Welbeck, but his pass off to Mata saw the Spaniard blast it way over. Juan Mata would eventually be forced off for Januzaj suffering a hamstring injury.
After the subsequent substitution, Anderson's over-hit corner came to Welbeck, who eventually played it outside the box. Ashley Young was furiously appealing for handball when his shot hit the hand of a Burnley player in the box, but it seemed unfair to deem the penalty and play continued.
Jason Shackell came close to creating the winner on the stroke of stoppage time but his header was off target from the free kick. With just four minutes left of the game, both sides had a big shout in it.
Burnley were covering all the blades of grass and relentlessly stopping Manchester United wherever they could. They were edging closer and closer to their first points of the campaign.
The full time whistle forced a rampant roar from the Turf Moor crowd as they picked up their first points of the campaign. For United, they go into the International break with a heavy sack of doubt on their future.
Burnley vs. Man Utd Analysis: Di Maria's Debut
As We Tweeted
Burnley vs. Man Utd: Live
More Premier League coverage
- What did we make of Di Maria's debut? »
- 3pm Kickoffs: Recap from thrilling Saturday afternoon »
- Everton 6-3 Chelsea: Match report »
- Takeaways from Chelsea's 6-3 win over Everton »
- Tottenham 0-3 Liverpool: Match report »
- Aston Villa 2-1 Hull City: Match report »
- Leicester City 1-1 Arsenal: Match report
»