Gylfi Sigurðsson's goal jolts Manchester United in a thrilling Premier League opening game at Old Trafford.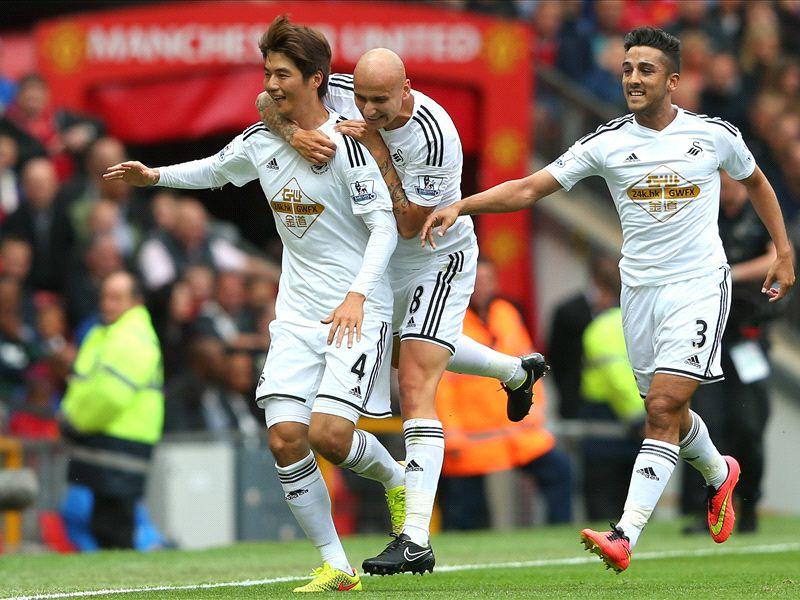 First of many shocks this season.

Image: Goal UK
Manchester United 1 - 2 Swansea City
Ki Sung-yeung (28'), Wayne Rooney (53'), Gylfi Sigurðsson (73')
Saturday 16th August 2014
Gylfi Sigurðsson's second-half strike jolted Manchester United in their Premier League opener as Swansea spoiled Van Gaal's big day.
Wayne Rooney's equaliser after Ki Sung-yeung's opener provided the uplifting spirits that the hosts needed, but when Gylfi Sigurðsson guided in, United were deflated and time ran out.
A roar reverberated around Old Trafford as Manchester United got the Barclays Premier League season up and running once again.
Despite Swansea's reputation for passing quality, the visitors were off the mark on numerous occasions in the opening minutes. Łukasz Fabiański had to sprawl to declare the ball in his possession early on, with space drifting between the centre-backs.
However, Wayne Routledge provided a stark warning sign to the hosts when Jesse Lingaard let him through. The Englishman was unable to pounce on the opportunity with a poor touch helping it onto De Gea's path.
Manchester United were playing some good football, but their final few touches let them down to really get ahead. Captain Wayne Rooney saw his shot blocked but Van Gaal's men kept coming.
Youngster Jesse Lingaard provided scenes of refreshment for the Manchester United outfit, but was forced off after around 20 minutes. Adnan Januzaj replaced him.
Under Van Gaal's new formation, Juan Mata's true talents were unlocked and the Spaniard also looked on the money from the free kick spot, testing Fabianski three times in the first half.
It wasn't long before the renowned "vanishing spray" was used to mark the free kick, met up with a cheer from all in the stadium. Speaking of another "first", Nathan Dyer received the first booking of the Barclays Premier League season.
Wayne Rooney scuffed his lines when he had a chance to head home, lacking power and gifting it to the keeper. Swansea would stun United on the counter.
A sweeping move from the Swans saw Ki Sung-yeung pick the ball up on the edge of the box and guide it swiftly into the bottom right corner.
Swansea's away fans who had made the long trip embraced the "Sacked in the Morning" chants towards Louis Van Gaal as Manchester United's world seemed to fall before them.
For all the positivity displayed in the first phase of play, Manchester United were a goal down at the interval. Things were not going to plan for Van Gaal.
From the outset of the second half, Louis Van Gaal had a major shake up tactically. Javier Hernandez made way for Nani as the new manager adopted the 4-4-1-1 formation.
Looking more energetic and highly paced, the hosts were looking to compress Swansea. Adnan Januzaj's trickery troubled the back at times, and he was fouled by Neil Taylor just two minutes in, who was struggling to contain him.
Wayne Rooney would lead from the front to equalise for Manchester United as he volleyed in from a messy corner. It fell to the skipper who acrobatically guided in from close range. It was all even once again and Manchester United were looking rejuvenated.
Swansea's attempts to slow down United and draw out the crowd were emphatically stranded by United. Wayne Rooney danced past Williams in the box only for the latter to win a challenge by his studs and get the ball away.
However, the Welsh side were far from being on the ropes. Bony almost got through but the back-four remained sturdy. Meanwhile, Januzaj continued to look lively as he almost curled in.
The Swans were forced to make fouls time and time again, Manchester United were beginning to exceed their containers. Wayne Rooney struck the woodwork with a blistering free-kick attempt that had the Old Trafford fanatics on their feet once more.
Against the run of the play, Swansea would silence Old Trafford.
A quick free-kick saw Bony break down the left in his first noticeable play of the game. His cross fell towards Routledge, but the volley was poor. Fortunately, it fell towards Gylfi Sigurðsson who guided it home and put the Swans flying away.
Worryingly for Van Gaal, Swansea were showing no signs of letting up either. Gylfi Sigurðsson's mind-boggling pass put Gomis through, but he was taken out in the box. The penalty appeal was waved off.
Manchester United were shut out by Swansea. They continued to go forth and were defiant to uphold against Manchester United's last ditch attempts.
Adnan Januzaj fired at goal from a cross but it hit the skipper, Wayne Rooney. Time was running out, Old Trafford got louder.
Ashley Young headed over in the final chance, and this was over a minute after stoppage time time was done.
The goalkick came, the game was over.
Old Trafford was left shocked.
Manchester United were left dejected.