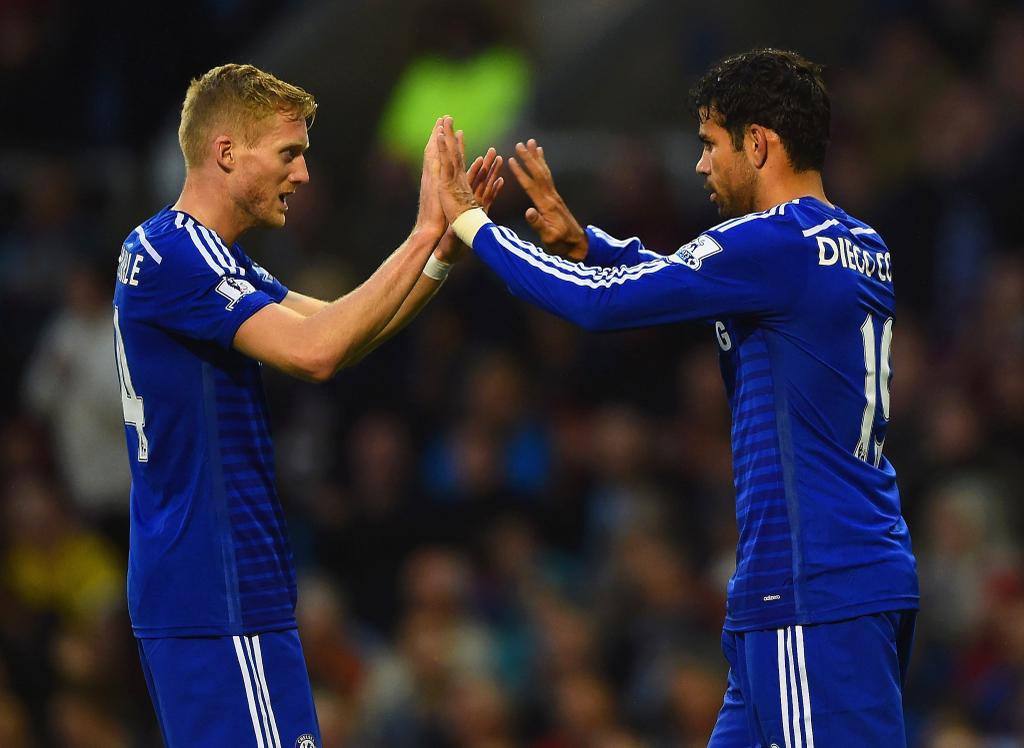 Chelsea overturned a one-goal deficit to win with a mesmerizing performance.

Image: PremierLeague.com
Burnley 1 - 3 Chelsea
Scott Arfield (14'), Diego Costa (17'), Andre Schurrle (21'), Branislav Ivanovic (34')
Mourinho's reignited Chelsea overcame an early one-goal deficit to outclass newly-promoted Burnley in their season opener in Turf Moor.
Looking rejuvenated and more frightening than ever, Chelsea's starting lineup was indeed a stacked one, costing a stellar £198 million in total, compared to Burnley's £6 million. Thibaut Courtois got the nod over Petr Cech for the keeper's position as Chelsea took to Turf Moor.
Burnley were forced to do a wealth of ball chasing in the early stages of the game. Mourinho's men were content in passing the ball around comfortably and freely to take any possible sting out of the hosts. What followed was even more tense for the Turf Moor spectators as Chelsea had four consecutive attempts inside the box before it finally trickled towards the keeper.
After Burnley's first substantial spell of possession football, Diego Costa came close to stinging them on the return but his first Premier League attempt was courageously blocked.
Scott Arfield would assemble a shock lead for Burnley right off their first corner in the game. Rather woeful defending by Chelsea saw the ball cleared out, then headed back into Arfield who had plenty of time to control the half-volley and fire it across goal, leaving Courtois the slimmest of chances to save it.
The lead didn't last long, though.
A few minutes later, Chelsea conjured up more quality as Diego Costa scored his first Premier League goal. The Spaniard guided the ball in after it ricocheted of the post from a low cross. Chelsea had responded emphatically utilizing their talent perfectly.
The visitors really then exemplified their abundance in talent when they scored in the 20th minute to take the lead. Eden Hazard ventured into the box with a dazzling dribble, before Fabregas picked up with a perfect touch from a cross. He intricately lobbed a ball over to Andre Schurrle who made the run behind the defenders to easily score.
Chelsea were really into their stride after that. Impressing with all their talent, Eden Hazard made troubling runs, Cesc Fabregas was passing perfectly and deploying his talent all over the field, and Chelsea had frightening pace about them.
Branislav Ivanovic was able to get on the scoresheet too from another delightful corner. Eden Hazard could have scored in the build-up with marvellous link up play with Fabregas but it went out. Ivanovic got a foot on to the end of the ball and 3-1 was the score.
Burnley were becoming busy on both fronts after. Defensively they had to cut out the troubles that were surrounding them, clearing when they needed to, being a very hard job. They enjoyed better possession, but knew they were fighting an immensely uphill battle when the interval commenced.
The hosts started much more positively in the second half but couldn't find a goal to show for their efforts. They did come close, though, as Scott Arfield cut in against two defenders and his curling effort was palmed away by Courtois.
Ten minutes on either side of the hour mark saw the game lighten up significantly as Chelsea got into cruise mode while Burnley recklessly chased the ball.
The Didier Drogba era resumed as he was substituted on to replace Eden Hazard.
With less than ten minutes remaining, Chelsea's win was pretty much sealed. Chelsea were looking relaxed although the hosts were still moving about at some intensity.
Chelsea used the game as a platform to display their talents. Courtois was reliable, Fabregas was wonderful - Costa was prolific and Chelsea have surely found their true striker. As for the talent already there, phenomenal too. Chelsea are hot title favorites for this year surely. Burnley can be satisfied that they won't have many harder challenges than this.
So that brings a wrap to Gameweek 1. The Premier League is back, and we're loving it. Whether its been the vanishing spray, the late goals, shockers or more, its off to a flyer. We've had it covered with round-ups, five match reports and some comment articles so be sure to check them out from the home page. Rest easy, because the best league in the World hasn't missed a beat.