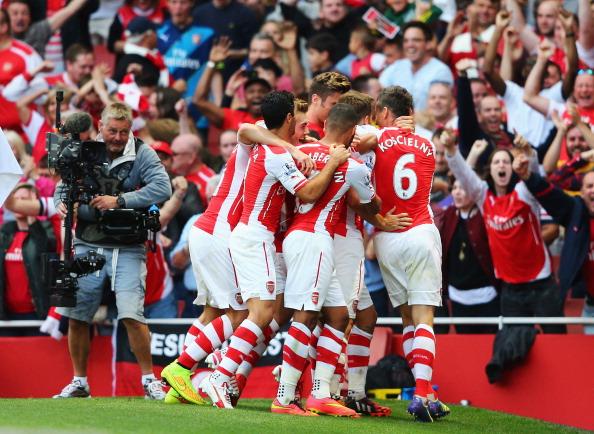 Aaron Ramsey won it for the Gunners in stoppage time.
Arsenal 2 - 1 Crystal Palace
Hangeland (35), Koscielny (45+2), Ramsey (90+1)
Saturday 16th August 2014
Arsenal's Ramsey scored the winner for The Gunners in the last minute against 10 man Palace to get Arsenal's season off to a flyer.
Kick off- The sides are strong and the crowd are pumped in the Emirates.
Hangeland and Campbell start for Palace and Debuchy, Chamber, Sanchez and Sanogo start for the Gunners.
The game started strongly with passes and end to end football, with possession to Arsenal for the minutes between 1-2 minutes.
Arsenal intercept a goal kick and Crystal Palace have lots of throws from sloppy Arsenal play. 5 minutes in Cazorla goes down after a challenge where both players jumped up high to retrieve the ball. Early shouts from strong Arsenal play with Alexis showing off his skill and Wilshere passing to Ramsey who appeals for a penalty when he got tripped. A shot by Ramsey gets blocked, Good play and possession for a Arsenal.
Arsenal are pushing for the first goal but can't score. Szchesny is strong from a Crystal Palace
break. Arsenal are also on an attack straight after and a ball to Cazorla is cleared up by Speroni.
15 minutes in and Arsenal get a corner and waste it. With 15 minutes of the half left Arsenal push on. Speroni saves a shot from Jack Wilshere, 31 minutes in Alexis tries a shot. Frasier Campbell and Chamack play strong.
No way through for Arsenal, still 0-0. Sczhesny kicks the ball to Chamack and a shot is released and Koscielny gets back, Corner to Palace, Hangeland jumps, Goal to Crystal Palace. Hangeland (35 mins) Arsenal 0-1 Palace.
Arsenal are struggling. Palace break through and pass there way through. Arsenal win the ball lose it and Palace win the ball and lose it, Sloppy play with 8 minutes to go of the half. Gibbs stands still and the Palace attack turns into a free kick. Debuchy goes down and Arsenal have a free kick. The free kick is cleared.
Free Kicks and Throw ins are taking over the game, and Calum Chambers gets booked for a
challenge on Frazier Campbell.
Alexis goes down, Arsenal free kick, Two minutes are added on. The free kick goes in to Koscielny, he heads the ball... GOAL!!! Arsenal 1-1 Palace. (Koscielny 45+2).
Arsenal have a corner from a blocked shot that came from Ramsey and saved by Ward.
Half Time- Arsenal 1-1 Palace, Goals from Hangeland and Koscielny give both teams an advantage going into the second half where the game should be more exciting.
The Second half is underway from the Emirates where it is Arsenal 1-1 Crystal Palace.
Palace started the half strong and Arsenal where defending well. Ledley goes down, Cazorla gets booked and Palace had a free kick.
SUB- Arsenal: Sanogo OFF, Giroud ON.
Still 1-1 and both teams push forward, the keepers are alert and no shots can make it a lead. 63 mins gone- at this point the teams struggle, who can find the winning goal or at least a goal with 25 minutes left. Both teams are sloppy and giving away free kicks.
SUB- Arsenal: Wilshere OFF, Oxlade Chamberlain ON.
What can Chamberlain do to help Arsenal, well he played well after only 2 minutes on the pitch. Arsenal had another corner and wasted it.at this point there was 18 minutes left. Can Arsenal pull this game off and win.
SUB- Palace: Dann OFF, Delaney ON.
Arsenal are passing, tackling, dribbling and pulling off good shots but can't score. Sanchez was taken down by Kelly, Arsenal Free Kick. The Spray is out and getting used. Is the last ten minutes enough for Arsenal.
SUB- Arsenal: Gibbs OFF, Monreal ON.
Puncheon makes a challenge and gets booked again and Palace are a man down. Arsenal had a corner and it's Ramsey who scores for Arsenal in added time with 4 minutes of the 5 minutes to go. Arsenal 2-1 Palace.
Crystal Palace had a last minute corner wasted it and Arsenal had a free kick, and the Game is over and it's full Time
FULL TIME: Arsenal win 2-1 vs a strong Crystal Palace at the Emirates and Arsenal take all 3 points.