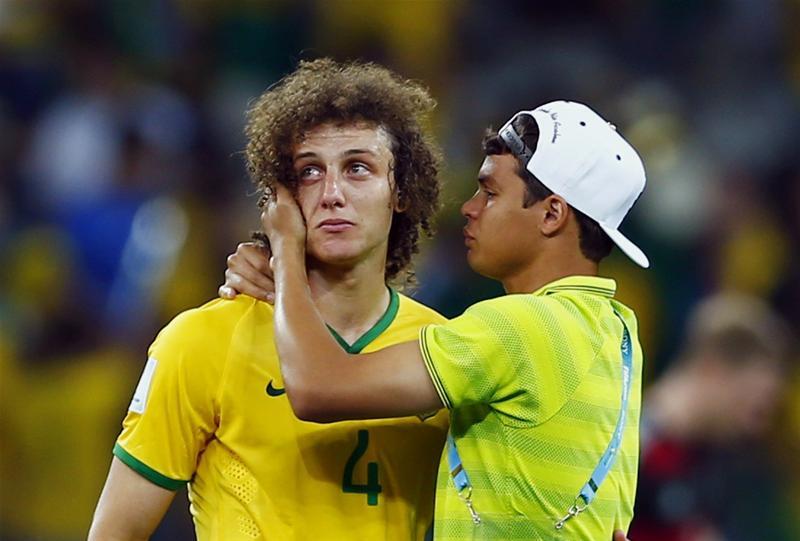 David Luiz is consoled by Thiago Silva following a devastating loss to Germany in Belo Horizonte.

SQUAWKA
A catastrophic
5-1
loss to Germany in the World Cup semi-final will go down as the darkest day in Brazil's sporting history. Undoubtedly, it will take some time for the Brazilians to recover, but what steps must they take first to get there?
Read the match report for Brazil 1-7 Germany here
Belo Horizonte witnessed a devastating and drastic deterioration of Brazil's homecoming dream as they were wrecked by Germany in the World Cup semi-final. The possibility of plummeting into depressing and dark times are well and truly alive. With so much expectation on their shoulders, an already-herculean loss like this is further multiplied.
Everyone in Brazil, every 200 million of them, was dreaming, expecting and believing that they would return to the Maracan
ã and lift the World Cup trophy. They fell one hurdle short, but it was one devastating fall.
With a third-place playoff game looming, Brazil can't hide either. They have mere days to improve and steady the course. Another mass failure like we saw at Germany would spark furore and even more depression.
It's as easy as ever to point out the third place playoff's importance, and Brazil winning would be ideal, and so on, and so forth... But, for Brazil this game will act as a transition, almost an apology, for their failure to succeed. Will Brazil fans even come out and support?
Shouting "Ole" for the Germans, applauding them and turning their backs on their own nation - it was an embarrassing 90 minutes for Brazil to endure. The ultimate humiliation was clear though when Brazil seemed to be endorsing Germany. They had given up - yes, the Brazilians had given up.
Expectations were through the roof thanks in part to the national anthem also. Truly speaking, it's a thing of passion and that's admirable - but it puts emotion in front of reality - a fatal error in football.
They must avoid excuses. Felipe Scolari appeared to be pinning the blame on himself when he huddled his dejected players after the full-time whistle. This is the tone they need to follow. Pinning it on the absences of Neymar and Thiago Silva could create a vicious stigma against the national team.
Finishing third will mean little to Brazil, even if they manage the feat. Thiago Silva will be available, that's if they do select him. This is an opportunity to bring out an entirely new side. There's no point bringing out the ones who lost for a meaningless vengeance.
The unity of Brazil's team is ever-present. That's why you shouldn't expect a scapegoat to emerge (unless the media have their way). Everyone was to blame.
Maybe mostly, perhaps, is Scolari. After the World Cup he surely is on his way out. Brazil saw his 2002 win as a guarantee of emulating that success in Brazil. There will be a big backlash for sure. Media will feast. And that's why there will be a big change around.
Players like Fred, with a lot of criticism coming his way, may never where the Brazil strip again.
The worst fear is the backlash from the fans. 200 million dreams have been shattered from the abysmal performance. Should this overshadow the tournament then the impact on the Brazil team will be even worse.
Everything needs to be examined. Was this just a bad day in the office, or is it a sign that Brazilian football needs something changed? What is most worrying for the South Americans is their previous performances that hardly convinced.
Brazillian football is poised to undergo it's most significant change in decades. Dreams are shattered, hearts are broken and the time for change is now.
Read the match report for Brazil 1-7 Germany here