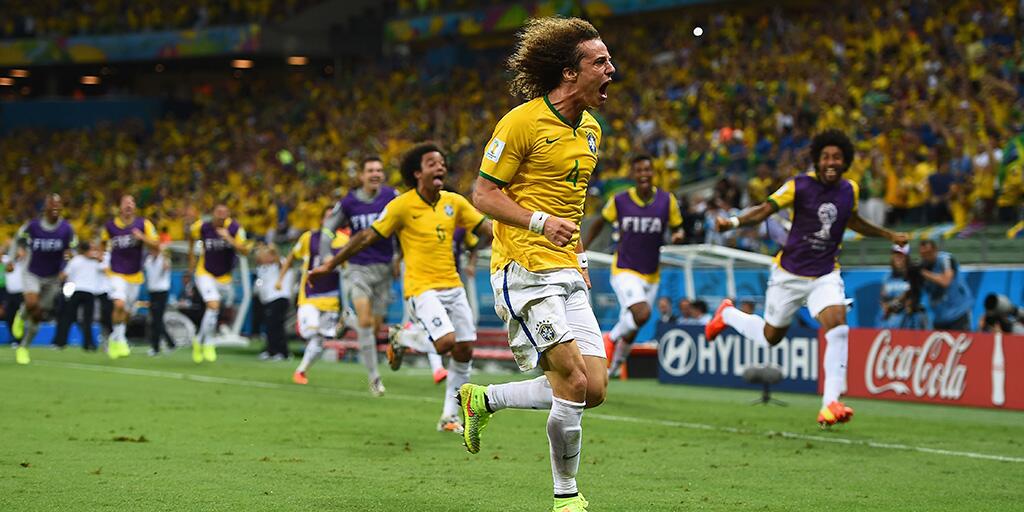 An elated David Luiz embraces the winning goal.
BY MATT LYNCH
Brazil toppled Colombia in another dramatic instalment to the World Cup, as David Luiz and Thiago Silva's goals were enough to see the Brazilians through in Fortaleza.
Kick-off: 5pm BST (UK time)
Group A, World Cup Game #2
- See more at: http://www.tsmbrazil.com/2014/06/WorldCup-Game2-MEXCMR_13.html#sthash.P8bOtK6q.dpuf
Thiago Silva (7'), David Luiz (69'), James Rodriguez (80' penalty)
Kick-off: 9pm BST / 5pm ET
Estádio Castelão, Fortaleza
Quarter Final 2, World Cup Game #58
Arguably the best two teams in the tournament so far going head to toe it was sure going to be a classic encounter between Brazil and Colombia.
Scolari rang the changes before the game with Dani Alves surprisingly dropped and Maicon being thrown into the ring. Despite this Brazil showed no signs of stuttering as on 7 minutes Thiago Silva, who will miss the semi final through suspension, hit the ball in with his knee from a Neymar corner.
Brazil soon settled into their samba with the football free flowing and enigmatic. The goal never really flung Colombia into action until the ever influential Rodriguez played in Cuadrado, only to scuff his effort.
From the outset Brazil had the tactic of disrupting play, hardly the samba way. This was shown on 25 when Fernandinho hacked down Rodriguez. The referees in this World Cup have been accused of being biased the decision not to book Fernandinho argued this. In a busy time between 20-30 minuted Hulk became Hulk for the first real time in the tournament flashing a shot at Ospina, stinging his ever so safe hands.
Going into the second half, the foul play continued indefinitely. Rodriguez again the target by a nasty Fernandinho challenge. Soon, the Fortaleza turned into chaos, when on 69 minutes David Luiz scored a ''worldie'' as Paul Merson would say. Taking the ball off Neymar to take the free-kick, Luiz hit it pure and sweet from 30 yards past the despairing Ospina. It was a true shine of quality and how Brazil could do anything.
Colombia looked dead and buried but on 78 minutes they were handed a key back in. Cesar fouled the tormentor, Rodriguez. Following this Rodriguez comfortably despatched the penalty. Arguably Cesar could of been sent walking for the tackle...
In the closing stages there was immense worry for Brazil when Neymar was hacked into. Neymar went off in obvious pain on a stretcher crying. It wasn't the ending Brazil fans or him wanted.
Brazil were in third gear and never really pushed on like they could of. Yet they are through. Colombia deserved more this tournament. On the end of some dodgy decisions it was curtains for them today.
Match breakdown
Man of the Match: David Luiz
Just WOW... only he could of scored that.
Flop of the Match: Thiago Silva
Stupid booking overshadowed his decent performance. He'll miss the semi-final.
Possession: Brazil 51% - 49% Colombia
Shots: Brazil 12 - 11 Colombia
Brazil are now setup for a Semi-Final clash with Germany in Belo Horizonte. As for Colombia, their incredible run ended, with their talisman James Rodriguez in tears - we can be expectant that they will come again.
The Brazilian dream continues as more remarkable moments are added to the growing backlog in this amazing World Cup.