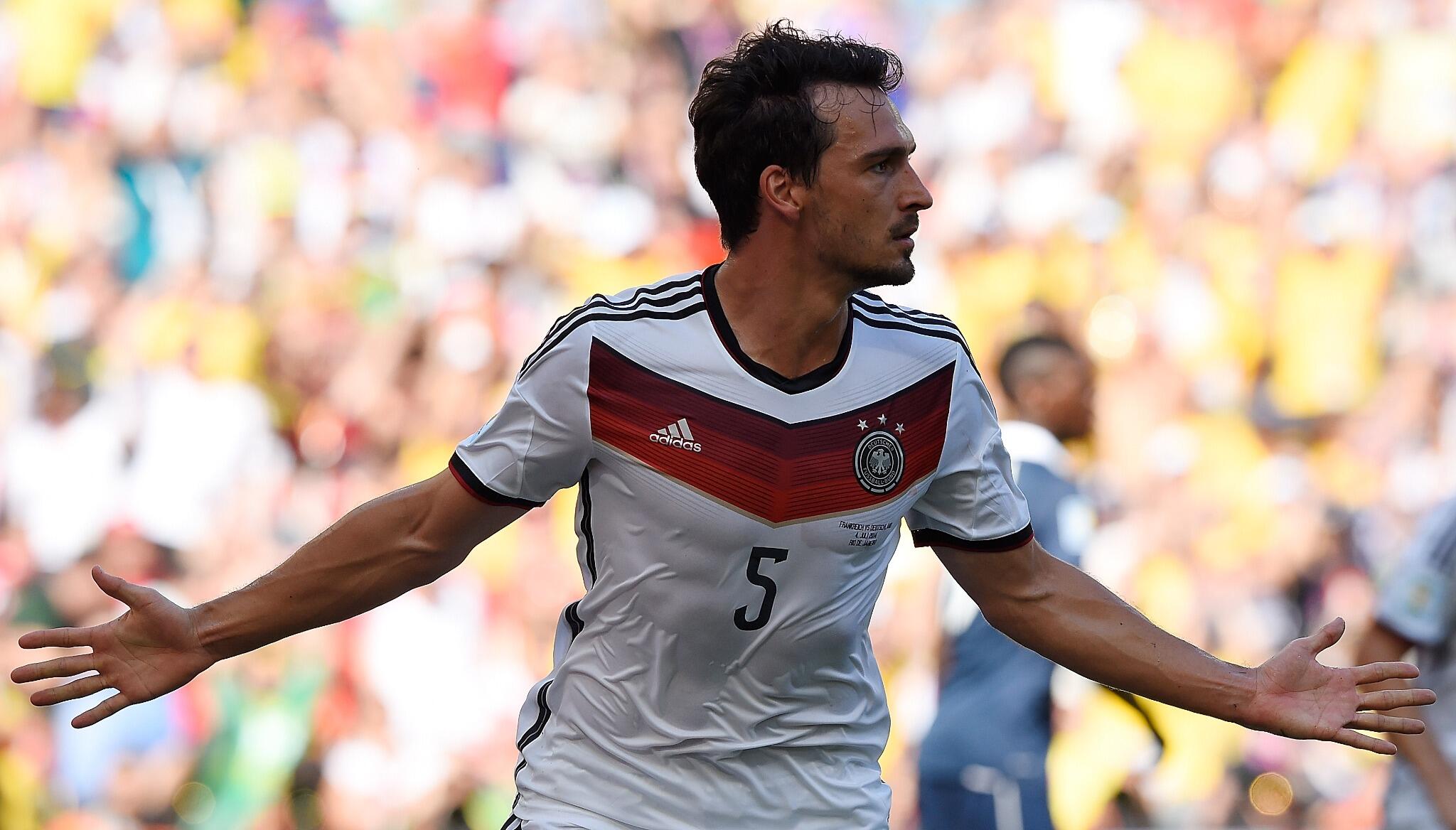 Mats Hummels' header was the key difference as Germany topped France in Rio.

SOCCER.COM
BY WAQAR HUSSAIN
A thirteenth minute header by Mats Hummels was enough to send Germany through to the last four of the World Cup 2014 and derail fellow European heavyweights France at the Maracana.
Kick-off: 5pm BST (UK time)
Group A, World Cup Game #2
- See more at: http://www.tsmbrazil.com/2014/06/WorldCup-Game2-MEXCMR_13.html#sthash.P8bOtK6q.dpuf
Kick-off: 5pm BST / 12pm ET
Estádio Maracanã, Rio de Janeiro
Quarter Final B, World Cup Game #57

This game was billed as the game of the round, two of the top-scoring nations in this World Cup so far from Europe going head to head at the Estadio Maracana for the right to face Brazil or Colombia in the semi finals.
The match started at a high tempo, with Karim Benzema having the first crack at goal, a volley which fizzed wide from six yards.
This is what you call true beauty. #FRAvsGER pic.twitter.com/PIlbdSipOt
— TheSportMatrix (@_TheSportMatrix) July 4, 2014
Then Germany won a free kick from a Pogba foul, and Toni Kroos' majestic cross was met by the powerful head of Mats Hummels, the ball crashed in of the crossbar to give the Germans the lead. France then grew into the game, as they had a plethora of good chances through Mamadou Sakho, Mathieu Valbuena and Benzema twice before the half ended.
The second half started at a much lower pace, as the first chance came from a Varane headed effort straight at Manuel Neuer.
Ten minutes later, the game sprung into life again as Schurrle and Griezmann both shot wide. Blaise Matuidi then had a brilliant effort parried by Neuer and at the other end, the substitute Schurrle fired straight into Lloris' legs after a rapid German counter caught Les Bleus napping.
In the late stages, we saw a familiar frantic finish as Germany tried to find the killer goal and the French were desperate to stay in the competition, Andrei Schurrle thought he had done what was needed, save for an outstanding block by the impressive Varane.
A late, late effort from Benzema was nonchalantly parried one handed by the tall, intimidating figure of Neuer.
Match breakdown
Man of the Match: Andre Schurrle
Flop of the Match: Karim Benzema

Possession: France 49% - 51% Germany
Shots: France 12 - 7 Germany
Deschamps' Boys Fail To Deliver
Didier Deschamps' team are used to playing 4-3-3 in this tournament so far, but we saw that it proved ineffective against Die Mannschaft
Hummels Scores More Than Rooney
On a comic note, German centre back Mats Hummels has now scored more World
Cup goals than England Striker Wayne Rooney, in less matches.
So Germany are now through to their 4th consecutive World Cup semi finals - a record and will be hoping to finally end their long quest for glory.
Germany will face either Brazil or Colombia in the next round, who will no doubt be a banana skin, stick with TSM for the rest of the World Cup coverage including that game.