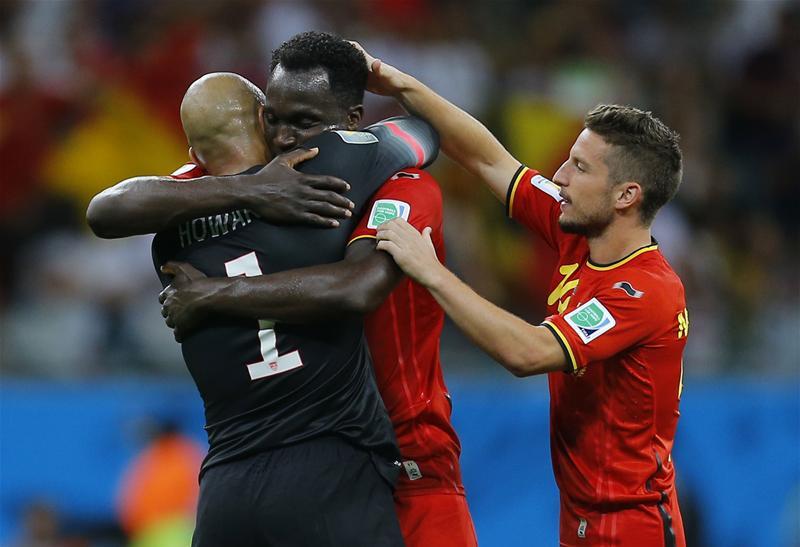 An Evertonian embrace after an epic game in Salvador.

SQUAWKA
Romelu Lukaku scored the pivotal goal in extra-time that would grind Tim Howard's record-breaking goalkeeping performance to a halt and end the USA's World Cup dream.
Kick-off: 5pm BST (UK time)
Group A, World Cup Game #2
- See more at: http://www.tsmbrazil.com/2014/06/WorldCup-Game2-MEXCMR_13.html#sthash.P8bOtK6q.dpuf
Kevin De Bruyne (93'), Romelu Lukaku (107'), Julian Green (107')
Kick-off: 9pm BST, 4pm ET
Arena Fonte Nova, Salvador
Round of 16, World Cup Game #56

Divock Origi forced the first of Tim Howard's 16 saves, the most in World Cup history for 50 years, as he broke away within 40 seconds and forced the American to stop at the near post.
Moments later, Dempsey's shot would fall swiftly into the hands of Courtois, after a mesmerizing build-up by him and Bradley, after Jones catalysed the counter.
Although goalless after the opening 45 minutes, it was a remarkable game thus far. Chances on either side, plenty of space to exploit and keepers busy as the attempts totted up.
Belgium clearly had the skill to infiltrate behind the US defence, but Howard was there to stop them. In the second half, Divock Origi needled through Kevin Mirallas, whose attempt to fire it across him was stopped by Howard's foot.
As the Belgians upheld a larger influence on the game, the chances continued to flow and Tim Howard's work load increased. Next time round, Vincent Kompany was denied after Kevin De Bruyne picked him out.
Geoff Cameron blasted over a gift of a chance, even though it wouldn't have counted. It caused a furore on the touchline as he appeared to be well onside.
Ninety minutes were not enough. Neither team could score. USA had been forced on the backfoot, but never trailing thanks to an emphatic performance by Tim Howard. Thirty more minutes were prescribed for the enthralling game.
Belgium finally scored three minutes into extra-time. Romelu Lukaku escaped from Beasley to explode into the box from the right. He passed it towards De Bruyne, who made his way round three American defenders and smashed it far into goal past Tim Howard.
In the same period, De Bruyne orchestrated the move for Romelu Lukaku to smash it past Tim Howard. USA were caught up and it allowed De Bruyne to slip a pass through to Lukaku, who thumped it home. Inverse goalscoring and assists between the two.
With fifteen minutes left, USA would make a statement early that they weren't going down easy. Julian Green was picked out perfectly with a lofted ball in the box by Bradley, and his beautiful volley was out of Courtois' range. USA were back in it.
Jones was agonisingly close from the equaliser when the header from Yedlin's cross trickled out to him. Head in hands, he knew that his nation had missed a huge chance.
In the final few minutes, another golden chance was denied. Belgium were left baffled with a beautiful free-kick set up that saw Bradley's pass ricochet to Dempsey, but the sprawling Courtois sustained Belgium's lead for good.
Belgium crash the American Dream but it takes some doing to thwart an incredible Tim Howard and passionate football team. One of the best World Cup games of the tournament.