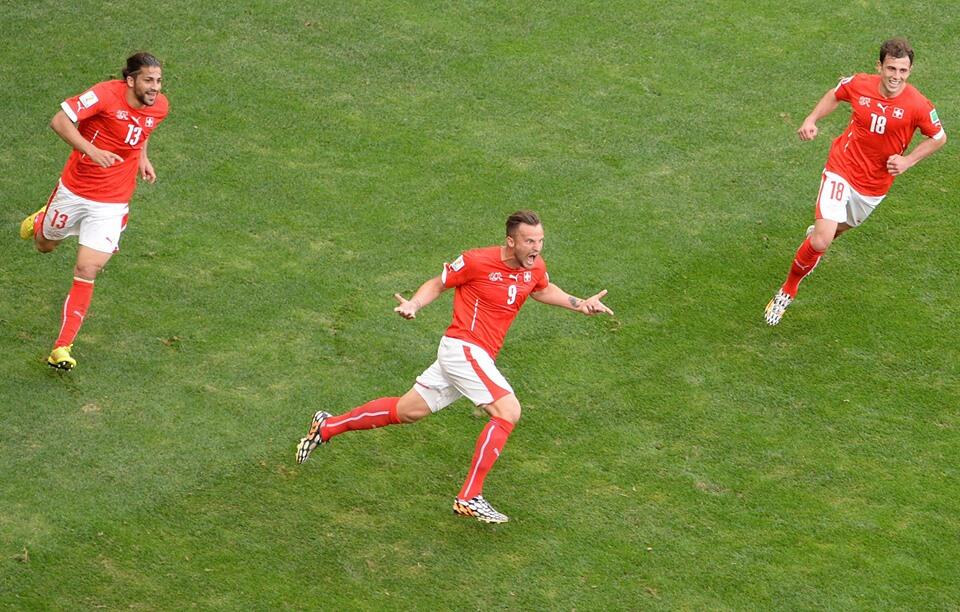 What a World Cup moment!
Haris Seferović scored in the final minute of Switzerland's clash against Ecuador to give his side a thrilling win in the Brazillian capital.
Kick-off: 5pm BST (UK time)
Group A, World Cup Game #2
- See more at: http://www.tsmbrazil.com/2014/06/WorldCup-Game2-MEXCMR_13.html#sthash.P8bOtK6q.dpuf
Switzerland 2 - 1 Ecuador
Enner Valencia (23'), Admir Mehmedi (48'), Haris Seferović (93')
Kick-off: 5pm BST (UK time)
Estádio Nacional de Brasilia, Brasília
Group E, World Cup Game #9
Both seemed mediocre to open the game and appeared to be on course for a timid draw. However, as the atmosphere grew with progressive timing, Switzerland tested early.
But it would be Ecuador who would come on top first. Enner Valencia left Switzerland scratching their heads having conceded the first by a setpiece.
Ayovi delivered in a dangering free-kick from the flanks, and Valencia had plenty of space and time to soar up in the air and emphatically head home.
Switzerland would try, but fail, for the remainder of the first half as numerous chances went astray.
However, just three minutes in, another headed goal would come - but this time from the Europeans. Ricardo Rodriguez delivered in a corner kick towards Admir Mehmedi, and it was finely headed for the equaliser.
From then on in, it became a tale of dwindling counter attacks, because at times both looked vulnerable but turned out lucky. Shaqiri wasted a good chance with a 3-on-2, forced to the near post of the keeper and luckily smashing off target.
No games in the 2014 World Cup are yet to end as draws, but it was looking like that was set to change as the game emerged in stoppage time.
There was little refraction in the style of the game onwards, but it would take one piece of sublimity from Switzerland to secure a magnificent win.
A rampant break from the Swiss would end in the path of Seferovic, and he would guide it in to give Switzerland an incredible win in the nick of time.
These are the World Cup moments we yearn for.