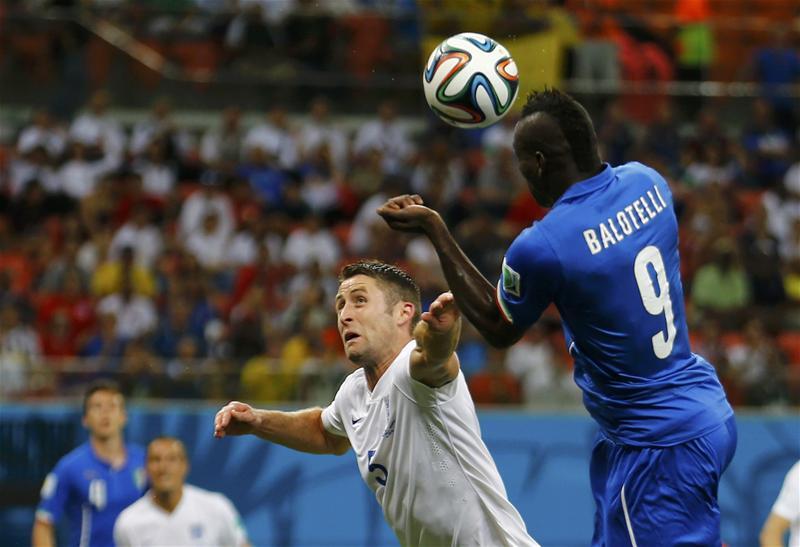 Mario Balotelli rises above England's Tim Cahill to put Italy ahead for the rest of the game

SQUAWKA FOOTBALL
Mario Balotelli headed home the dividing goal as Italy edged past England in their group meeting in Manaus.
Kick-off: 5pm BST (UK time)
Group A, World Cup Game #2
- See more at: http://www.tsmbrazil.com/2014/06/WorldCup-Game2-MEXCMR_13.html#sthash.P8bOtK6q.dpuf
Claudio Marchision (35'), Daniel Sturridge (37'), Mario Balotelli (50')
Kick-off: 11pm BST (UK time)
Group D, World Cup Game #7
England were quick out of the blocks as they hauled an early onslaught towards Italy. Raheem Sterling's long range drive had many England fans on their feet with the net bulging, but it would appear that the ball struck the side netting.
They would continue to test, as Jordan Henderson tested Sirigu moments later. Hodgson's side came out gunning for a win, and came close.
However, Italy were able to master control in the game for a spell, long enough to open up some chances. Eventually, a nice passing buildup would fall to Claudio Marchisio, striking from long-range to the bottom corner past Joe Hart.
That goal would prove to light the fire in England's attack, with Daniel Sturridge equalising two minutes after Italy broke ahead. A rapid counter attack saw Wayne Rooney explode down the left, guiding it towards Sturridge who smashed in for the equaliser.
England physio Gary Lewin suffered a major ankle injury in the celebration goal - yes, the physio himself - when embracing with the players after the equaliser. He was stretched of, ironically.
Both sides would be a good match for the remainder of the half. Italy had more of the ball down the first half and restricted the width of England. The 2006 World Cup Champions continued to probe, although it was England doing the better before the first 45 minutes drew to a close.
Night may have descended on Manaus, but it was still very hot and humid with the pitch hardly helping. England's crossing was poor in the second half down the right, possibly due to a deteriorated surface.
Mario Balotelli guided in a header on the 50th minute after more intricate passing from Italy. He beat Cahill in the air to head away from Joe Hart.
That would ultimately set Italy up to win for good. It became a tale of England's pressing in the final third, but just not having enough to convert a goal. With that being said, overcommitment became an issue since it was not good enough to convert an attack.
Immobile almost got completely through on goal, but Gary Cahill tracked the Italian prospect to tackle away.
Ross Barkley also featured, and showed signs of promise down the flanks with Raheem Sterling that should come to fruition in their next group games.
Wayne Rooney missed a massive chance - put through into the box but dragged the shot wide frustratingly. Other chances featured a Gerrard free-kick that went over, and likewise for Leighton Baines.
Earlier, Steven Gerrard could have had a decent penalty shout when Gabriel Pelatta body-checked the skipper having been put through by Sturridge's touch. Gerrard however did not appeal. Italy had a first half shout too, with a potential handball call from Glen Johnson - the referee though, got it right on both occasions.
England had their shout in the game, but simply the difference was at the hands of Balotelli's goal. Italy weren't sitting back either, as Pirlo was just a crossbar shot of scoring one of the greatest World Cups in history. Swerving turbulently in the air, it rattled off the crossbar.
A few younger players suffered from cramps towards the latter stages of the game coming as a possible alert for the England team.
Gerrard expressed his disappointment to not take any points away for the effort, and it now bares pressure on their upcoming fixtures.
Match Breakdown
Possession: England 47%, Italy 53%
Shots: England 14, Italy 11
Man of the Match: Andrea Pirlo
Flop of the Match: Wayne Rooney
Prospects
The Italy clash comes with some takeaways as Ross Barkley and Raheem Sterling showed signs of threats.
Chances
Rooney didn't make his big chance, Balotteli did. That, ladies and gentlemen, is the difference.
Group D Split Wide Open
After Costa Rica stunned Uruguay followed by Italy's win, Group D has become a mix up that not many expected.
Italy just edge past England but there are many takeaways for the 3 Lions with a positive performance, while Italy can set their sights on progression with an open group.
England's hopes are put on hold as Balotelli's goal pays dividends.