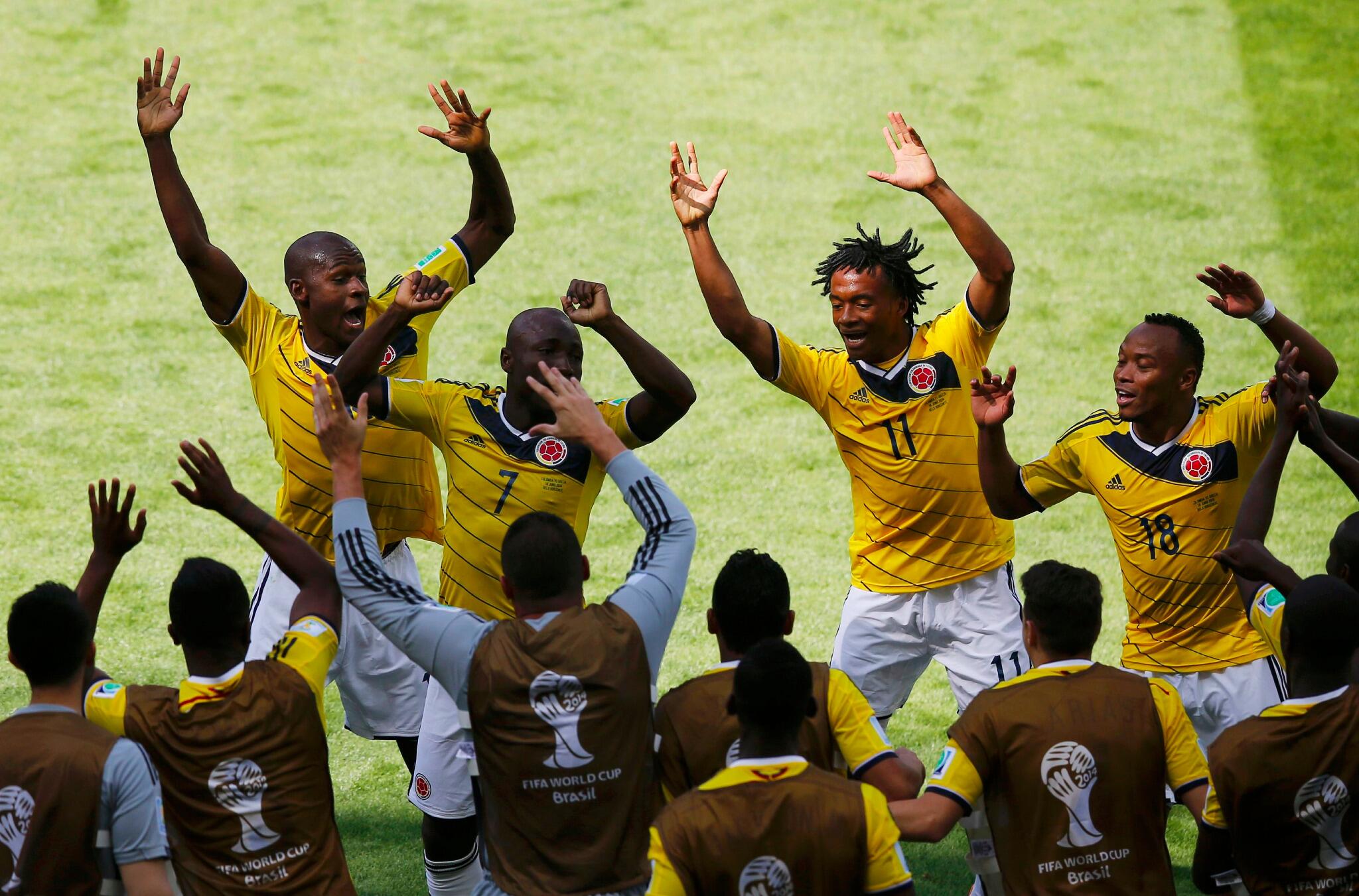 Eccentric, euphoric Columbia

FOX SOCCER
BY MATT LYNCH
Colombia thrived in their element in Belo Horizonte as they cruised past former European Champions Greece to get their campaign off to a flyer.
Kick-off: 5pm BST (UK time)
Group A, World Cup Game #2
- See more at: http://www.tsmbrazil.com/2014/06/WorldCup-Game2-MEXCMR_13.html#sthash.P8bOtK6q.dpuf
Pablo Armero (5'), Teófilo Gutiérrez (58'), James Rodriguez (93')
Kick-off: 5pm BST (UK time)
Estádio Mineirão, Belo Horizonte
Group C, World Cup Game #5

Another South American masterclass.



With 99% of the fans packed inside the Belo Horizonte Colombia almost seemed like the home side. With all the pre-match talk about Jackson Martinez not starting the pressure was put onto the shoulders of Gutiérrez of River Plate. With three minutes on the clock Colombia showed how comfortable they were with a scruffy, but incise finish by Pablo Armero from the instrumental Juan Cuadrado who showed great trickery on the right before playing a low ball for Pablo Armero who finished well.





In the first 25 minutes Colombia were aggressive causing great issues, but for the rest of the first half they found themselves on the back foot. Greece improved after with Georgios Samaras as he darting towards the area from the left before letting fly with an effort that Colombia keeper Ospina did well to keep hold of. This proved to be one of few clear cut opportunities Greece had. On 43 minutes Greece threatened again when Panagiotis Kone let fly from 18 yards to only see his shot well saved by Ospina.





Moving into the second half Colombia came out with real intention and aggression. Samaras was lucky not get booked after taking an obvious tumble in the penalty area after losing the ball. After that, Colombia turned on the swagger on 50 minutes with the Greek goalkeeper lucky to keep out a blistering James Rodriguez effort. The Greek tactic throughout seemed to be disruptive with fouls common. On 57 minutes Colombia doubled their lead. Gutierrez, leading Colombia's attack touched in from a James Rodriguez that was poorly defended.





With the game growing old, Greece were denied an oppurtunity to get back in the game with Mitroglou denied a penalty when Yepes handled in the area. Again on 80 minutes Greece were denied when Samaras shot wide which summed up his poor performance. Just before the referee blew for full time, James Rodriguez sealed victory with a excellent finish from a typical South American goal with quick, silky interchange from Cuadradro and Zuñiga. Colombia were good for most parts and reigned in practically a home game for them.





Match Breakdown





Man of the match:

Cuadradro - He was excellent in every good piece of build up by Colombia and involved in all things good for Colombia.


Flop of the match:

Samaras - Failed to deliver and typically a flop when it comes to the important stuff.


Possession:

Columbia 46%, Greece 54%


Shots:

Columbia 12, Greece 12

What a performance.



Columbia hit the ground running to start their World Cup campaign. It could be a big tournament for the South Americans who kick off with huge momentum.