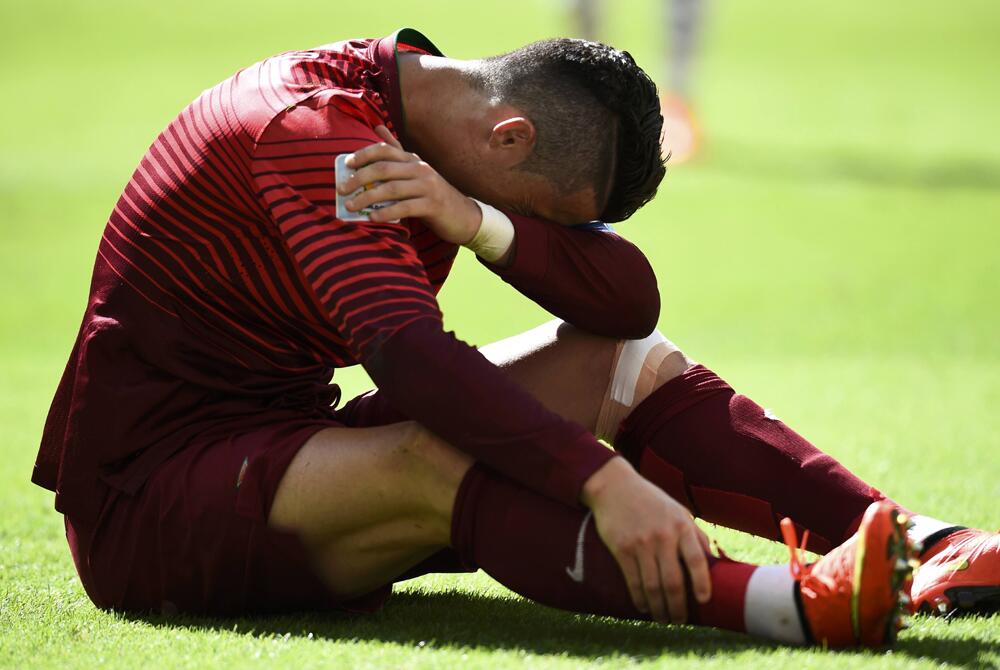 Despite Ronaldo's goal, Portugal are going home.

KATHMANDUPOST
Cristiano Ronaldo's first and only goal of this World Cup proved to be the winner as Portugal ended their campaign with a win in Brasilia.
However, Portugal's devastating 4-0 loss to Germany would make a goal difference they couldn't catch and both Ghana and Portugal would be eliminated.
It did however mean that Germany and USA would go through.
An own goal by John Boye would be cancelled out by Gyan becoming the all-time leading African goalscorer at the World Cup. Ronaldo would pounce on a gift of a goal to seal the win for Portugal.
Kick-off: 5pm BST (UK time)
Group A, World Cup Game #2
- See more at: http://www.tsmbrazil.com/2014/06/WorldCup-Game2-MEXCMR_13.html#sthash.P8bOtK6q.dpuf
John Boye (30' own goal), Asamoah Gyan (57'), Cristiano Ronaldo (80')
Kick-off: 5pm BST (UK time)
Estádio Nacional de Brasilia, Brasília
Group G, World Cup Game #42

NEWS

FLASH

- Ghana's side would not feature Kevin Prince Boateng or Sulley Muntari after an incident during training, where Muntari allegedly slapped an FA official and Boateng was in an altercation with the manager. This comes hours after Ghananian players reportedly received $3 million cash that they demanded from the government.
Portugal began with a larger proportion in possession and game influence, in a much sunnier stadium compared to Germany vs. USA, where rain poured in that simultaneous game.
Cristiano Ronaldo game close to scoring what could have been the goal of the tournament on the stroke of six minutes. The Ballan d'Or winner opened up his body as if he was preparing for a cross, but instead audaciously went for goal, only to hit the bar. Portugal delivered their message - they were going for the win.
Five minutes later, Cristiano Ronaldo's free-kick of an impeccable technique was denied by the Ghanaian keeper, Fatawu Dauda. Ghana's little stints in possession eventually fell comfortably to Howard, but it was Portugal making the noise early on.
After Ghana were able to soak up some pressure, Portugal would come again. Ronaldo would connect fully with a bullet of a header, but yet again the keeper Fatawu Dauda kept it away from goal with an oustanding save. Portugal momentarily switched off allowing Gyan to register Ghana's first chance on the other end, saved by Beto.
Following a quiet spell in the game, Portugal would begin to push Ghana on the backfoot, with John Boye slicing a cross into his own net to give Portugal the lead via an own goal. Devastating for Ghana, who could have been two down if Ronaldo's later shot was through.
Rúben Amorim dragged his shot wide a minute after as Portugal enjoyed their best spell in the game. Ghana had few numbers determined to go back and forth, leaving gaps for the Portugese to exploit.
Until the break, neither side really came close to threatening as much. However, Gyan appealed for a penalty when he appeared to be taken down by Bruno Alves on a turn, and Nani slashed over. All was still to play for with just an own goal being difference.
Ghana would be the team gaining a full head of steam as the second half opened. While Portugal had their half-chances when surging forward, it would take an intricate pass to put Gyan through.
Down the left, Asamoah picked Gyan out perfectly, allowing Ghana's #3 to head it past Beto and become Africa's all-time leading goalscorer in the World Cup.
Momentum was obtained for Ghana following the goal. However, none were convicted enough to really scream for goal and with ten minutes left it was tied up.
Then, Ghana failed to get rid of a troubling cross, as it was headed up into the air. Ghana keeper Fatawa Dauda pushed it out, falling straight to Ronaldo, stationary and smashing it past with his left foot to put Portugal back in the lead. Ghana could and should have done much, much better to stop that.
Match breakdown
Man of the Match: Cristiano Ronaldo
Had chances throughout, scored the winner and was much better than in his previous games.
Flop of the Match: Fatawa Dauda
Gifted Ronaldo for the winner, undoing his excellent saves prior.
Possession:
Portugal 50% - 50% Ghana
Shots:
Portugal 15 - 14 Ghana
Backlash?
A rather unusual 24 hours panning out for Ghana has ended in misery. First, $3 million in cash is delivered to the Ghana side on demand, before Boateng and Muntari are sacked from the squad. Then the own goal, then they get knocked out. $3 million for what? Ghana could be on course for an intense revamp.
Late to the Party
Cristiano Ronaldo finally scored - but it was too little, too late. Reprucussions from the crushing defeat to Germany would haunt them, creating an intangible goal difference they really had no chance of getting to. Ronaldo himself was brilliant, he had chances ranging from just a minute to the game - ironically, Fatawa Dauda stopped a triplet of Ronaldo's early chances, only to gift the ball to him for his first goal. Ronaldo showed up too late.
Ghana Errors
It's clear that both of the goals conceded Ghana could not have happened with more organised and structured defending. An own goal by John Boye speaks for itself but the second was literally a gift from Dauda, placing it out for Ronaldo to score, he could have tipped it over the bar or it could have been headed out by a defender, and no one could pick Ronaldo up either.
Germany and USA go through, while Portugal and Ghana fall short. Group G was a thrilling ride.
Ronaldo is yet to taste true glory in the World Cup, and for Ghana their misery ensues. Group G closes out how it began - in dramatic fashion.